When inflation hits your wallet, you may be looking for ways to get quick funding and cover an urgent expense or a well-timed investment. In such cases, jewelry pawning can be a smart alternative when you don't want to part ways with your precious gems entirely.
However, getting a jewelry pawn loan with reasonable terms on your collateral that's easy to understand, straightforward, and with a flexible repayment plan can be like finding a needle in a haystack these days!
In this article, we'll discuss how Diamond Banc calculates interest rates and explain what an APR is with a clear representative example.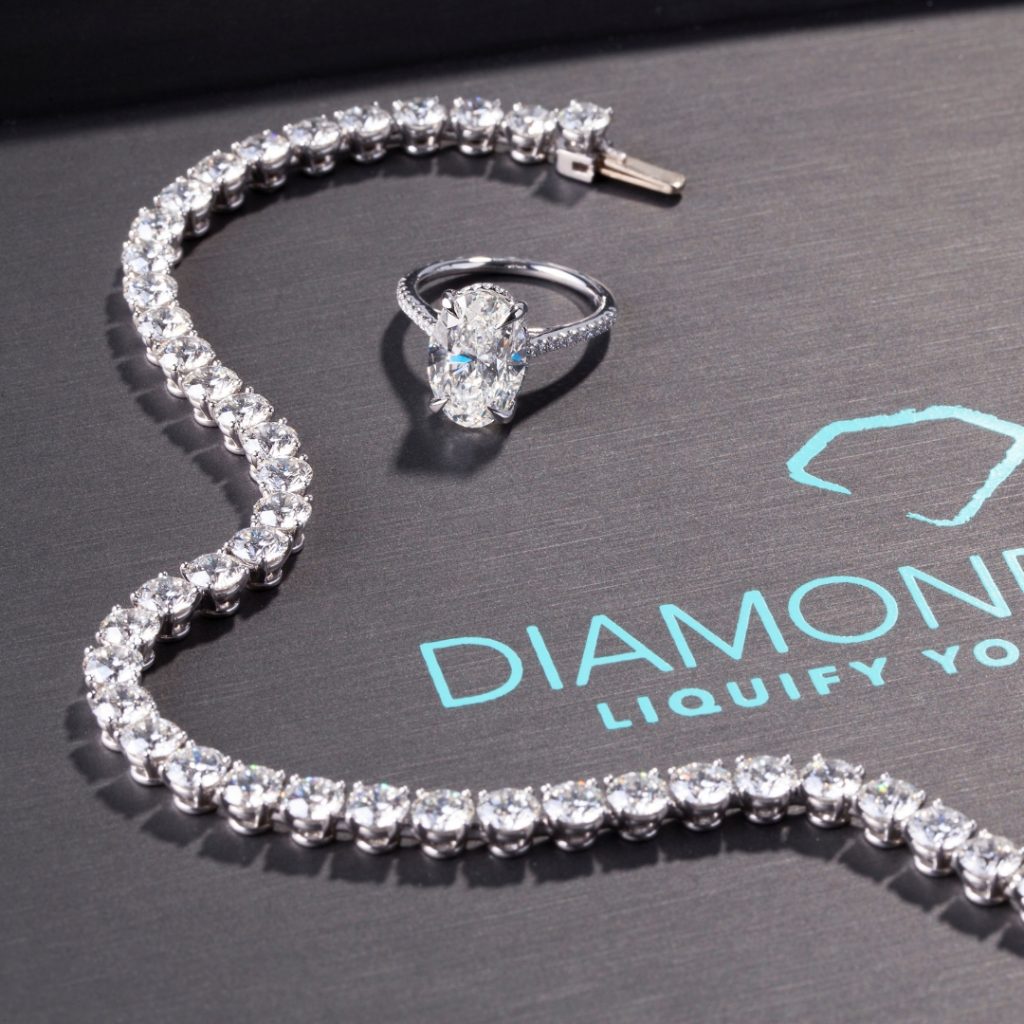 What is an interest rate?
The interest rate on an asset-based loan is the amount Diamond Banc charges when customers borrow money against their jewelry.
Our jewelry pawn loan interest rate is 2.5% per month or 30% APR when you borrow between 30% to 50% of the liquid wholesale value of your pledged collateral.
If you've got high-end designer jewelry and looking to borrow in the 6-figure, you can qualify for even a lower rate.
What is APR?
The APR or annual percentage rate is a sum calculation that includes the fixed interest rate summed the life of the loan (a year minimum), including additional associated costs like interest, security, storage, and insurance fees.
Once the rate is defined, also known as representative APR, consumers may use it to cross-compare it with what other lenders are offering in the market.
Representative Example
Meet Mary, a nurse from Baltimore in her mid-forties.
Mary wants to help his son, a college student, get engaged this spring. She wants to cover the engagement ring cost but doesn't have anything she can pull out from her current savings account.
Mary has a few credit card debts and her son's student loan to pay every month, but luckily, her jewelry box came in to save the situation.
Many years ago, she had inherited a vintage 3-carat round-cut diamond ring from her mother as an heirloom piece, set in 14K white gold.
After doing a search online with the query "jewelry pawn shop online", she found Diamond Banc. With the filling of a simple form describing her item in detail, she received an initial offer the day after.
In this example, say the loan amount was approved for $3,500 USD. Mary wants to pay back her jewelry pawn loan with equal installments every 1st of the month but does not want the life of the loan to exceed one (1) year.
Mathematically speaking, this means:
3,500 x 0.025 = $87.50 per month of interest payments
OR
3,500 x 0.3 [APR] = $1,050 of total interest paid after a year when the item is recouped
Mary gave the cash to his son, who took the investment to a custom jeweler to design his bride-to-be's dream engagement ring. With this approach, she'll probably get more value versus going to a high street retail jewelry store for instance.
A Flexible & Tailored Repayment Plan
Diamond Banc offers the most flexibility when it comes to repaying your jewelry pawn loan. The term of your loan is entirely up to you. You may take as little or as much time as you wish to repay the principal balance.
What's even more remarkable is that you can extend your repayment plan for as many 30-day periods as needed, as long as the minimum payment frequency is honored in accordance with your personal budget.
Why Diamond Banc is all about Pro-borrower terms
The number one reason is that we are a customer-centric company with industry experts that will consider every value-adding factor when making an offer.
But also:
Highest loan values & lowest borrowing costs nationwide
No credit checks or employment verification
Payments above minimum interest are applied to the loan balance
User-friendly loan management online
Items insured while in transit & in our possession
So, you've typed "pawn jewelry near me" in your search engine? Pawn jewelry online with Diamond Banc is easy and super convenient. To start the process, fill out this simple form and provide a full description of your jewelry item, and an initial quote will be provided to you within 24 hours.
If you choose to move forward, a prepaid shipping label will be emailed to you so you may send in your item to our headquarters for an expert evaluation. Your jewelry is fully insured throughout the transit and monitored via video recording the second it arrives at our premises.
You may also choose to hybrid the process by starting online and visiting one of our private, modern, and spacious offices:
Diamond Banc leads the alternative lending industry with flexible liquidity options for your jewelry. We are not a high end pawn shop — we specialize in designer jewelry, Rolex watches, diamonds, luxury handbags & accessories.
We provide white glove service where you get to sit down with knowledgeable experts with unique skill sets to provide you with the highest offers tailored to your particular financial situation.
We love what we do and take pride in providing an outstanding customer experience. Looking to pawn jewelry with Diamond Banc? Contact an expert today to get the ball rolling!
Pawn Shops in Orlandonavigate_nextGet A Loannavigate_nextLocationsnavigate_next
Related Posts