Fast. Simple. Secure.
The Nation's Premier Jewelry Buyer
Let our highly qualified buyers assist when it's time to sell your jewelry.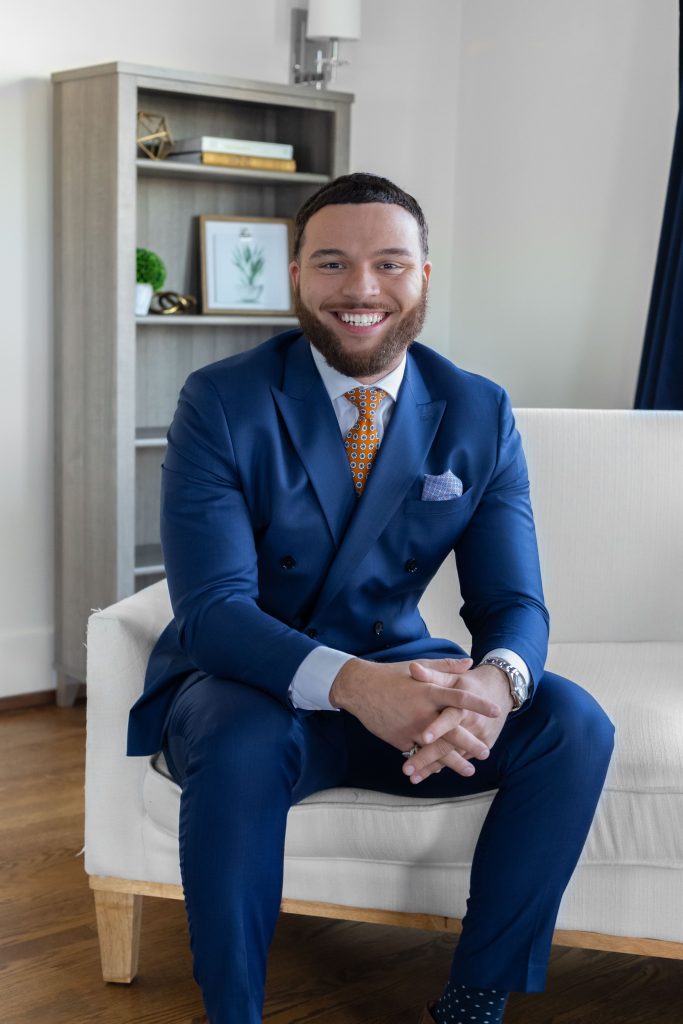 Jordan Isaacs
Columbia, MO
As the National Director of Funding at Diamond Banc's corporate office, Jordan Isaacs prioritizes providing top-notch client experiences during the assessment of their items for immediate sale or loan services. With excellent communication skills and a talent for prompt and informative follow-up, Jordan's expertise enables him to offer the highest values, the most competitive rates in the industry, personalized financing options, & exceptional service to each and every client. To start working with Jordan, give us a call or fill out our online submission form.
Get A Quote
What is your item worth?
Complete our simple online submission form & tell us about your item. Our team of experts will contact you with an initial quote.
Start a Quote
Expert Evaluation
Mail-In or In Person
We provide you with a fully insured shipping label to send your items to our headquarters for final evaluation. Or, visit a Diamond Banc office near you to complete your transaction in person.
Get Funded
Via Check or Wire Transfer
If you accept our offer, we will issue payment immediately via check or wire transfer.
FAQs
There are two ways to work with us:
Work with us online: Fill out our online submission form above & receive a quote within 24 hours from one of our expert jewelry buyers. Our team will provide you with a fully-insured shipping label to mail your item(s) to our headquarters & issue funding immediately upon accepting our offer.
Visit an office near you: Schedule an appointment at one of our offices nationwide to have your jewelry evaluated on the spot, right in front of you, in a private, luxury environment & get paid immediately.
What if I don't accept Diamond Banc's purchase offer?
If you elect not to accept our purchase offer, your items will be expedited back to you under a fully-insured shipping label.
What jewelry brands do you buy?
Diamond Banc purchases a variety of designer jewelry brands, including but not limited to, Cartier, Tiffany & Co., Graff, Van Cleef & Arpels, Harry Winston, & David Yurman.
Upon acceptance of our purchase offer, we will issue payment to you immediately via check or wire transfer.
How long does it take to sell my jewelry?
Our buying process is fast and secure. Your transaction can be funded in as little as 24 hours.
Is my jewelry safe while in transit?
Yes. Your jewelry items are insured while in transit and while in our possession. We provide you with a fully insured shipping label to send your item(s) to our headquarters.

Our shipping & logistics team tracks your package every step of the way. From the moment your item arrives at our headquarters, it remains on continuous video surveillance until the package is opened and your items are verified.
What is a Jewelry Equity Loan?
At Diamond Banc, you have the option to retain ownership of your jewelry, while still enjoying the liquidity as if you sold outright. Diamond Banc is the nation's #1 jewelry buyer & jewelry-secured lender.
With a Jewelry Equity Loan, you can borrow against the value of your jewelry while still retaining ownership of it. Visit our Jewelry Equity Loan page for more information.
From The Founder
Visit a diamond banc near you
Diamond Banc has locations in Tampa, Boca Raton, Miami, Aventura, Orlando, Nashville, Atlanta, Charlotte, Kansas City, Columbia, & Rochester.
What We Buy
The Nation's BEST Jewelry Buyer
Searching for a place to sell diamond jewelry can be overwhelming. Often people can have emotional connections with their jewelry and finding a buyer whom to trust and learning how much your jewelry is worth only complicates this process. When you're trying to evaluate your jewelry's worth, there are a few key factors to consider: the quality and material of your item, and how rare and desirable the item is in today's global market. One of the best ways to determine the impact of these factors is to examine recently sold transactions for pieces similar to the item you're trying to sell. This can sound daunting, even to the most informed customer. Ultimately, your best jewelry buyer will make things simpler. They will clearly explain what your jewelry is worth. This is why Diamond Banc stands out as the premier jewelry buyer in the nation.
Diamond Banc was created by jewelers looking to simplify the process for clients when they decide to sell diamond jewelry. We offer our clients an unrivaled menu of selling options tailored to fit every situation like the modern option of selling jewelry online. We buy fine jewelry of all types and can fund transactions within 24 hours. Our buying process is secure, simple, and fast even in the case of selling jewelry online. Whether you're looking to sell a half-carat or a 10 ct diamond, a Rolex watch, or a piece of luxury jewelry from designers like Harry Winston, Van Cleef & Arpels, Graff, David Yurman, Diamond Banc is here for you.
We work with leading industry experts who have worked on the retail side of jewelry at companies like Tiffany & Co. and Cartier. Our team is diverse with a number of different specialties and that's what makes Diamond Banc the best place for selling gold jewelry. Some of our buyers have deep knowledge of Rolex and Patek Philip watches, while others specialize in diamonds or fashion jewelry. Nevertheless, each member of our team is trained to ensure that our clients receive the most when looking to sell their jewelry. We approach the jewelry selling process from a data-driven perspective. Diamond Banc every factor that could increase the value of your item into consideration. We are passionate about providing the highest offers to our customers.
What Types of Jewelry Do We Buy?
DIAMOND ENGAGEMENT RINGS: We purchase complete engagement rings with a carat weight of 0.5 and up. Our team buys engagement rings with all shapes of the center diamond, including round brilliant cuts, cushions, ovals, radiants, cushions, emerald cut diamonds, and more. We also pay you for your engagement ring setting. We often pay premiums for antique settings, old European cut center diamonds, as well as engagement rings that feature center diamonds 2cts and larger. We actively purchase all engagement rings styles such as diamond solitaires, three-stone rings, halo engagement rings, and more. Beyond engagement rings, we also buy all types of diamond rings with a carat weight of 0.5 and up, including diamond fashion rings, cocktail rings, and diamond bands.
EARRINGS: In addition to buying and selling gold jewelry, we also purchase diamond earrings of every type. We buy diamond studs, diamond hoops, diamond drop earrings, diamond dangles, and more. We also purchase designer earrings from designers like David Yurman, Cartier, and Tiffany & Co.
PENDANTS + NECKLACES: We buy a myriad of styles for diamond and designer pendants necklaces. We purchase items ranging from diamond solitaire pendants, Diamond Rivera necklaces with carat weights from 5ct-100cts+, and diamond fashion pendants.
TENNIS BRACELETS: Looking to sell a tennis bracelet? We buy tennis bracelets 2CTW and larger. We also purchase bracelets ranging from average quality to the very best. We buy all bracelets made of gold as well as bracelets made of platinum. We also purchase diamond bangles of all types.
ESTATE JEWELRY: What sets us apart from other buyers is our deep global understanding of jewelry of all types and its true market value. This unique advantage allows us to maximize clients' returns on entire jewelry collections. We provide value to those looking to sell multiple pieces to entire estates composed of hundreds of items at any given time and therefore, you can always choose us when you decide to sell your jewelry online.
ANTIQUE CUT DIAMONDS: We are actively seeking antique cut loose diamonds, diamond rings, and jewelry pieces. The antique diamond types we buy include Old European cut, Old Mine cut, Circular Brilliant cut, Antique Cushions cuts, and more.
SIGNED & DESIGNER JEWELRY: We are eagerly seeking diamonds and jewelry from designers such as Tiffany & Co., Harry Winston, Van Cleef & Arpels, Cartier, Graff, and more.
The Rare & Magnificent
With any venture, who you work with determines your outcome. This is especially true when you choose to sell your jewelry online. In order to obtain the maximum value, the buyer must have access to a network of jewelers who are seeking to buy the specific type of jewelry they want to sell.
A buyer must truly be able to assess maximum value and lastly needs to be well-capitalized to be able to complete a purchase at maximum value.
If you want to sell jewelry, Diamond Banc can buy any item for immediate payment. We can also represent clients as their exclusive seller's agents, aligning our interests to secure the maximum value for their pieces. When you're looking to sell diamonds 4ct and larger, ultra-rare designer and estate jewelry, Diamond Banc will work harder and smarter than any other company to help you achieve its true value.
Why Sell Your Jewelry to Diamond Banc?
PROMPT + POLITE: Customers and their needs are the primary focus of our work. We know that speed and ease of the transaction are paramount to our customers. We are also aware that parting with a jewelry piece can be an emotional process. We treat all clients in a kind and polite manner.
MAXIMUM PURCHASE PRICE: Diamond Banc is owned by several of the largest independently owned jewelry retailers in the USA whose approximate revenue exceeds $50 million annually. This allows us to pay handsomely for your diamonds as we sell many items back to the end consumer.
EASY PROCESS: Diamond Banc's communication and speed of follow-up are unmatched in the jewelry buying industry. We issue payment immediately and operate in an organized and prompt fashion.
SAFETY & VALUES: We maintain an A+ rating with the BBB and truly operate from a set of company values that are client-driven. Diamond Banc follows rigorous tracking and video recording procedures. We treat your valuables as if they were our own.