What is My Rolex Watch Worth?
Our Rolex Value Calculator compares your Rolex watch to our database of certified Rolex watches on the market.
Rolex Value Calculator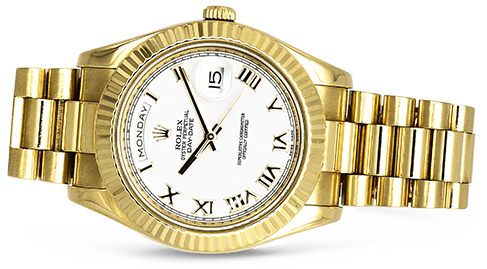 Easy Valuations: Discover Your Rolex's Worth with Our Free Calculator
With our complementary Rolex value calculator, assessing the worth of your Rolex watch has never been easier. Our safe, secure, and user-friendly online platform ensures that clients from across the nation can avail our services with the utmost convenience and peace of mind. You can either visit one of our offices nationwide or use our reliable mail-in service to sell your Rolex or secure a loan against it, entirely online.
Navigating through the process of selling your pre-owned Rolex watch can be intimidating, especially if you are struggling to find local Rolex buyers via conventional means. With a seemingly endless pool of potential buyers interested in buying Rolex watches, it can be challenging to identify the ideal purchaser for your luxurious timepiece. Ultimately, your aim is to be at ease with the entire process, having the assurance that you have made a fiscally rewarding decision in choosing where to sell your Rolex watch. Hence, it's crucial to pinpoint a trusted and qualified Rolex buyer.
An essential first step is to comprehend what your Rolex may be worth on the secondary market prior to initiating a search for trusted Rolex buyers. Knowing the current market value of your watch allows you to gauge the fairness of the offers you receive. With the ever-changing market conditions, the value of pre-owned Rolex watches also fluctuates. Currently, in 2023, the pre-owned Rolex market is thriving with active buyers and robust prices being commanded by Rolex purchasers.
Navigating the Rolex Resale Market With Our Expertise
The secondary market value of your Rolex, like any other luxury item, hinges on numerous factors. The worth of most secondhand watches is not tied to their original or current MSRP (Manufacturer's Suggested Retail Price) but is dictated by the demand and supply in the market. In certain instances, a watch could be valued higher than its original retail price. For instance, if you own a stainless-steel Submariner, GMT-Master II, or Daytona, we are often able to offer you significantly more than the original retail price of the watch. This is a result of the scarcity of these Rolex sports models and the immense buyers' demand for them. In essence, the demand for Rolex sports models outweighs the supply, enabling these watches to command premium prices.
Several older Rolex models appreciate in value over time, contingent upon the condition of the watch, as the availability of older models is typically more limited compared to newer ones. On the contrary, many dress and diamond-adorned Rolex models, along with outmoded ladies' Rolex models, depreciate compared to their original retail price. This is primarily due to the market dynamics of supply and demand. As there are fewer active buyers for these models, in comparison to sellers, these Rolex watches are traded at a discounted rate.
As a general rule of thumb, stainless steel and two-tone Rolex watches maintain and appreciate in value the most. On the other hand, solid gold models usually have lower value retention, with white gold models witnessing the least appreciation. However, there are exceptions to these generalizations. Some specific solid gold Rolex watches, such as the Day-Date 41mm, have seen value appreciation. The only foolproof way to ascertain the current market value of your Rolex watch is to consult a Rolex expert, such as the team at Diamond Banc, with specific details about your model. Nonetheless, our Rolex calculator can offer a rapid estimate of your Rolex's liquid value in the secondary market.
Selecting a Knowledgeable Rolex Buyer to Maximize Returns
There are many Rolex buyers out there, but very few are truly qualified to identify what your Rolex watch is worth. Diamond Banc is an optimal choice if your objective is to maximize your earnings when selling your diamond Rolex. As the nation's most-trusted Rolex buyer with offices throughout the United States, we base our offers on current market data from recent sales of the same Rolex model. This approach enables us to offer you the highest purchase price. Our watch-buying process is straightforward, expedient, and secure.
Diamond Banc has developed a broad, diverse, and expansive network of Rolex dealers, retailers, and private collectors. Additionally, Diamond Banc's ownership group comprises some of the top authorized Rolex dealers in the country. Our alliances with these individuals provide us with a unique capability to offer more for your Rolex watch, as we have immediate access to top buyers across the United States. This edge over other Rolex buyers, coupled with unparalleled knowledge about your specific Rolex model and its current value in today's preowned market, makes Diamond Banc a superior choice.
Diamond Banc welcomes all Rolex models in any condition. Whether your Rolex is a newer sports model or an older dress watch, we're a robust buyer. Find out how much we will pay for your Rolex today when you fill out our Rolex Calculator above.
Maximizing Your Rolex's Resale Value
Minor factors can significantly affect how much Rolex watch buyers are willing to pay for your Rolex. Many manufacturers offer replacement bracelets for Rolex watches. Rolex watch bracelets can become stretched over time due to daily wear, leading many Rolex owners to replace their bracelets without much thought. Although aftermarket bracelets initially offer cost savings, they adversely impact a watch's value in the secondary market, as the entire bracelet is considered non-authentic.
Factors such as the condition of your Rolex watch, possession of the original receipt, box, warranty card/papers, and provenance can significantly enhance the value of a Rolex watch, especially for discontinued, vintage, and sport Rolex styles. These documents lend credibility to the authenticity of a watch and enable Rolex buyers to pay more for models with accompanying paperwork. Moreover, the number of rare watches with this supporting documentation is exponentially less and, therefore, more desirable.
Supply vs Demand: How Discontinued Rolex Models Appreciate
It's not uncommon for Rolex models to significantly appreciate in value once they have been discontinued from current production. Once again, these trends are largely driven by supply and demand dynamics. Over time, interest in specific Rolex models tends to increase, despite a finite supply of these discontinued watches.
The demand for discontinued watches has led to the value of certain Rolex models soaring well above their list prices. One of the most notable includes the 50th Anniversary Rolex Submariner, known as the Kermit, featuring a black dial and green bezel. This watch regularly trades for more than double its latest Rolex-issued MSRP. Another highly sought-after discontinued model is the Rolex Submariner Hulk, distinguished by a green dial and a green ceramic bezel. It regularly trades for double its Rolex-issued MSRP. Other models in this category include retired GMT Master II, Explorer, Auto quartz models, and vintage or rare Day-Dates. Additionally, certain Rolex dials or Rolex watches with production errors can be very valuable.
It's important to note that the market for these rare and retired Rolex models is not immune to corrections. Much like the fine art market, shifts in market factors can drive sudden changes in the value of Rolex watches. During downward economic cycles, when global liquidity is tight, Rolex watches may have lower values than during booming economies. These changes can be sudden and dramatic. Although the demand for and value of renowned Rolex models remain strong in 2023, the values of many key models have decreased from their peak in 2021 & 2022.
Why Diamond Banc Stands Out: Offering Rolex Equity Loans and Unbeatable Purchase Offers with Expertise
Diamond Banc distinguishes itself in the market with its unique expertise and extensive resources, which allows us to offer unmatched values for your Rolex watch. Our proprietary Rolex value calculator provides an accurate quote instantly, ensuring transparency throughout the process.
We are recognized pioneers in transforming the landscape of Jewelry Equity Loans across the country, offering robust, trusted services to our clients.
Our healthy financial standing enables us to maintain a competitive cost structure on Rolex Equity Loans. This advantage would not be feasible if Rolex loans were our only offering.
We stand against the deceptive practice of baiting customers with high quotes only to drastically reduce the offer upon receiving the watch. We honor our initial quotes as long as the watch received aligns with your description, underscoring our commitment to transparency and integrity.
Your Rolex watch is fully insured during transit to us. Upon arrival, we record its unpacking on continuous video footage, thereby leaving no room for discrepancies between what you sent and what we received.