The Nation's Premier Rolex Buyer
Industry-Leading Offers On Rolex Watches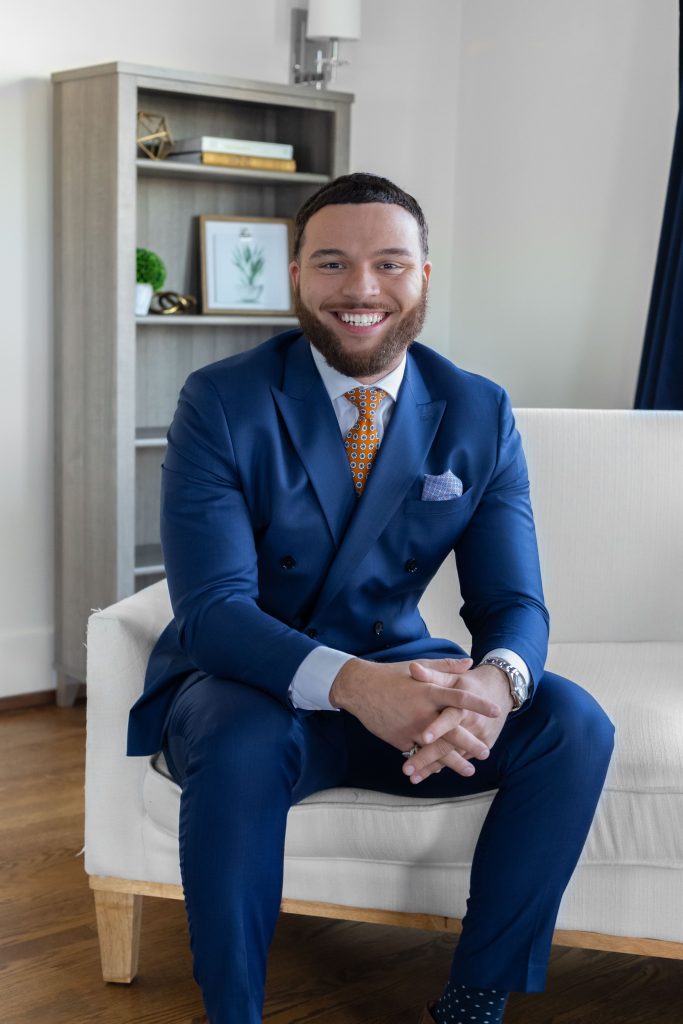 Jordan Isaacs
Columbia, MO
Jordan Isaacs is the National Director of Funding for Diamond Banc's corporate office. His primary focus is to ensure that our clients receive the best experience possible while evaluating their items for immediate sale or loan services. Jordan is an expert communicator with prompt and informative follow-up. His unique skill set and expertise allow him to provide the highest offers in the industry, financing options catered specifically to our clients, and exceptional service. Please call us or make an online submission to begin working with Jordan.
Get A Quote
What is your item worth?
Complete our simple online submission form & tell us about your item. Our team of experts will contact you with an initial quote.
Start a Quote
Expert Evaluation
Mail-In or In Person
We provide you with a fully insured shipping label to send your items to our headquarters for final evaluation. Or, visit a Diamond Banc office near you to complete your transaction in person.
Get Funded
Via Check or Wire Transfer
If you accept our offer, we will issue payment immediately via check or wire transfer.
FAQs
Selling your Rolex watch to Diamond Banc is simple, fast, & secure. You can begin the process by requesting a quote; Tell us about your Rolex utilizing our online submission form above. Then, a member of our team will reach out to you with an initial purchase offer & a fully-insured shipping label. Once your Rolex is received here at our headquarters, it is verified by our Rolex watch experts, and our final offer is made. If you accept our offer, we will issue payment immediately via wire transfer.
How do you determine how much my Rolex is worth?
Our team of expert Rolex buyers has the skillset to evaluate your watch in great detail & consider every value-adding factor to ensure you receive the highest return possible on your Rolex watch. There are various factors that impact the value of your Rolex watch. For instance; the condition, accessories (including box and papers), and the current selling value on the secondary market. We will thoroughly explain to you how we derive our purchase offer and show you comparable Rolex watches on the market.
How long does it take to get paid?
In most cases, it takes less than 24 hours to receive payment from the moment you accept our purchase offer. If you visit a Diamond Banc office, you have the ability to receive funding on the spot.
Does having a Rolex with a box & paperwork make it worth more?
Yes. If your watch comes with extras such as an original Rolex box, paperwork, stickers, etc., these factors can potentially make your watch more valuable.
What if I don't accept the final purchase offer?
If you elect not to accept our purchase offer, we will expedite your Rolex watch back to you under a fully-insured shipping label.
Is my Rolex watch insured while in transit?
Yes. Your Rolex watch is fully insured during transit to our headquarters, while in our possession, & during the return shipment back to you.
Can I borrow against the value of my Rolex instead?
Yes. If you would prefer to retain ownership of your Rolex watch, yet leverage the value it possesses, our Jewelry Equity Loan solution may be what you are looking for. To get a loan secured by your Rolex, visit our Rolex Equity Loan page to complete the submission form. You may also explore our menu of liquidity options to determine what financial solution is ideal for you.
From The Founder
visit a diamond banc near you
Diamond Banc has locations in Tampa, Boca Raton, Miami, Aventura, Orlando, Nashville, Atlanta, Charlotte, Kansas City, Columbia, & Rochester.
Rolex Watches We Frequently Purchase Include:
We Buy Rolex Watches
Selling a used Rolex watch can be daunting, especially if you are not able to find "Rolex buyers near me" through traditional methods. There's no limit to buyers looking to purchase Rolex watches. Given the vast number of sellers within the marketplace, it can be overwhelming to pinpoint the perfect Rolex watch buyer. Ultimately, you want to be comfortable with the entire process of selling your luxury watch. You want to have confidence that you found your perfect match when it comes to selling your designer timepiece. This means that it is essential to find the right Rolex buyer for your needs.
Before Selling Your Rolex, Ask Yourself These Questions:
What is my Rolex worth?
Am I getting the highest value possible for my Rolex?
Is this Rolex buyer trustworthy?
Perhaps the most obvious starting place is understanding what your Rolex is worth even before you start searching for Rolex buyers near me. In order to know if an offer is fair, you need to know what your watch is worth on the secondary market.
As market conditions change, so does the pre-owned value of Rolex watches. In 2021, the pre-owned value of Rolex watches hit an all-time high.
What Is My Pre-Owned Rolex Worth?
Like any luxury item, there are a number of factors that affect your Rolex's value on the secondary market. The value of most used watches is independent of their original or current MSRP.
Instead, the preowned Rolex market is driven solely by the market factors of supply and demand. In many cases, a watch may be worth more than what the original purchaser paid for the item. For example, if you have a used stainless steel Submariner, GMT-Master II, or Daytona, we can often pay you substantially more than what your watch originally retailed for. This can be attributed to a relative shortage of these styles, and an overwhelming demand for Rolex sports models. Many older Rolex models actually appreciate in value over time, depending on the watch's condition, as the supply of older models is frequently more limited compared to newer models.
Alternatively, many dress and diamond Rolex models, precious metal watches, and outdated ladies' styles are worth less than the watch's original purchase price. This discrepancy is due to market supply and demand. Since there are fewer active buyers typically searching for these styles, but more sellers seeking to sell them, in most cases these watches do not hold their value as consistently as the sport models.
As a general rule, all steel and two-tone watches have the best value retention and appreciation. In contrast, solid gold models tend to have lower value retention. White gold models often have the lowest levels of appreciation.
It is important to note that there are exceptions to each of these rules. Certain solid gold Rolex watches like the Day-Date 41mm have been appreciating in value. The best and only way to know the current market value of your gold or diamond Rolex watch is to contact a Rolex expert with the specific details of your model. However, our Rolex calculator can provide you with a quick estimate of your Rolex's liquid value on the secondary market.
How Do Diamonds Affect The Value Of My Rolex?
Generally, the application of diamonds to a Rolex diamond watch will not increase its current market value. Regardless of if the diamonds are original Rolex factory-applied or aftermarket, (i.e., applied by a non-authorized Rolex supplier) these additions do not increase a Rolex's worth compared to the watches' purchase cost.
Adding aftermarket diamond dials or bezels to your Rolex actually often has a negative effect on the current value of a Rolex. The addition of these diamonds means that these watches will differ from the factory models. Consequently, some Rolex watch buyers may be more skeptical about the authenticity of a Rolex with aftermarket diamonds. Additionally, the application of aftermarket diamonds is often inconsistent in quality, and precision. This variance further prevents the treatment from having a reliable effect on pre-owned watch values.
Even factory-added diamond applications added by Rolex may not have a positive effect on a watch's resale value. Rolex charges a premium for diamond dial and bezel application. This high additional cost does not fully translate to the secondhand market.
This does not translate to all diamond and gemstone applications – certain Rolex watches with factory diamonds and gemstones can sell far over their original list price. For example, there is a strong demand for the 18kt rose gold Rolex Daytona with a rainbow sapphire bezel that has driven up its value notably.
Even insignificant factors can have a profound impact on the amount Rolex watch buyers can pay for your used Rolex. Many manufacturers make replacement bracelets for Rolex watches. Rolex watch bracelets can become stretched over time due to daily wear. As a result, many Rolex owners will get their bracelets replaced without a second thought. While aftermarket bracelets present initial cost savings when replacing the bracelet, they have a detrimental effect on a watch's secondary market value, as the entire bracelet is considered non-genuine.
Aspects like the condition of your Rolex watch, having the original receipt, box, warranty card/papers, and provenance can hugely impact and increase the value of a Rolex watch, especially for discontinued, vintage, and sport Rolex styles. These documents lend credibility to the authenticity of a watch and allow Rolex buyers to pay more for models with accompanying paperwork. Moreover, the number of rare watches with this supporting documentation is exponentially less and therefore more desirable.
Appreciating Prices of Discontinued Rolex Models
It's common to see Rolex models drastically appreciate in value once they have been discontinued from current production runs. Once again, supply and demand drive these trends for most Rolex watch buyers. Over time, interest in specific Rolex models tends to increase, despite a finite supply of these discontinued watches.
Demand for the number of discontinued watches has driven the value of the following Rolex models well above their list prices and you should know this way before you start searching for Rolex buyers near me. One of the most distinctive includes the 50th Anniversary Rolex Submariner, known as the Kermit, featuring a black dial and green bezel. This watch regularly trades for more than double its latest Rolex-issued MSRP. Another highly sought-after discontinued watch is the Rolex Submariner Hulk. This model is distinguished by a green dial and a green ceramic bezel. It regularly trades for double its Rolex-issued MSRP. Other models in this category include, retired GMT Master II, Explorer, Autoquartz models, and vintage or rare Day-Dates. Additionally, certain Rolex dials or Rolex watches with production errors can be very valuable.
It's important to note that the market for these rare and retired Rolex models is not immune to correction. Much like the fine art market, shifts in market factors can drive sudden changes in the value of Rolex watches for most Rolex watch buyers. During downward economic cycles, and when liquidity is tight globally, Rolex watches may have lower values than when the economy is booming. These changes can be sudden and dramatic.
Am I Getting the Highest Value For My Rolex?
Once you understand what your Rolex is worth, comes the second most important question. Is my buyer able to make sure I get the highest value for my watch?
Diamond Banc is the smart choice if you wish to get the most money when selling your diamond Rolex. We are an established Rolex buyer with offices throughout the United States. Our offers are based on current market data from recent sales of your same Rolex model, which allows us to provide you with the highest purchase price. Our watch-buying process is simple, fast, and secure.
Diamond Banc has established a curated, diverse, and extensive network of Rolex dealers, retailers, and private collectors. Moreover, Diamond Banc's ownership group is composed of several of the nation's top authorized Rolex dealers. Our partnerships with these individuals give us the unique ability to pay more for your Rolex watch since we have immediate access to top buyers around the United States. This provides us with a superior advantage over other Rolex purchasers, and unmatched knowledge about your specific Rolex model and its current value in today's secondhand market.
Diamond Banc is a buyer of all Rolex models in any condition. Regardless if your Rolex is a newer sports model or an older dress watch, we're a strong buyer.
The Rolex Models We Purchase Most Often Include:
Rolex Submariner
Rolex Sea-Dweller
Rolex Deepsea
Rolex GMT-Master & GMT-Master II
Rolex Day-Date (President) & Day-Date II
Rolex Datejust & Datejust II
Rolex Cosmograph Daytona
Rolex Yacht-Master & Yacht-Master II
Rolex Explorer & Explorer II
Rolex Air-King
Rolex Milgauss
Rolex Pearlmaster
Rolex Cellini
Rolex Sky-Dweller
Rolex Oyster Perpetual
Rolex Oyster Perpetual Date
Rolex Oysterquartz
Do I Trust My Rolex Buyer?
Selling a Rolex can be an emotional process. This means that it's essential to work with a buyer you trust.
Many Rolex buyers "bait" sellers by offering unrealistic offer prices, only to call back with a greatly reduced offer once they receive your watch. In contrast, at Diamond Banc, we always honor our quotes. Once your watch is received, providing it's as described, you will receive a final quote for the exact value of your initial offer price.
If you're hesitant to sell, it's no problem! We are happy to provide you with the same amount of money you would receive from selling your watch outright, while also allowing you to retain ownership via a Rolex diamond watch Equity Loan. Learn more about a loan with Diamond Banc by clicking here
Diamond Banc is dedicated to operating with transparency, convenience, and integrity. We keep our clients informed every step of the way. We take time to explain how we arrived at our offers, and practice constant vigilance to make sure your watch is protected during the sales process.
We were designed to offer all of the convenience of an internet company while also providing the security of a brick-and-mortar location. All watches are fully insured while in transit to us. From the moment it arrives at our headquarters, your watch is under continual video surveillance including high-definition recording while your package is opened and verified. We leave no questions between what you sent and what we received.
Diamond Banc is a customer-driven firm. We utilize current market data to drive our offers, and we can provide you with a quote within 1 business day or less. Once you agree to our quote, we can ensure that you get paid equally as rapidly. We can wire you funds immediately.
Begin the process online or visit one of our Diamond Banc locations in Tampa, Boca Raton, Miami, Orlando, Nashville, Kansas City, & Columbia.