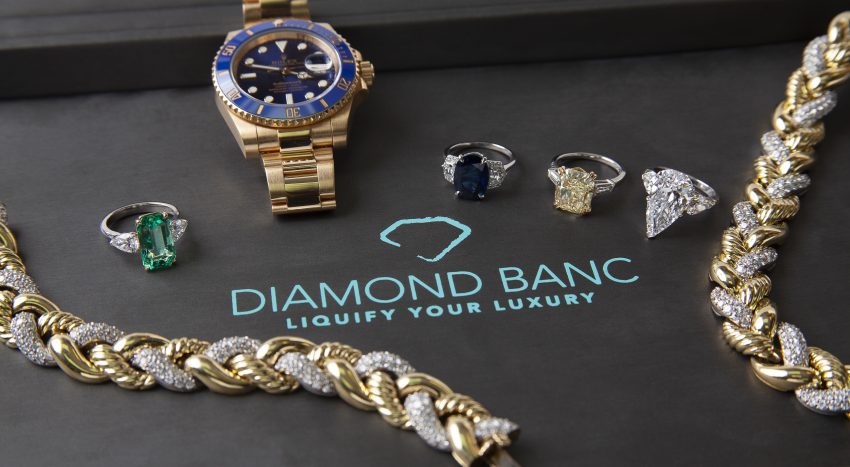 Orlando's Premier
Jewelry Buyer & Lender
Orlando's Premier
Jewelry Buyer & Lender
Visit our Orlando Location at
9100 Conroy Windermere Rd
Suite 200
Windermere, FL 34786
Client Testimonials
Probably one of the best, if not the best services ever.
Very professional and helpful.
She knows what she is doing, and I love her honesty.
I will recommend Deena 150%
They are very Fair.
Visit our Orlando Location
Diamond Banc Holdings, LLC
Address:
9100 Conroy Windermere Rd
Suite 200
Windermere, FL 34786
Phone:
Hours:
Mon – Fri 9:30AM – 5:00PM EST
Saturday and After 5:00PM EST By Appointment Only
Email:
Appointment:
Our Diamond Banc Orlando office is conveniently located on the corner of Conroy Windermere Rd and South Apopka Vineland Rd in the Regus office suites. This location specializes in evaluating entire estates worth of jewelry, as well as rare diamonds and vintage designer pieces. We also purchase and loan against all diamond jewelry, luxury swiss watches, and designer handbags, such as Chanel, Louis Vuitton, and Hermès.
We offer free, no-pressure jewelry, watch, and handbag evaluations to help you understand the true liquid value of your items so you can make an informed decision when it comes to selling or securing a loan against your items. Our experts are transparent and will show you the amount comparable comps to your item are currently selling for. Our goal is to provide exemplary customer service so you feel confident about the decision you made.
Why Choose Diamond Banc of Orlando?
Diamond Banc operates nationally offering consumers an unmatched menu of options to access the liquidity their jewelry and watches have, via immediate sale, Jewelry Equity Loan, or consignment sale services. Our firm operates in a branded, pro-consumer manner. Diamond Banc of Orlando is a premier diamond buyer, Rolex buyer, jewelry buyer, and gold buyer. We also provide easy, confidential loans secured by your jewelry that are worlds apart and superior to a pawn jewelry loan. Make an appointment with your Orlando market director, Deena Maali, to learn the true value of your items and all of the ways Diamond Banc can provide you liquidity through the value of your fine jewelry and watches.
Diamond, Rolex, & Jewelry Buyers in Orlando
Do you value being paid immediately? When you sell your jewelry at Diamond Banc in Orlando, we issue funding on the spot. Our evaluation process is fast, simple, and confidential. Because our buyers are true experts in the jewelry industry, we are able to assess the value of your items with efficiency and accuracy to provide you with the funding you are seeking then and there. Unlike many jewelry buyers in Orlando who purchase more than just jewelry from the public, at Diamond Banc, we specialize in purchasing jewelry, diamonds, and luxury timepieces exclusively.
Diamond Banc provides clients with an industry-leading, outright purchase offer for their fine jewelry, luxury watches, and diamonds.  We carefully evaluate your items, then promptly conduct market research to derive the most accurate purchase offer. Our nationwide network of Diamond Banc locations provides us the scale and knowledge to truly appreciate and pay the most for your diamonds, gold, fine jewelry, and Rolex timepieces. We are proud to be the standard that other Orlando diamond, jewelers, and Rolex buyers strive for but rarely match.
To see what our clients in Orlando are saying about selling their jewelry to Diamond Banc, check out our Google reviews. We are jewelry buyers of all types, seeking diamonds 2cts and larger, designer jewelry from the world's top brands like Cartier, Graff, and Tiffany & Co. We also pay more than other Orlando watch buyers for Rolex and Patek Philippe timepieces.
Jewelry Equity Loans: Far From A Pawn Jewelry Loan
Many of Diamond Banc's clientele would never think of going into a pawnshop to get a loan. However, if you were previously a seller at a traditional, old-fashioned pawnshop then you will be blown away by how much better a Jewelry Equity loan from Diamond Banc is than a traditional, archaic pawn jewelry loan in Orlando. A Diamond Banc Jewelry Equity loan is a better option than a traditional pawn jewelry loan for a variety of reasons.
Our loans are structured to suit our client's needs, and all transactions are handled with the utmost discretion and professionalism. Our convenient location in The Grove shopping district makes it easy for clients to come in and get a jewelry-secured loan quickly. You can even begin the process online to receive a free initial value assessment before stepping into our Orlando branch. Fill out our Jewelry Equity Loan submission form or schedule an appointment to meet with our Orlando market director one-on-one.
Diamond Banc is the smart choice for prompt, discreet, and simple funding in Orlando. We treat clients with kindness and provide them with the most attractive loan terms possible. Whether you're borrowing $1500, or $250K you will find your Diamond Banc of Orlando is the best jewelry-secured loan option in the town. The combination of our high loan values and low cost of borrowing simply can not be matched by any competitor in Orlando who offers pawn jewelry loans.  Enjoy Diamond Banc's convenience, speed, and superior liquidity options in our local Orlando office.
Our Orlando Diamond Banc office proudly and regularly serves clients from Altamonte Springs, Apopka, Casselberry, Clermont, Kissimmee, Longwood, Ocoee, and Sanford Florida.
Sell My Jewelry Get A Loan Book An Appointment

Not located in the Orlando area? Find a Diamond Banc location near you:
Tampa, FL | Boca Raton, FL | Miami, FL – Coral Gables | Miami, FL – Aventura | Orlando, FL | Nashville, TN | Atlanta, GA | Charlotte, NC | Kansas City, MO | Columbia, MO | Dallas, TX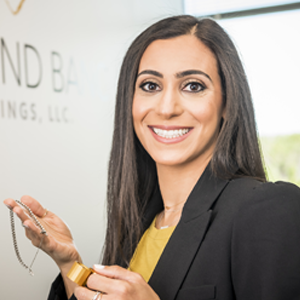 Meet our Orlando, Florida Director:
Deena Maali
Deena Maali is Diamond Banc's Orlando Director with over 10 years of experience in fine jewelry and luxury watches. Born and raised in the heart of Orlando, her past experience includes buying and selling loose diamonds and designer fashion items to working with a vast variety of high-end watches. With her knowledge from working in many facets of the industry, Deena provides her clients with stellar experience, offering the best values and the lowest interest rates for their items. Visit Deena at our Orlando office for a free, no-pressure evaluation!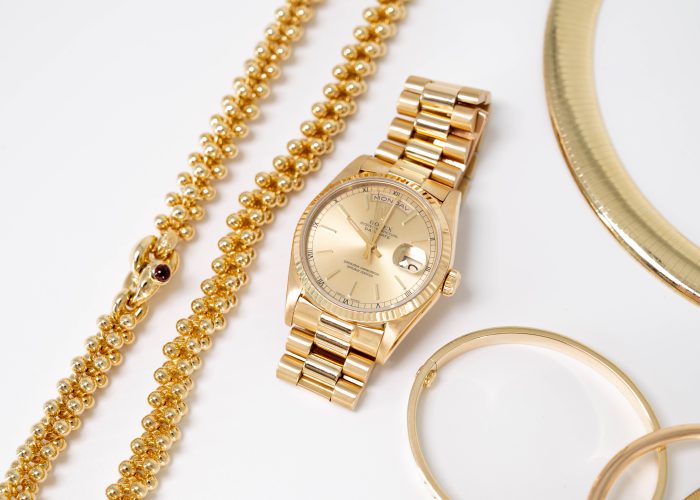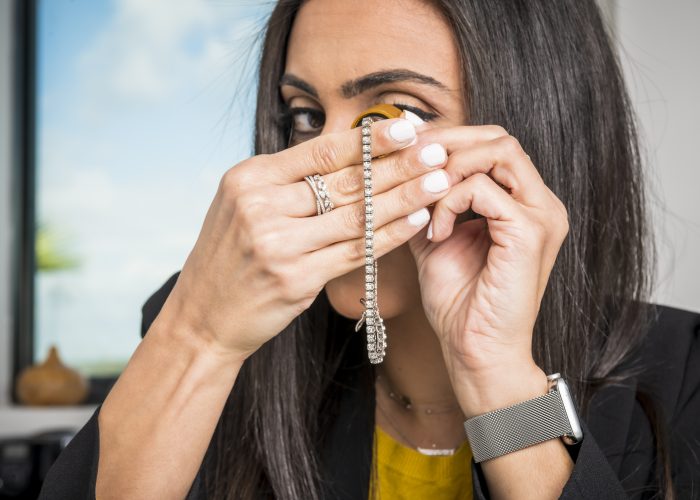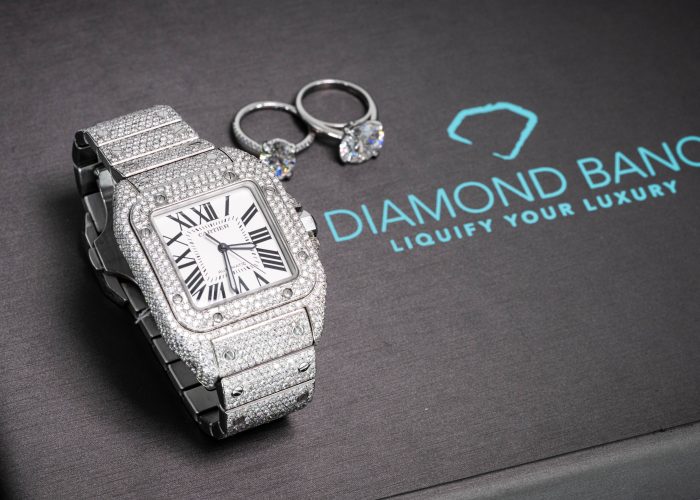 HOW IT WORKS
Get a Quote
No Risk & No Obligation
Complete our free and simple submission form describing your item. After reviewing your submission, our team of experts will contact you with an initial quote, usually within one business day.
Start a Quote
Expert Evaluation
Mail-In or In Person
After reviewing our initial offer, we will provide you with a fully insured, prepaid shipping label to safely send your items to our national headquarters for official evaluation. You are also welcome to visit one of our numerous locations nationwide to immediately complete your transaction in person.
Receive Cash
Fast & Secure
Once your item has been evaluated, we will contact you with our official offer and arrange for an immediate payment via check or wire transfer. Don't like our offer? No worries! Your item will be quickly returned to you. No risk. No obligation.