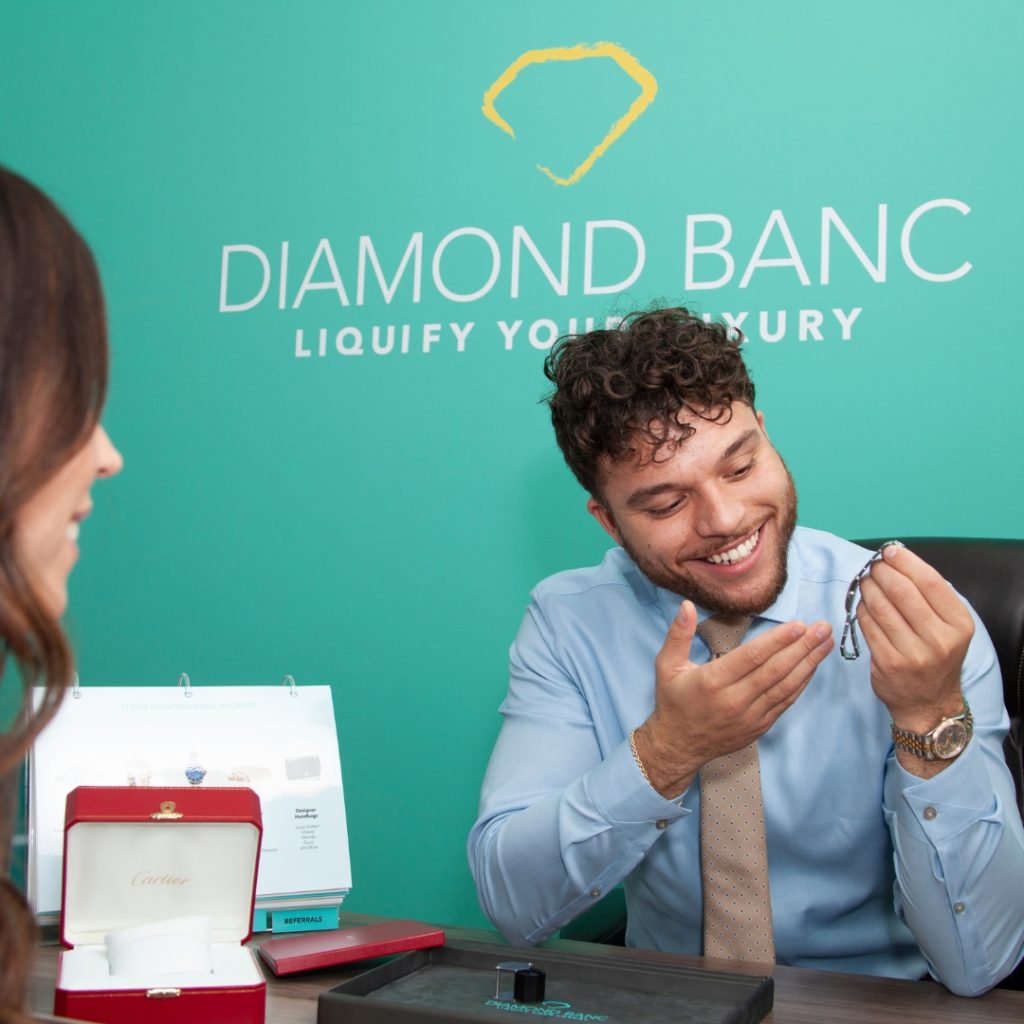 If you're going through a bit of a hardship money-wise and hold on to valuable jewelry (especially designer) — pawning jewelry may be the perfect alternative.
However, getting a jewelry loan is not only about finding a lender who can provide you with the highest offer. There are reflexes you may want to develop as a consumer when it comes to loan terms like interest rates and APR and how are they even calculated.
Don't get lowballed on a jewelry loan offer with a high-interest rate and shady repayment terms by questionable pawn shops in Atlanta.
DB Organization of Atlanta takes pride in guiding customers through the loan process, especially when it's time to reveal numbers and dollar signs.
What is an interest rate?
When you borrow money secured by your fine jewelry as collateral, your lender will charge you a percentage rate of interest each month on the total loaned amount.
If you wish to pawn jewelry with us, we will charge you a 2.5% interest rate every month or 30% APR when you pledge collateral with a loan-to-value ratio between 30% and 50%.
Suppose you have stunning designer pieces or custom diamond jewelry and looking to leverage its liquidity for a larger loan. In that case, you can get up to $500,000 USD and qualify for an even lower interest rate.
What is APR?
APR, or annual percentage rate, is a loan's yearly cost when you borrow against your jewelry.
The APR is a 12-month fixed percentage that includes the monthly interest rate calculated over the agreed loan + other fees or charges such as loan administration, security, vault storing, insurance, etc.
This grouping of the abovementioned fees and charges is called the representative APR: a useful tool you may use to compare or negotiate with pawn shops in Atlanta so you can be more confident during your consideration stage.
Representative Example
Meet Ivette, a self-employed graphic designer from Atlanta.
Ivette is looking to create her own NFT project with a friend and wants to rent a galleria room inside the museum of contemporary art of Georgia to display some of her works.
She needs a couple of thousand dollars to invest in this project and her friend suggested getting a collateral loan by securing her most expensive piece of jewelery, a custom-made 2 carat ring set in platinum.
Ivette is paying a car loan, student loan and has 2 active credit cards, therefore opting for a non-bank lending alternative to fund her dream project would be ideal.
After typing "jewelry loans in Atlanta" in the search bar, she encountered DB Organization of Atlanta offering much more reasonable rates than most pawn shops in Atlanta.
With the filling of a simple form describing her item in detail, she received an initial offer the day after.
In this representative example, let's say the loan amount was granted for $11,500 USD. Ivette is looking to coordinate her loan payments with client payments which are done on every 15th of the month.
She agreed on a 1-year term for her jewelry pawn loan, which means:
11,500 x 0.025 = $287.50 per month of interest payment
OR
11,500 x 0.3 [APR] = $3,450 of total interest paid after a year when the item is recouped
Ivette now has a clear understanding on how much this loan would cost her, which help her budget and balance out her personal and business expenses.
A Flexible & Tailored Repayment Plan
DB Organization of Atlanta offers the most flexible terms on jewelry loans in Atlanta. 
When it comes to repaying your jewelry pawn loan, the term of your loan is entirely up to you. You may take as little or as much time as you wish to repay the principal balance.
Our loans are structured in 30 days spans. We allow our customers to stretch the life of their loan for as much 30 days as needed, with the condition that minimum payments are met.
Also, you may use your jewelry pawn loan as a revolving line of credit. Meaning, that you can borrow against the amount you pay back on your items, like a loan from a traditional bank.
We offer the best jewelry pawn loans in Atlanta, period.
Aside from our low interest rates and convenience of repayment plans, DB Organization of Atlanta offers the highest LTV ratio (loan-to-value) throughout the United States.
When we make you an offer, we do it in no-pressure, no-obligation manner and never set a time clock to honor that offer.
When you seek for jewelry loans in Atlanta, it's important to trust a company with a solid credibility in the lending industry. We take pride in the way we conducts our operations and always have our customers' best interest at heart.
Looking for a jewelry pawn loan? You can start the process online here or visit our modern and spacious office in Atlanta.
Jason Perry is our Market Director and a GIA-graduate gemologist with hands on experience with diamonds, gemstones, and jewelry appraisal.
Feel free to call (404)-407-5046 or set up an appointment online and get ready for a whole new alternative to obtaining a loan with pro-borrower terms.
Pawn Shops in Atlantanavigate_nextGet A Loannavigate_nextLocationsnavigate_next
Related Posts