Nationwide Gold & Silver Buyers
Fast. Simple. Secure.
Get up to $500,000 in 24 hours or less from our expert gold & silver buyers.
Describe your item
Final Step
Thank You
THANK YOU
We have received your submission.
A member from our team will
contact you shortly!
Selling Your Unwanted Gold Items a Smart Option
Just like how your taste in clothes changes, your taste in jewelry changes as well. Sometimes you just need something else more than you need your old jewelry. Selling Your gold, silver, and platinum jewelry to Diamond bank's gold buying division is the smart choice. Sell us your old gold jewelry, or gold items of any type.
Expert Gold Buyers Fund You Quickly
Our expert gold buying evaluators take every value-enhancing attribute of your gold into consideration to offer you the most competitive settlement payment for your gold. Our gold-buying process is fast and simple.  You can also sell your unwanted jewelry for a great price at Diamond Banc; simply explore the options, and make a choice!
Simple & Secure Selling Process
You are welcome to overnight your gold items into us fully insured, or visit one of our nationwide luxury private offices to satisfy all your gold selling needs and receive same-day funding from Diamond Banc,  your choice gold buyer. Diamond Banc is also an expert jewelry buyer. We carefully inspect all items to see if they possess value in addition to their gold weight and pay you accordingly. These extra selling proceeds are based on diamond weight,  and or the manufacture of the gold item you are selling. We uncover and pay big premiums for designer gold jewelry from the likes of Tiffany, Cartier, and many more.
We Are Gold Buyers & Gold Secured Lenders
You likely know there are plenty of companies who will buy your gold. We are one of them and the best gold buyer for you to select is you value high payouts, integrity, good communication, and a luxury confidential selling experience.  Outside of being Gold, Jewelry, Rolex, and Diamond Buyers, Diamond Banc is the best jewelry secured lender in the nation. At Diamond Banc, you have the option to retain ownership of your gold, while still enjoying the liquidity as if you sold it via our gold-secured lending options.
Capitalize on the Market & Strong Gold Prices
You might have bought a piece of jewelry many years ago, and now the price of the metal has increased dramatically. This often creates the ideal environment to sell your jewelry, Gold item, and gold & silver bullion.
Fast, Simple, and Secure Selling with Diamond Banc!
Diamond Banc is one of the most reliable, experienced, and trusted jewelry buyers in the industry, with more than 125 years of experience. We are a customer-centric company that always focuses on helping customers in making the most of their jewelry.
Unlike other gold jewelry buyers in the industry, we don't evaluate the value of your jewelry based on its weight; instead, we use a standardized process to find the best price we can pay to our customers for their jewelry. Our approach has allowed us to maintain the top position on the leaderboard for the past many years, and this is why we are known as the best old gold jewelry buyers in the nation. We even pay premiums for all the fine jewelry pieces, which sets us apart from other gold jewelry buyers.
How to know what your jewelry & gold is worth?
Several factors affect the price of your jewelry and gold items. Let's take a look at the most crucial ones:
1. Amount & Quality of Precious Metal & Diamonds.
The amount and quality of precious metal and diamonds featured in your jewelry will have a tremendous impact on its current market value. The finer the quality of the  precious metal and diamonds, the more we are able to pay.
2. Demand & Supply
No gold or jewelry buyer dictates the current market value of items, the best ones simply know the current market conditions and participate in it by providing value to their customers. A common consumer thought process is to consider what you paid for the Gold, Jewelry, Rolex or Diamonds when you go to sell them or borrow against them.  The truth is, the market and global demand dictates the offers and payments we provide clients, not what you originally paid for their items. Whether you paid $1K or 1 million for your items the market does not take your original purchase into consideration when deriving at today's value, buyers demand does.  Rarity alone does not make an item valuable. This factor that drives high selling prices is market demand from current active buyers seeking you.
3. Economic Factors: The Value of Your Items.
Like all other markets, the gold, diamond, and jewelry pre-owned market are affected by the economic climate. Inflation and times of global uncertainty create increased demand and price for gold.  High-interest rates and a thriving, peaceful global economy often reduce the demand and value of gold being held as an investment asset. In times of economic contraction, the amount of consumers selling jewelry often increases to the number of willing buyers, which creates downward pressure on the values of these items.
4. Currency Movement
The movement of currencies is another influencing factor when it comes to the price of jewelry you own. A falling U.S dollar has the usual tendency of pushing the prices of metals like gold to the higher side.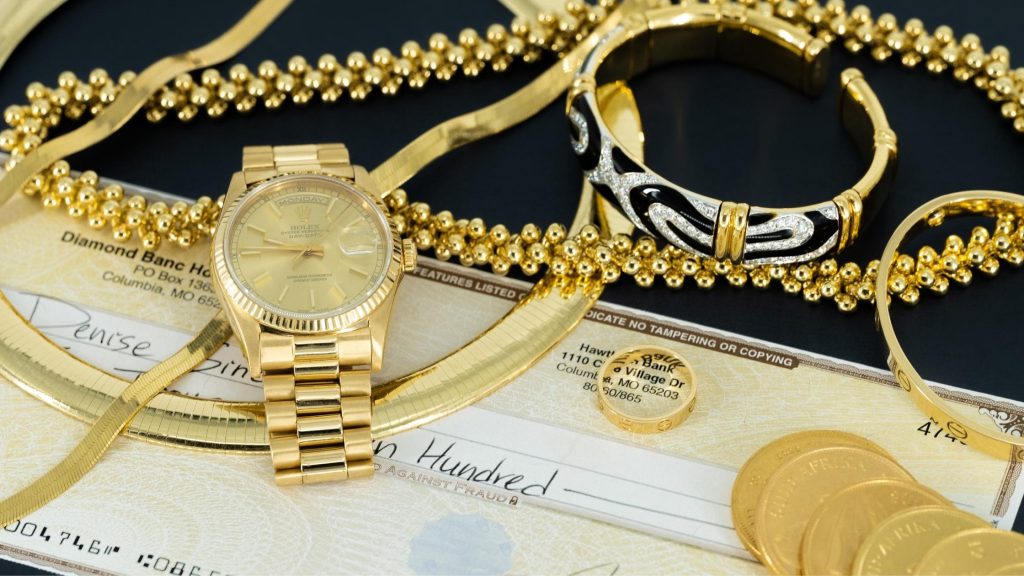 We Are Gold Buyers of The Following Types:
If you have bullion or a collection of jewelry you never wear, Diamond Banc will buy your unwanted gold and silver items. Our longstanding and well-established partnership with many of the largest refiners and precious metal brokers in the country allows us to purchase large amounts of precious metals from the public while still offering you top dollar.
Gold & Silver Bullion
Gold & Silver Coins
Gold Krugerrands
American Gold Eagles
Canadian Gold Maple Leaf
Mexican Gold Libertads
Australian Gold Kangaroo
Chinese Panda gold coins
Gold Philharmonic coins
Credit Suisse Gold Bars
Johnson Matthey Gold Bars
Perth Mint "Gold Minted Bars"
 Engelhard Gold Bars
Gold Jewelry of Any Type
Broken Gold Jewelry
Scrap Gold
Dental Gold
Why Sell To Diamond Banc?
Simple, Fast, and Safe Process
Channeling our 125 years of experience, we have built a simple, safe, and fast process for getting quick cash for your jewelry. Selling jewelry and getting the right price was never this easy. Selling at Diamond Banc can help give you a cash boost now and again.
More Money
Instead of just relying on the weight of the jewelry, we look for all the available possibilities for paying the best price to all our customers.
100% Customer Satisfaction
We are known as one of the best old gold jewelry buyers because we have maintained a 100% customer satisfaction rate for the past 125 years. Our assistance doesn't stop at just selling your old jewelry. We ensure less hurdles to jump over.
Decades of Trust
We know it's difficult to trust a company when it comes to selling your jewelry. But with Diamond Banc, you get the trust of decades. As part of a jewelry company that was established in 1896, Diamond Banc ensures your safety, security, and end-to-end assistance throughout the process of selling your old unwanted jewelry.
If you are curious to know what your gold or silver is worth or if you are interested in selling your gold, call Diamond Banc at 1-573-875-2265, visit our website, or visit one of our private luxury offices in the following markets.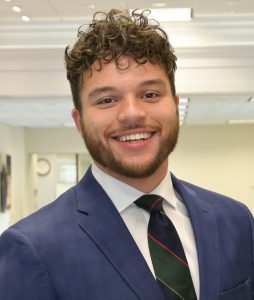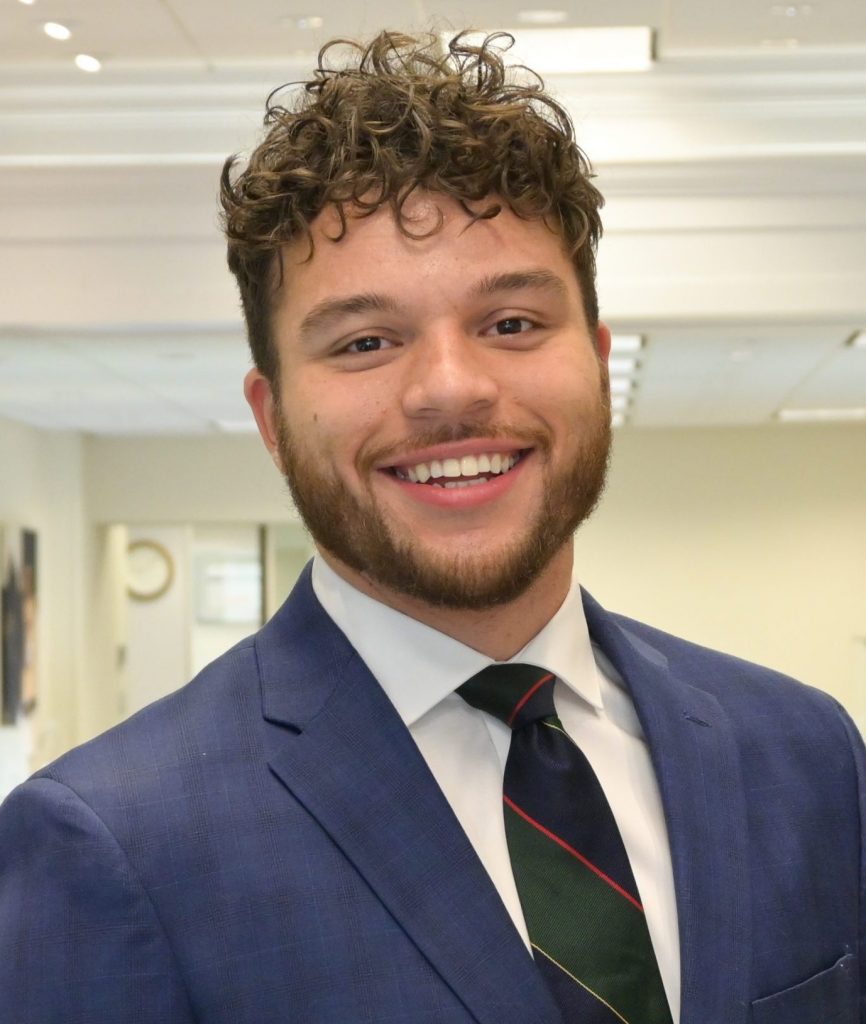 Meet Our National Director of Funding
Jordan Isaacs
Jordan Isaacs is the National Director of Funding for Diamond Banc's corporate office. His primary focus is to ensure that our clients receive the best experience possible while evaluating their items for immediate sale or loan services. Jordan is an expert communicator with prompt and informative follow-up. His unique skill set and expertise allow him to provide the highest offers in the industry, financing options catered specifically to our clients, and exceptional service. Please call us or make an online submission to begin working with Jordan.
HOW IT WORKS
Get a Quote
No Risk & No Obligation
Complete our free and simple submission form describing your item. After reviewing your submission, our team of experts will contact you with an initial quote, usually within one business day.
Start a Quote
Expert Evaluation
Mail-In or In Person
After reviewing our initial offer, we will provide you with a fully insured, prepaid shipping label to safely send your items to our national headquarters for official evaluation. You are also welcome to visit one of our numerous locations nationwide to immediately complete your transaction in person.
Receive Cash
Fast & Secure
Once your item has been evaluated, we will contact you with our official offer and arrange for an immediate payment via check or wire transfer. Don't like our offer? No worries! Your item will be quickly returned to you. No risk. No obligation.