Loans Secured by
Jewelry in Orlando
Start Online, Complete In Person.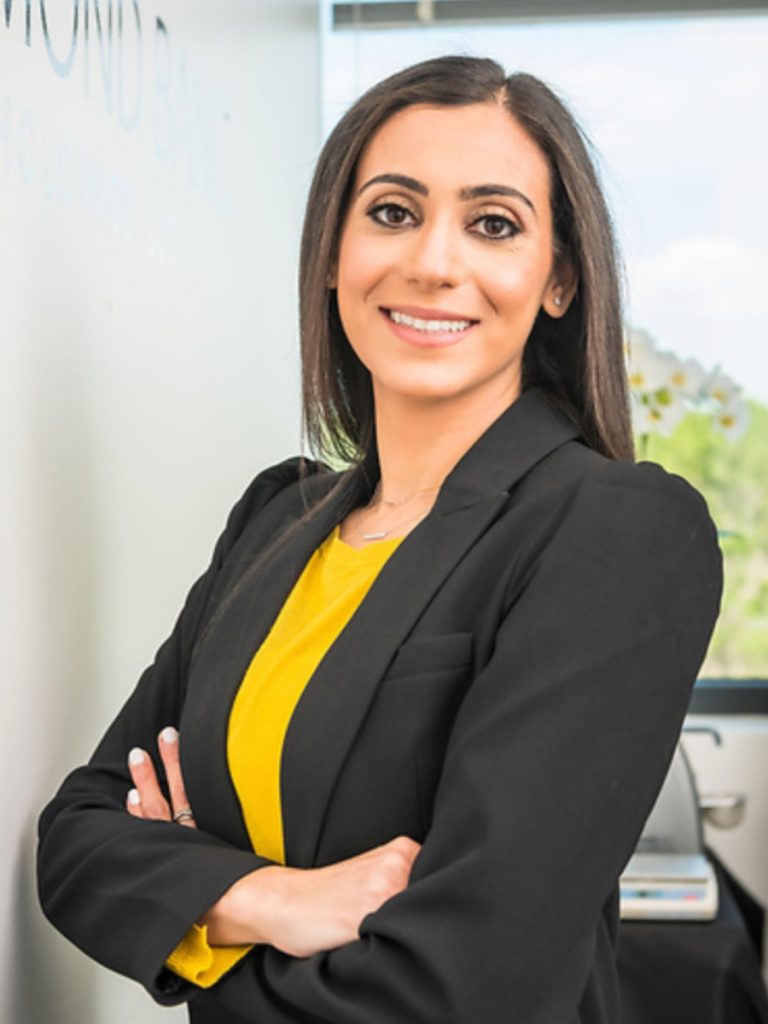 Deena Maali
Orlando, FL
Deena Maali is Diamond Banc's Orlando Director with over 10 years of experience in fine jewelry and luxury watches. Born and raised in the heart of Orlando, her past experience includes buying and selling loose diamonds and designer fashion items to working with a vast variety of high-end watches. With her knowledge from working in many facets of the industry, Deena provides her clients with stellar experience, offering the best values and the lowest interest rates for their items. Visit Deena at our Orlando office for a free, no-pressure evaluation!
Get a Quote
In Person or Online
Schedule a private evaluation at your local Diamond Banc or use our online submission form.
Start a Quote
In-Person Evaluation
Complete In Person
Meet privately with a Diamond Banc director who'll evaluate your items right in front of you & make you an offer.
Get Funded
Fast & Secure
If you accept our offer, we will issue payment immediately via check or wire transfer.
FAQs
How does the transaction work?
There are two ways you can work with Diamond Banc to get a loan secured by your fine jewelry, diamonds, & watches:
If you are looking to receive an immediate offer & same-day funding, we encourage you to visit one of our offices nationwide. Schedule an appointment at a Diamond Banc location near you, have your jewelry evaluated on the spot, and get paid immediately. Typically, this process takes less than 40 minutes.
Fill out our online submission form above & receive a quote within 24 hours from one of our expert diamond buyers. Our team will provide you with a fully-insured shipping label to mail your diamond to our headquarters. From the moment your diamond arrives at our headquarters, it remains on continuous video surveillance until the package is opened and your items are verified. If you accept our offer, payment will be issued immediately via wire transfer. If you elect not to accept our offer, your diamond is expedited back to you with a fully-insured shipping label.
What if I don't accept the loan offer?
If you elect not to accept our offer, our team will expedite your item back to you immediately.
What is the minimum and maximum amount of money I can get?
Diamond Banc regularly makes loans from $500-$250,000+ secured by fine jewelry, diamonds, and watches. Our loan offers are based on the liquid wholesale value of your item.
To learn more about our Jewelry Equity Loans & how we determine how much your item is worth, watch this video from our founder, Mills Menser.
How long does it take to fund the transaction?
In most cases, it takes less than 24 hours to receive payment from the moment you accept our loan offer.
Do I have to make monthly payments?
Yes. You will be required to make monthly interest payments during the duration of your loan. If you elect to make a payment larger than your minimum monthly interest payment, that amount will be applied toward your principal balance.
Do you provide insurance?
Yes. Your items are fully insured while in our possession.
Will defaulting on my loan affect my credit score?
No. Diamond Banc does not report to any credit bureaus. Our loans are completely confidential. In the event the borrower elects not to repay their loan, there is no negative recourse to the borrower outside of surrendering ownership of the pledged collateral.
 How is my item stored and secured?
All assets are stored on-site in one of our state-of-the-art, alarm-protected, 24-hour security-monitored, fireproof vaults. Your items are fully insured while in our possession.
Once the loan is paid off, how do I get my item back?
Once your loan balance has been brought to zero, our team will expedite your items back to you.
How long do I have to make payments?
Diamond Banc offers 30-day loans that can be extended for as many 30-day periods as the client needs. There is no minimum loan period, as our loans can be paid off in full at any time without penalty.
From The Founder
What Client's Are Saying
Angel Rincon
★★★★★
excelent service
Jodi Carnevale
★★★★★
Deena is beyond amazing.. she's honest, helpful, and doesn't make you feel bad or rushed. She takes her time explaining things and gives you all your options. Would recommend her hand down!
J H
★★★★★
Very professional and honest outstanding service.
Teresa Collard
★★★★★
I had a great experience working with Deena Maali at Diamond Banc. She treated me so well!! I would utilize Diamond Banc's services again in the future!!
Talia Gerber
★★★★★
Excellent Service! Deena is one of the sweetest and kindest people you will ever meet. She took her time, we had an amazing conversation. I never felt rushed, pressured or unwelcomed while I was with her. Just the opposite I felt like I was sitting with an old friend catching up. Don't hesitate to go see her you won't regret it for a minute! She is fair, honest and made my experience stress free.
Tony Pavlick
★★★★★
I had a very good experience today. It was fast and friendly. I would definitely sell a watch there again
Angie G
★★★★★
EXCELLENT service- gave me a good price & deal. Service was great, staff was super friendly and the whole process was very easy & fast. Def the place 2 go.
David Morse
★★★★★
I had a great experience selling my coins and jewelry. Thank you for your help.
Helen Delores White
★★★★★
We grately appreciated your warm and engaging demeanor. You made our experience very pleasant. I wouldn't hesitate to recommend your services to my friends.
Torrie Munday
★★★★★
Deena is so kind and knowledgeable. She takes her time to make sure you understand what you have and any option available. 10/10 recommend her for any need you may have!
star hallman
★★★★★
Deena was a pleasure to deal with! She is knowledgeable, polite, and professional. She made the experience stress free and we highly recommend her. If you are looking to sell or just to get a loan , she is the only person we would use!!Sincerely,Star
Kevin Heston
★★★★★
Deena was a pleasure to work with. Honest. Straight forward pricing. Will do business with her again.
Camila Manzano
★★★★★
Deena was really nice, my mom and I had a good time. I recommend to come here 100%. She will answer all the questions that you have! Very patient and polite. You won't regret coming here.
Harrison Steward
★★★★★
Quick and great experience at fair value
llaffosse
★★★★★
This is the first time I have ever written a review in my life. I felt compelled to write this review because of the outstanding service my wife and I received. Deena was highly professional, knowledgeable, and just plain personable. She took the time to get to know us as people. Other companies tend to undervalue your precious stones, but Deena taught us about diamonds and how to determine their actual value. I recommend every and anyone to this location in particular. Interest rates were excellent, and the sale value was outstanding. I wouldn't dream about using any other company. If you want to sell or get a loan for your diamonds or gold, look no further than DIAMOND BANC. (Windermere, FL location) You won't regret it! Awesome experience.Sincerely,Lennie ​
Elizablu
★★★★★
Julia Leggett
★★★★★
I feel right at home like family trusting Diamond Banc Deena is very professional , and ofcourse beautiful inside and out I have been doing business here since 2021 and have been extremely informed and advised and trustworthy thank you
Charles Simmons
★★★★★
Great place to do business they really pay the most for your jewelry!!! Great service
Sakhi Patel
★★★★★
Deena was very sweet and helpful! She helped me sell some of my jewelry and gave me a good price for all of it! Higly recommend her store.
C.L. Marin
★★★★★
Deena made me feel good about selling my jewelry and gave me the highest price. Thanks Deena.
purdusteve1
★★★★★
I was there last week and Deena was probably one of the most informative jeweler that I have come across.
Ryan Overfelt
★★★★★
Amy Richards
★★★★★
Deena is extremely knowledgeable & friendly – a true pleasure to work with! I wouldn't take my items anywhere but Diamond Banc.
cori dykes
★★★★★
Bryon Blakey
★★★★★
isaac norton
★★★★★
Super friendly and helpful!!!
David Ferguson
★★★★★
Stumbles Public House
★★★★★
zach overfelt
★★★★★
Ruba Mubarak
★★★★★
Olena Leunova
★★★★★
K91978
★★★★★
Mary Said
★★★★★
Deena was very considerate and extremely patient I left very happy and will definitely be a returning costumer
Judith Aquino
★★★★★
Tiya Delson
★★★★★
Amazing Customer Service !
katie hamdan
★★★★★
It is nice to know that your company takes the time to get to know their customers, especially Deena! Deena's customer service is outstanding!
Aliah Hamdan
★★★★★
Thank you for everything! The items are of high quality, and Deena's service is superb!
Janelly Bazil
★★★★★
Amazing customer service! Highly recommend!!
Anayah B
★★★★★
Deena is amazing! I loved working with her.
Sara Maali
★★★★★
Dalia Abu Soud
★★★★★
She was very helpful!
aya maali
★★★★★
Dwight Davis
★★★★★
I highly recommend Deena very professional, and great service.
Miguel Romero
★★★★★
Pretty cool place
Dwain Carbon
★★★★★
Deena was amazing. Process was seamless.
Nilsa Roman-Willits
★★★★★
suzanne
★★★★★
I had a great experience at Diamond Banc all thanks to Deena Maali!! She was very knowledgeable and very patient. Thank you again, Deena.
Javier Santos
★★★★★
I recommend it for sale or loan a good deal and better than a pawn shop ..
James Hofstetter
★★★★★
Deena at Diamond Banc was easy to deal with selling an old Rolex. Process was smooth and price was fair for both parties. Will definitely use in the future if selling a watch or jewelry.
Maggie Kirchof
★★★★★
Quick and professional!
Khari Naeem
★★★★★
Great experience. Deena did a very detailed examination on the watch and made the process as seemless as possible. Additionally, she educated me on the process and informed me about the several services the company offers. I definitely be back!
evanjcoleman evanjcoleman
★★★★★
Arron Chao B
★★★★★
Diamond Banc is an efficient and reliable jewelry-buying company,Deena is very professional and honest!Also, she gives a call one day before the meeting to make sure the customer doesn't miss it.
Corey Williams
★★★★★
My experience working with Deena was awesome she is very knowledgeable, professional and fair I will definitely recommend her to family and friends.
Paul Vera
★★★★★
Deena was great, friendly, and professional. Definitely recommended 100%
Jessi Juanita Mars
★★★★★
Deena has been nothing but kind and really made me feel safe leaving my diamond with her, so I can take out a loan. I truly recommend this business if you are looking for a loan or to sell. The process was set up so easy and she even answers all your questions with out a doubt. Thank you so much for helping me when I needed it most!
Daniela Morales
★★★★★
Deena was amazing, knowledgeable, professional! 100% recommended!
Hector Orozco
★★★★★
Deena Maali gave my wise and i a warm welcome to her office. She made us feel safe about the whole transaction with our Diamond ring. She made everything transparent, professional, and also friendly. We will definitely come back and I highly recommend Diamond banc if you are short on cash. Thanks Deena.
Michele Wallace
★★★★★
I had jewelry and purses just sitting in my closet but was nervous about the process until a friend told me about Diamond Banc. The moment I walked in the doors, Deena took the time to make sure that I felt comfortable and explained the whole process to me. I appreciate that she not only wanted to make sure that I understood the process but also that I was confortable with each decision I made with my jewelry and handbags. I would recommend them to anyone thinking about consignment or selling. Deena made the process easy and always had a smile on her face. Thank you.
Odofrewil Lagomarcinis
★★★★★
It was a great experience working today with Deena. She made me feel very comfortable with my decision and I am looking forward to working with her again. I highly reccomend her services!
ruben Mena
★★★★★
Amazing attention, Amazing price on the appraisal amount on my stone. The service provided by Deena is beyond spectacular..
Chip Fernandez
★★★★★
Deena is amazing! Extremely knowledgeable and personable. She made the process very smooth and easy. She was personable and patient, answered all my questions and helped me understand everything clearly. I will definitely be back because of the service she provided! She is an asset to this company.
Marlene B
★★★★★
Deena makes this experience seem so stress free. She is there when you need it most. She truly cares about the well being of her clients and puts their needs first. The appraisal and pricing is extremely fair. I highly recommend Deena and Diamond Banc should you need an appraisal or to sell. She is amazing.
Just Live
★★★★★
I was looking forward to selling my Rolex 41mm. Searched online and found diamondbanc. They buy and lend with collateral I took the lending option instead. Met up with Dina by their Windermere location everything went accordingly as told. Filled up paperwork by noon , same day received the cash borrowed. After 4 months I paid back the loan got my watch back same way I left it. Thank you dianmond banc , thank you Dina it was nice doing business with the team , best regards
Wuilmar Matias-Morales
★★★★★
Ojarriyah Crenshaw
★★★★★
Deena is amazing, definitely will return:)
Mia Jordan
★★★★★
Donte Milotte
★★★★★
Thank you Deena for assisting me in selling my Rolex. Made it very seem less and easy! Thank you.
Mya Keeler
★★★★★
ehab maali
★★★★★
JJ Mineral
★★★★★
Jorge Luis Ramos Aumaitre
★★★★★
5⭐️ Deena hizo que todo fuera una experiencia excelente, es una persona muy amable y profesional. 100% recomendable!
Kimberly Best
★★★★★
I drove from UCF area, which was quite a distance to Diamond Banc! However, I met with Deena, she was very friendly, professional and a pleasure to work with. She seems to know and enjoy her job. A real people person😊. I would highly recommend this place for selling your gold jewelry. It was worth the drive!!!
Nino & Barbara
★★★★★
Lisa James
★★★★★
Amazing service! Fair and honest.
Jose Valbuena
★★★★★
great service, easy and fast
Gio Abrudom
★★★★★
Deanna is a special person who helped us understand and gave us a good price. Go ahead and say highly recommended by Gio.
Leeno
★★★★★
I got lucky dealing with them and Deena is excellent, patient, professional, very polite and well experienced in her field.
Maria Reyes
★★★★★
Wendy Worth
★★★★★
Deena gave me a fair price when buying my gold coin and ring. I highly recommend her. Thank you!
Kim Lynn
★★★★★
Wonderful and easy experience. Definitely recommend!
tia davis
★★★★★
Audrey Cedeno
★★★★★
I had a wonderful experience with Deena. She's very polite and professional. I was very happy with her offer and fast payout. Highly recommend her
Richard Hardy
★★★★★
Ed Suez
★★★★★
The experience of having my watch examined and sold was very smooth and professional. Deena was pleasant to work with and offered me answers to all my questions. The process is very secure. I would suggest visiting their website and making an appointment for an honest, fair appraisal.
Martin Orrego-Gonzalez
★★★★★
I'm very pleased with there hospitality & always very helpful with issues at hand .I would recommend this place to anyone that would need there services.
Laurie Lake
★★★★★
Deena Maali is a credit to the Diamond Banc. She was very professional, willing to work with my schedule and, above all, a person of integrity – eager to do the very best possible for her clients.
Sasha Hefler
★★★★★
My experience with Deena with the Diamond Banc was smooth and flawless. She made me feel comfortable with the transaction of my Rolex and was honest as well as fair with pricing. I would definitely recommend Deena and go to her in the future.
Jason Perry
★★★★★
Vanessa Rechi
★★★★★
Atendimento rápido e sem burocracia!
shelbyymazingg
★★★★★
Deena Maali was very attentive with all clients in the room. Greeted everyone before bringing them into her office. Gave more information about the specific pieces we brought in. Thank you for the professional business!
Sam Roberts
★★★★★
This is probably the best place in Orlando to get a fair offer for unwanted/unloved diamond jewelry. They are considerate, kind, and probably one of the best dealers I have met. 10/10 would recommend.
Erica Dildine
★★★★★
Deena was amazing! Professional and kind! I was in and out in 20 minutes! Thank you for your help and the beautiful conversation.
Kay
★★★★★
Deena was a pleasure to work with! Highly recommend.
Jeffrey Keene
★★★★★
My experience with "Diamond Banc" ('Specifically, with Deena as my Contact') was "Exceptional!!!" … I first visited "Diamond Banc" as an 'Exploratory Appointment' ('As I was seeking a Very Specific arrangement on "My Diamond: "3.13 Round Brilliant" …Upon meeting with Deena… I was both very pleased & impressed by her "Professionalism and Knowledge". Additionally, I felt I could "Trust Her" ('After Visiting two "Diamond Brokers" in the Orlando area… I quickly realized "The 'Unfortunate' Depth of Deception" in this Industry! And, I returned to "Diamond Banc" ('Deena') …Deena was very patient with me ('I have a tendency to be "Chatty" 🙂 … And, I felt she was more than Fair in both her 'Analysis and Offer'.I will ('Have!') be recommending 'Diamond Banc' &, I'm looking forward to our continuing business Relationship!"May God Bless Us All",Jeffrey G Keene"Faith… Hope… &, Love""Heb 11:1… Matt 7:7… &, I Cor 13″
Brian Smith
★★★★★
It was a pleasure to work with Deena @ Diamondbanc… She was very knowledgeable and professional, as well as easy to work with. She made the whole process a breeze from beginning to end. Highly recommended.
Xammany Vongratsamy
★★★★★
Sandra Gebara
★★★★★
I would absolutely 100% recommend Diamond Banc to anyone looking to sell their gold! Excellent customer service! Great pricing. And she's extremely knowledgeable.
See all Google Reviews
Visit a diamond banc near you
Diamond Banc has locations in Tampa, Boca Raton, Miami, Aventura, Orlando, Nashville, Atlanta, Charlotte, Kansas City, Columbia, & Rochester.
What We Loan On
Diamond Banc is a trusted industry leader offering online short-term jewelry equity loans for people who use their jewelry as collateral.
Orlando Pawn Loans from Diamond Banc
You can leverage the value locked in your jewelry with Diamond Banc's pawn lending service here locally, in Orlando, Florida without stepping foot into a pawn shop. Use your designer jewelry, engagement ring, precious metals, or designer handbag to get immediate funding: conveniently and confidentially.
Our private Diamond Banc office in Central Florida is the better option when looking to get paid immediately for your jewelry, while still maintaining ownership of your jewelry items. Our expert jewelry pawn staff makes it easy and convenient to get a jewelry pawn loan secured by gold, silver, and diamond jewelry. We also accept Swiss timepieces as collateral for a jewelry loan such as Patek Philippe, Rolex, Cartier, Omega, Panerai, and more brands.
Our pawn loans are structured with our customers in mind. If you're searching for a secure and professional jewelry pawn loan locally in Orlando, FL, Diamond Banc of Orlando is the best local option! Conveniently located in The Grove shopping district in a private and secure office, Diamond Banc gives you the privacy our clients deserve.
Advantages of a Diamond Banc Jewelry Pawn Loan in Orlando:
Highest Loan Offers: The more a lender specializes in jewelry, the more they can offer for your items. Pawnshops take a wide range of items on collateral such as golf clubs, power tools, electronics, etc. In contrast, Diamond Banc offers pawn loans in their area of expertise: jewelry, watches, diamonds, and precious metals. We specialize and focus on one area of pawn loans, enabling us to offer the maximum amount. Our jewelry experts have been in the industry for decades and complete continuous training and education courses to recognize every value-adding factor when evaluating your items, to maximize your loan pawn amount. Deena, our local Orlando FL Market Director is an expert with a decade of experience in buying and selling fine luxury jewelry and watches. Deena's extensive training and knowledge allow her to provide the maximum jewelry pawn loan offers in Orlando.
Credit Line Flexibility: Much like a traditional bank, Diamond Banc also enables our clients to borrow funds and access a continual line of credit. Our flexible repayment terms mean that as long as your loan pawn is in good standing, Diamond Banc allows customers to draw funds up and down against their items, like a credit line, or credit card. We have several local Orlando small business owners that have received a pawn loan in the past and now know the funding they can access using their jewelry, watches, or diamonds.
Hassle-Free Repayment: In the decade following Diamond Banc's inception, we quickly realized that every situation is different. Some of our clients need immediate funding for a personal financial situation while some of our clients want to borrow funds for a business opportunity. Consequently, Diamond Banc Orlando strives to be flexible to meet all of our customers' needs. We can work with you to create an easy repayment plan for you and your financial needs. We also allow you to pick your monthly payment date. Compared to a traditional pawn, Diamond Banc allows you to make principal payments above the monthly interest payments, which will lower your total principal amount and monthly interest loan pawn payments.
Best Loan Terms: Diamond Banc in Orlando will offer you the best local option of a high loan amount and low borrowing costs of funds. In fact, we are so confident in our loans that we encourage our customers to shop around Orlando to make sure they feel equally as confident in our offers. Our offers never expire, meaning that you have a chance to compare our offers with other Orlando jewelry pawn shops. Check with the others who offer pawn jewelry loans first, then come see the vast difference doing business with Diamond Banc Orlando will make.
Contactless, Digital, and Automatic Loan Payment Options: Never worry about forgetting your loan pawn payment! Diamond Banc in Orlando offers a digital and automatic payment option, which makes it easy to pay your loan back. We set up your account to automatically ensure your monthly payment is made, without adding another thing for you to remember. We know our clients are busy and we aim to make the pawn loan process easy, seamless and a pleasant experience.
Loans from $500 to $275,000 Available for Business or Personal Use: Our vast flexibility means we can offer a myriad of values to our customers. Diamond Banc in Orlando is your local pawn option near you without value limits. Whether you are looking to borrow against a 0.50ct diamond or a 12.00ct diamond, we are dedicated to providing solutions to your financial needs, no matter how small or large. We can loan any amount, quickly and securely.
Diamond Banc is Orlando's best option for fast, discreet, and confidential jewelry pawn loans. We treat all customers with respect and kindness. We work tirelessly to provide customers with the best loan terms possible, from the monthly interest on your pawn loan to the amount you want to borrow against your item. Whether you have a 0.50ct diamond or a vintage, highly sought-after Rolex, you will receive top-notch service with Diamond Banc in Orlando, Florida.
Diamond Banc's Orlando office serves a wide area of the Orlando metro including but not limited to:
Windermere, Dr. Phillips, Lake Nona, College Park, Winter Park, Downtown Orlando, Winter Garden, Downtown Winter Garden, Kissimmee, Baldwin Park, Thornton Park, Golden oaks, Delaney Park, Lake Eola, Metro West, Millenia, Clermont, Ocala, Orange County, Osceola County, Polk County, Lake County, Sumter County, Brevard County, Volusia County, Seminole County, & Marion County