Loans Secured by
Jewelry in Orlando
Start Online, Complete In Person.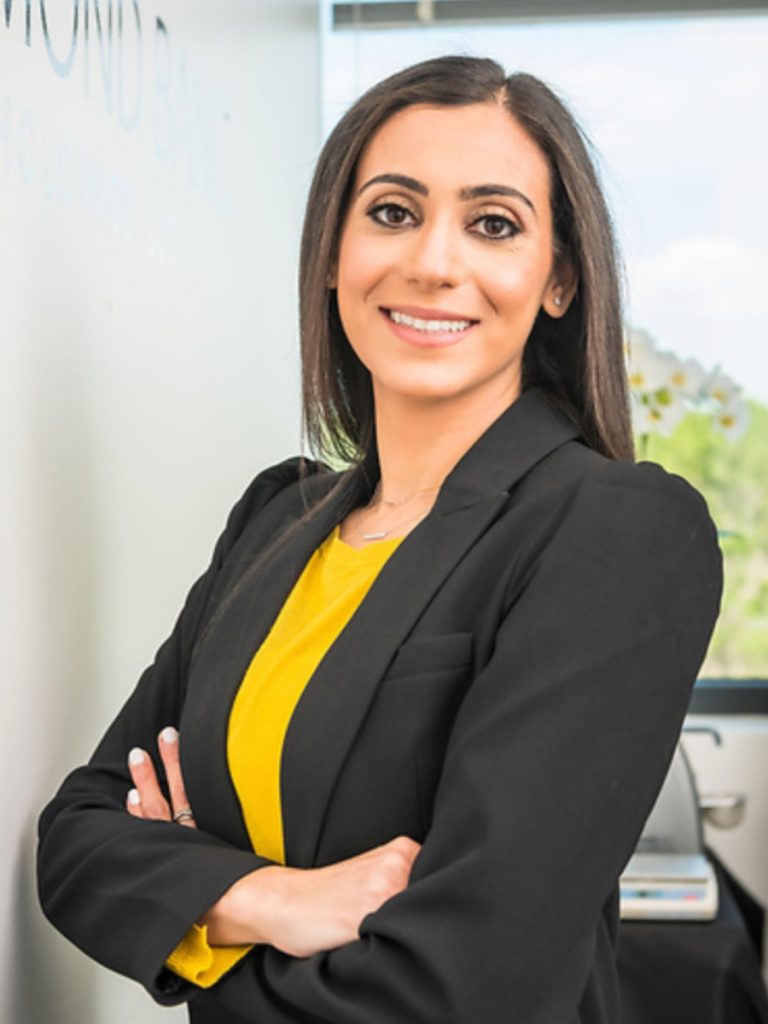 Deena Maali
Orlando, FL
Deena Maali is Diamond Banc's Orlando Director with over 10 years of experience in fine jewelry and luxury watches. Born and raised in the heart of Orlando, her past experience includes buying and selling loose diamonds and designer fashion items to working with a vast variety of high-end watches. With her knowledge from working in many facets of the industry, Deena provides her clients with stellar experience, offering the best values and the lowest interest rates for their items. Visit Deena at our Orlando office for a free, no-pressure evaluation!
Get a Quote
In Person or Online
Schedule a private evaluation at your local Diamond Banc or use our online submission form.
Start a Quote
In-Person Evaluation
Complete In Person
Meet privately with a Diamond Banc director who'll evaluate your items right in front of you & make you an offer.
Get Funded
Fast & Secure
If you accept our offer, we will issue payment immediately via check or wire transfer.
FAQs
How does the transaction work?
There are two ways you can work with Diamond Banc to get a loan secured by your fine jewelry, diamonds, & watches:
If you are looking to receive an immediate offer & same-day funding, we encourage you to visit one of our offices nationwide. Schedule an appointment at a Diamond Banc location near you, have your jewelry evaluated on the spot, and get paid immediately. Typically, this process takes less than 40 minutes.
Fill out our online submission form above & receive a quote within 24 hours from one of our expert diamond buyers. Our team will provide you with a fully-insured shipping label to mail your diamond to our headquarters. From the moment your diamond arrives at our headquarters, it remains on continuous video surveillance until the package is opened and your items are verified. If you accept our offer, payment will be issued immediately via wire transfer. If you elect not to accept our offer, your diamond is expedited back to you with a fully-insured shipping label.
What if I don't accept the loan offer?
If you elect not to accept our offer, our team will expedite your item back to you immediately.
What is the minimum and maximum amount of money I can get?
Diamond Banc regularly makes loans from $500-$250,000+ secured by fine jewelry, diamonds, and watches. Our loan offers are based on the liquid wholesale value of your item.
To learn more about our Jewelry Equity Loans & how we determine how much your item is worth, watch this video from our founder, Mills Menser.
How long does it take to fund the transaction?
In most cases, it takes less than 24 hours to receive payment from the moment you accept our loan offer.
Do I have to make monthly payments?
Yes. You will be required to make monthly interest payments during the duration of your loan. If you elect to make a payment larger than your minimum monthly interest payment, that amount will be applied toward your principal balance.
Do you provide insurance?
Yes. Your items are fully insured while in our possession.
Will defaulting on my loan affect my credit score?
No. Diamond Banc does not report to any credit bureaus. Our loans are completely confidential. In the event the borrower elects not to repay their loan, there is no negative recourse to the borrower outside of surrendering ownership of the pledged collateral.
 How is my item stored and secured?
All assets are stored on-site in one of our state-of-the-art, alarm-protected, 24-hour security-monitored, fireproof vaults. Your items are fully insured while in our possession.
Once the loan is paid off, how do I get my item back?
Once your loan balance has been brought to zero, our team will expedite your items back to you.
How long do I have to make payments?
Diamond Banc offers 30-day loans that can be extended for as many 30-day periods as the client needs. There is no minimum loan period, as our loans can be paid off in full at any time without penalty.
From The Founder
visit a diamond banc near you
Diamond Banc has locations in Tampa, Boca Raton, Miami, Aventura, Orlando, Nashville, Atlanta, Charlotte, Kansas City, Columbia, & Rochester.
What We Loan On
Diamond Banc is a trusted industry leader offering online short-term jewelry equity loans for people who use their jewelry as collateral.
Orlando Pawn Loans from Diamond Banc
You can leverage the value locked in your jewelry with Diamond Banc's pawn lending service here locally, in Orlando, Florida without stepping foot into a pawn shop. Use your designer jewelry, engagement ring, precious metals, or designer handbag to get immediate funding: conveniently and confidentially.
Our private Diamond Banc office in Central Florida is the better option when looking to get paid immediately for your jewelry, while still maintaining ownership of your jewelry items. Our expert jewelry pawn staff makes it easy and convenient to get a jewelry pawn loan secured by gold, silver, and diamond jewelry. We also accept Swiss timepieces as collateral for a jewelry loan such as Patek Philippe, Rolex, Cartier, Omega, Panerai, and more brands.
Our pawn loans are structured with our customers in mind. If you're searching for a secure and professional jewelry pawn loan locally in Orlando, FL, Diamond Banc of Orlando is the best local option! Conveniently located in The Grove shopping district in a private and secure office, Diamond Banc gives you the privacy our clients deserve.
Advantages of a Diamond Banc Jewelry Pawn Loan in Orlando:
Highest Loan Offers: The more a lender specializes in jewelry, the more they can offer for your items. Pawnshops take a wide range of items on collateral such as golf clubs, power tools, electronics, etc. In contrast, Diamond Banc offers pawn loans in their area of expertise: jewelry, watches, diamonds, and precious metals. We specialize and focus on one area of pawn loans, enabling us to offer the maximum amount. Our jewelry experts have been in the industry for decades and complete continuous training and education courses to recognize every value-adding factor when evaluating your items, to maximize your loan pawn amount. Deena, our local Orlando FL Market Director is an expert with a decade of experience in buying and selling fine luxury jewelry and watches. Deena's extensive training and knowledge allow her to provide the maximum jewelry pawn loan offers in Orlando.
Credit Line Flexibility: Much like a traditional bank, Diamond Banc also enables our clients to borrow funds and access a continual line of credit. Our flexible repayment terms mean that as long as your loan pawn is in good standing, Diamond Banc allows customers to draw funds up and down against their items, like a credit line, or credit card. We have several local Orlando small business owners that have received a pawn loan in the past and now know the funding they can access using their jewelry, watches, or diamonds.
Hassle-Free Repayment: In the decade following Diamond Banc's inception, we quickly realized that every situation is different. Some of our clients need immediate funding for a personal financial situation while some of our clients want to borrow funds for a business opportunity. Consequently, Diamond Banc Orlando strives to be flexible to meet all of our customers' needs. We can work with you to create an easy repayment plan for you and your financial needs. We also allow you to pick your monthly payment date. Compared to a traditional pawn, Diamond Banc allows you to make principal payments above the monthly interest payments, which will lower your total principal amount and monthly interest loan pawn payments.
Best Loan Terms: Diamond Banc in Orlando will offer you the best local option of a high loan amount and low borrowing costs of funds. In fact, we are so confident in our loans that we encourage our customers to shop around Orlando to make sure they feel equally as confident in our offers. Our offers never expire, meaning that you have a chance to compare our offers with other Orlando jewelry pawn shops. Check with the others who offer pawn jewelry loans first, then come see the vast difference doing business with Diamond Banc Orlando will make.
Contactless, Digital, and Automatic Loan Payment Options: Never worry about forgetting your loan pawn payment! Diamond Banc in Orlando offers a digital and automatic payment option, which makes it easy to pay your loan back. We set up your account to automatically ensure your monthly payment is made, without adding another thing for you to remember. We know our clients are busy and we aim to make the pawn loan process easy, seamless and a pleasant experience.
Loans from $500 to $275,000 Available for Business or Personal Use: Our vast flexibility means we can offer a myriad of values to our customers. Diamond Banc in Orlando is your local pawn option near you without value limits. Whether you are looking to borrow against a 0.50ct diamond or a 12.00ct diamond, we are dedicated to providing solutions to your financial needs, no matter how small or large. We can loan any amount, quickly and securely.
Diamond Banc is Orlando's best option for fast, discreet, and confidential jewelry pawn loans. We treat all customers with respect and kindness. We work tirelessly to provide customers with the best loan terms possible, from the monthly interest on your pawn loan to the amount you want to borrow against your item. Whether you have a 0.50ct diamond or a vintage, highly sought-after Rolex, you will receive top-notch service with Diamond Banc in Orlando, Florida.
Diamond Banc's Orlando office serves a wide area of the Orlando metro including but not limited to:
Windermere, Dr. Phillips, Lake Nona, College Park, Winter Park, Downtown Orlando, Winter Garden, Downtown Winter Garden, Kissimmee, Baldwin Park, Thornton Park, Golden oaks, Delaney Park, Lake Eola, Metro West, Millenia, Clermont, Ocala, Orange County, Osceola County, Polk County, Lake County, Sumter County, Brevard County, Volusia County, Seminole County, & Marion County