Collateral Loans On Jewelry
Borrow up to $500,000 in 24 hours or less secured by your jewelry.
WHY DIAMOND BANC?
Highest Loan Values & Lowest Borrowing Costs In The Nation.
Borrow Funds As You Need. Credit Line Flexibility.
Payments Above Minimum Interest Are Applied To Loan Balance.
Automatic Payment & Digital Reminders.
Items Are Insured While In Transit & In Our Possession.
Short-term Jewelry Equity Loans
Diamond Banc is a trusted industry leader offering online short-term equity loans for people who use their jewelry as collateral.
---
If you're looking for quick payment to help tackle an unexpected expense or take advantage of an unanticipated investment opportunity, selling jewelry seems like a natural solution. Jewelry is typically among the most expensive items we keep around the house, and the consistent demand for diamonds, gold, platinum, luxury watches, and designer jewelry means that it usually isn't difficult to find a buyer. However, many people have a strong emotional attachment to their jewelry. Consequently, it can be difficult to say goodbye to our favorite diamond jewelry, designer pieces, engagement rings, and luxury watches when it comes to actually selling these items. If you're hesitant to part with your jewelry, but you have immediate financial requirements, there is a solution. You can opt to get a loan on jewelry. Through a loan on gold jewelry from Diamond Banc, you can get paid immediately, while also keeping ownership of your item.
When you choose to get a loan on jewelry, you simply borrow money against your fine jewelry, precious metals, diamond jewelry, and luxury watches. We are the nation's premier jewelry equity lender, and we regularly loan up to a million dollars secured through jewelry. Our team of experts boasts decades in the jewelry industry and that's how we are able to offer the best jewelry loan. This means that they have an extensive understanding of what your jewelry is worth. We take every value-adding factor into consideration to make sure you receive the most for your items. Our organization was founded by a third-generation jeweler, Mills Menser, who saw a need within the jewelry market for individuals looking to get paid for their jewelry without saying goodbye to their pieces forever. Diamond Banc was born online and places a tremendous value on transparency and convenience.
We make the process of a gold jewelry loan simple and easy to understand. With offices located throughout the United States, we make it easy to visit us in person to get a quote and to learn more about what you could receive for a gold jewelry loan. We also offer online loans against gold jewelry, through our website. We accept fine jewelry, diamonds above 0.5 carats, designer jewelry from brands like Cartier, Tiffany & Co., David Yurman, among others, precious metals and bullion, and luxury watches from brands like Rolex and Patek Philippe.
Start online by completing our simple submission form above. From there you will receive an initial offer. If this offer looks good to you, you can accept our initial offer, and we will send you a prepaid, insured shipping label. Your jewelry will be fully insured and overnighted to our national headquarters. From there we will review the item and provide a final loan offer. If this looks good to you, you can accept the loan and we will wire you the money immediately. You may also visit us at one of our national offices. We will review the item there and provide you with a loan offer on the spot. Our terms are easy and flexible. We offer a streamlined online repayment system to help you pay off your loan quickly.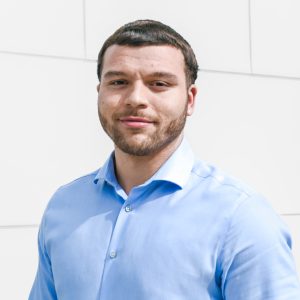 Meet Our National Director of Funding
Jordan Isaacs
Jordan Isaacs is the National Director of Funding for Diamond Banc's corporate office. His primary focus is to ensure that our clients receive the best experience possible while evaluating their items for immediate sale or loan services. Jordan is an expert communicator with prompt and informative follow-up. His unique skill set and expertise allow him to provide the highest offers in the industry, financing options catered specifically to our clients, and exceptional service. Please call us or make an online submission to begin working with Jordan.
HOW IT WORKS
Get a Quote
No Risk & No Obligation
Complete our free and simple submission form describing your item. After reviewing your submission, our team of experts will contact you with an initial quote, usually within one business day.
Start a Quote
Expert Evaluation
Mail-In or In Person
After reviewing our initial offer, we will provide you with a fully insured, prepaid shipping label to safely send your items to our national headquarters for official evaluation. You are also welcome to visit one of our numerous locations nationwide to immediately complete your transaction in person.
Receive Cash
Fast & Secure
Once your item has been evaluated, we will contact you with our official offer and arrange for an immediate payment via check or wire transfer. Don't like our offer? No worries! Your item will be quickly returned to you. No risk. No obligation.