Diamond Banc offers The HIGHEST ROLEX LOAN VALUES IN THE NATION, reflecting current market values, in a pro-borrower lending structure that ensures you are able to repay your loan and retrieve your Rolex. In contrast, the typical pawn shop, Diamond Banc, wants to loan you the most money possible against your Rolex watch and truly works with you to make sure it is returned to you.
Are you considering borrowing money against, or pawning your Rolex? Diamond Banc offers the highest loan or pawn amounts secured by Rolex watches in the nation.  Put simply, Diamond Banc will loan you more money, at a lower cost and with easier repayment terms than a traditional pawn shop. We store your valuable Rolex With great care and are insured during your loan term.  At Diamond Banc, you can pawn or borrow against your Rolex without visiting a pawnshop. You can overnight your Rolex to our headquarters and receive loan proceeds the next day, or visit our luxury, private office locations for same-day, simple and confidential funding.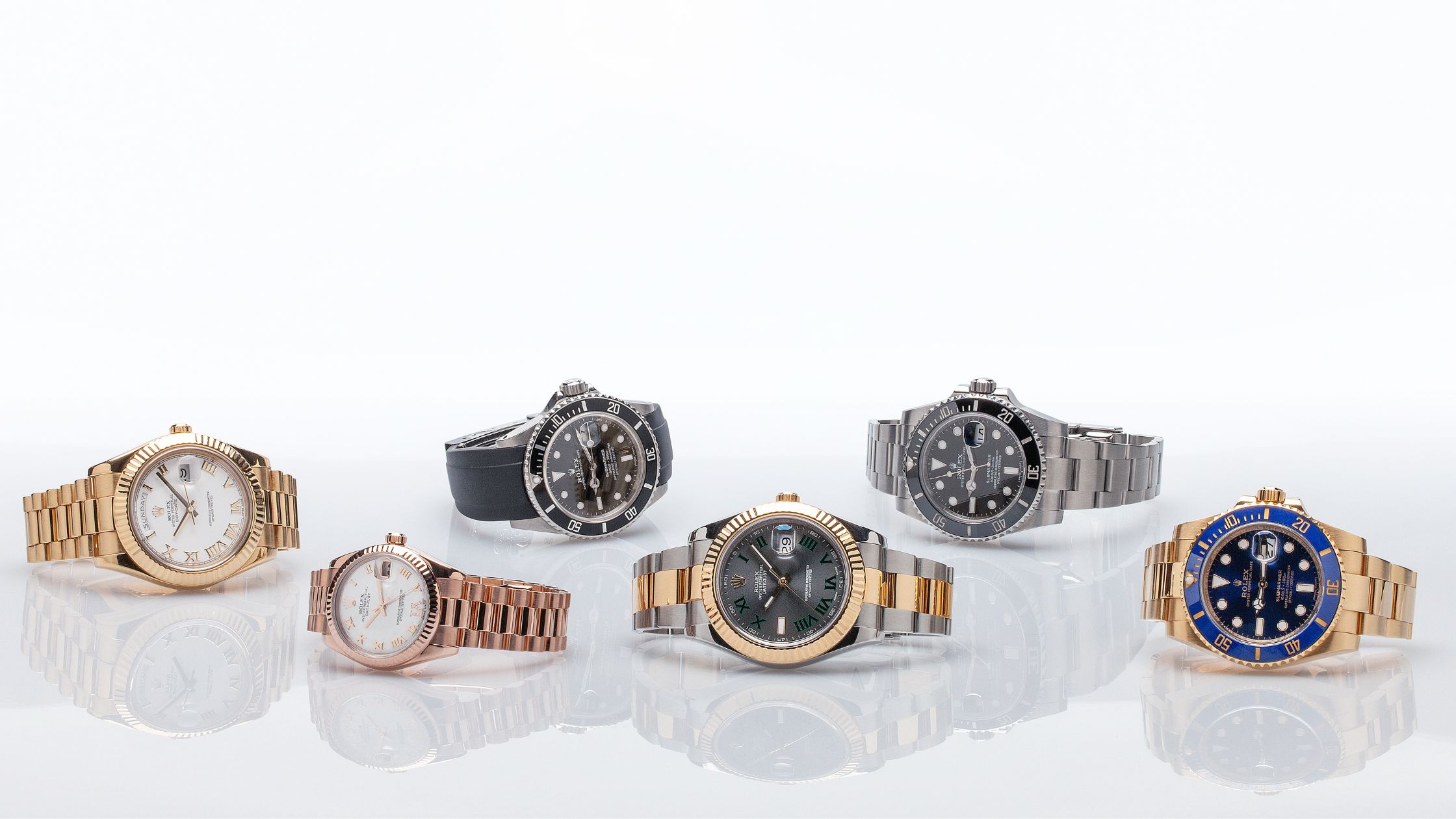 Diamond Banc provides loans secured by one Rolex or an entire Rolex collection. Our Rolex secured loans typically range in value from $3,500-$250K. We work with you to create a simple loan structure that best fits your needs,  opposite to the archaic traditional Rolex pawn loan structure provided by traditional pawn shops.
If needed, shop around, and consider various loan options. Then contact Diamond Banc to appreciate the highest Rolex values & lowest cost of borrowing in the nation. Diamond Banc offers Rolex Equity Loans which feature far superior consumer terms than a traditional pawn jewelry loan. Learn the difference between a Rolex Pawn Loan & Rolex Equity Loan here.
Typical pawn shops simply do not possess the capital, nor industry knowledge to provide the high loan & pawn values on Rolex watches That Diamond Banc does. We are the premier jewelry buyer and lender in the nation, owned by jewelers who truly know the value of Rolex watches.
On average over 85% of clients who pawn a Rolex or jewelry item with Diamond Banc pay it off in full and retrieve their item. Over 50% of our clients borrow from us again and again, due to the customer-driven service we provide and pro-consumer Rolex pawn loan structure. Don't pawn your Rolex the old fashion way,  Borrow against the value of your Rolex with Diamond Banc.
Here's what you need to know before you pawn or borrow against your Rolex.
1. Rolex watches are ideal loan collateral.
In virtually every case We will LOAN YOU 25%-100% MORE against your Rolex than an average pawn shop. Diamond Banc is a huge nationwide Rolex buyer and seller. We participate in the market daily and fully appreciate the value of your Rolex. Typical pawn shops have a tough job, they must know a little bit about the second-hand value of lots of item types. Diamond Banc focuses on being the best in one space, high-end jewelry, and watches.
Pawn shops typically loan very convertibly to protect themselves from markets in which they are not an expert. Often pawnshops rely on selling Rolex watches from loans not redeemed to customers who walk through their door. These clients often are not willing to pay what the watches will quickly sell for in other marketplaces.
2. Funding reliability and loan service is supreme.
Most pawn shops offer lower loans they can vary based on their knowledge and the amount of cash they have to loan when you want to borrow. Diamond Banc is always standing by with significant capital to reserves to maximize clients' loan needs and provide consistent reliable funding and post-loan servicing. Borrow against your Rolex, from an expert and leader in the luxury watch business. You will receive higher loan values, more reliable funding, and optimal loan servicing.
3. Pawn shops lack specialty focus.
When you lack focus you can lack service and value to your customers.  Pawn Shops do the best they can and there are many well-run, fair, and good ones that provide valuable service to the masses. However, being all things to all people is always next to impossible.
Pawn shops who loan on everything from Rolex watches to guitars,  simply can not dive deep into any one area from a capital ability, or loan value appreciation perspective.  Diamond Banc is the best in the nation with a specialized focus on Rolex Watches, fine watches, diamonds, gold, and fine jewelry. We know our business and know we loan the most.  Diamond Banc offers The HIGHEST ROLEX LOAN VALUES IN THE NATION.
At Diamond Banc, some recent deals we've done include $6,000 for this stainless steel Rolex Submariner, $20,000 for a Rolex Daytona Chronograph, and $8,500 for a ceramic all-steel Rolex Submariner.
If you have a Rolex or another luxury watch that you want to pawn or use as collateral for a loan, call Diamond Banc at 1-573-875-2265, visit our website, or visit one of our private luxury offices in the following markets.
Related Posts