Did you know that there's a difference between pawning jewelry and jewelry equity loans? Diamond Banc is taking a new approach to lending money using jewelry as collateral that you can take advantage of.
When searching online for "pawn jewelry in Miami, FL," always look for a lender that values your assets. We are here to provide financial solutions which result in you receiving your items back. Each loan we process is built on our commitment to provide stability, flexibility and integrity to everyone.
Here's how our services differ from traditional pawn shops and why more people prefer jewelry equity loans.
WHO IS DIAMOND BANC

A third-generation jeweler founded Diamond Banc to create a "360-degree" jewelry service for our customers. We're here every step of the way, from purchasing your first watch to providing loans against your precious jewelry. Our commitment to ethics and customer service has allowed our jewelry companies to continuously operate since the late 1800s.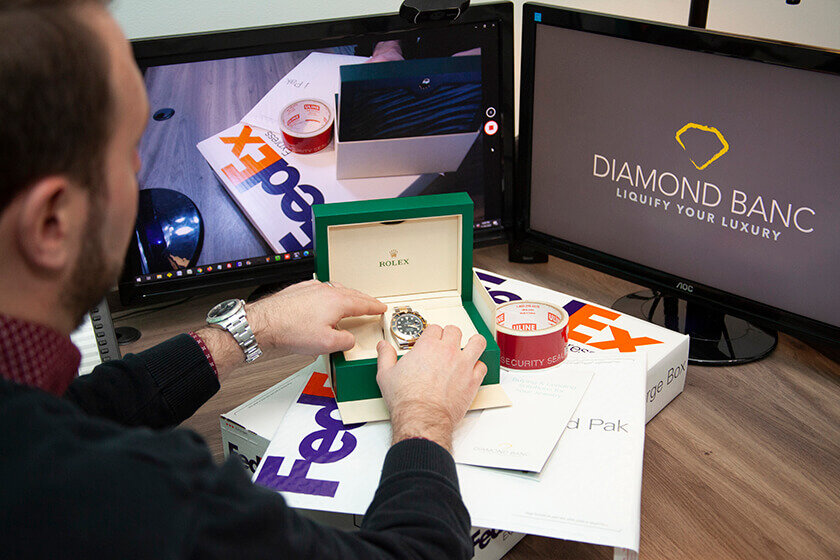 We understand that jewelry can hold sentimental value for many people. That said, we are here to offer valuable financial resources for individuals looking to leverage their jewelry.
Diamond Banc will work with you to ensure that you receive your jewelry back after satisfying your loan. Here's how we're different from your traditional pawn shop:
HOW DOES A TRADITIONAL PAWN SHOP WORK?

Diamond Banc is taking a new approach to be the pawn jewelry lender Miami, FL trusts.
A traditional pawn shop uses outdated methods of operating that doesn't reward you with the maximum value on your equity. Traditional pawn shops are built on rigid loan structures that offer unfair deals, and a high likelihood that they will retain your jewelry.
Here's how a typical experience at a traditional pawn shop works:
It starts with how traditional pawn shops evaluate jewelry. Pawn shops tend to undervalue your jewelry. They do this to offer conservative loan amounts while improving their profits on the back end.
A traditional pawn shop will then write an extremely rigid contract full of fees and a very demanding repayment schedule. These contracts are often very antagonistic and challenging for individuals to navigate. Traditional pawn shops profit from loans defaulting, not returning your jewelry then reselling it. Traditional pawn shops also have antiquated lending systems that make navigating their services and products difficult.
At Diamond Banc, we're taking a modern approach to give you a loan based on the equity you have in your jewelry.
Here's what it's like to get a loan from Diamond Banc:
DIAMOND BANC JEWELRY LOANS VS. PAWNING

Established within the industry for over 100 years, we do things differently here at Diamond Banc. We structure every aspect of our interaction with the goal of returning your jewelry to you when the loan is satisfied. The process begins with having our jewelry experts evaluate your items. We base our estimates on the true liquid value of your jewelry and offer a competitive loan.
We also provide a new, bold approach to payment and loan structuring. We want you to repay your loan to regain your items. We offer flexible loan terms and encourage you to pay down the principal as quickly as you're able.
You're free to pay off your loan early or to draw more money against the balance you've already paid down. Once your loan is paid off, you'll be able to get your items back so they can return to your collection and continue providing you with value for years to come.
HOW YOUR DIAMOND BANC EQUITY LOAN WORKS

Thanks to our fresh take on jewelry equity loans, we became the pawn jewelry lender Miami trusts. Our process is about ensuring you receive the total value you have in your jewelry, watches, and other items.
That is what our team at Diamond Banc is doing to stand out in a field of old-fashioned pawn lenders.
THE ENTIRE LOAN PROCESS FROM START TO FINISH
We believe that transparency is at the heart of a good and honest business. We want you to know what happens behind the scenes at our jewelry equity lending office. To give you a better understanding of the process, here's an outline of everything that happens when you receive a jewelry equity loan from Diamond Banc.
Everything starts when we evaluate your collateral. Our jewelry experts complete the evaluation in front of you and determine a loan offer based on the current market value.

Loan documents are completed on the spot and funds are issued immediately.

Once your loan is active, we will store your collateral in our insured vaults.

You are free to draw from the value of your equity as long as your loan is open. It means you can treat your loan with us as a traditional line of credit.

Once your loan is paid off, we will promptly and safely return your collateral.
FLEXIBLE TERMS THAT WORK WITH YOU
We understand that your circumstances might change. We offer flexible repayment plans that work with you and give you the resources you need to satisfy your loans.
You can focus on repaying your minimum monthly amounts or contact our office to pay down your principal. By keeping your loan active, you always have the opportunity to pay down your loan advance and have your collateral returned.
Keep in mind that traditional pawn shops offer much lower loan values than they provide for a purchase price. We took our business in a different direction.
We want you to have as much information as possible when making financial decisions. That's why our loan and buy prices are almost always the same. This way, you can make a financial decision that meets your needs without guessing the outcomes.
TRANSPARENT COSTS FOR OPTIMAL LOAN CONDITIONS
Diamond Banc has designed our loan products to assist individuals who need a short-term infusion of finances. Our average loans are around $6,000 and last for about six months. We structure our costs based on our typical business and the volatile luxury jewelry market.
Traditional banks typically avoid securing loans against the types of collateral we accept. That is a driving factor in our costs and fee structures.
Best of all, our loans are what finance industry experts refer to as "non-recourse." It means that we will never put a mark against your credit score or send your loan balance to a collections agency. Your loan is secured against the value of your collateral. The only thing that can happen with our loans is the forfeiture of the pledged collateral.
We keep our overhead and risks in control. That allows us to charge between 50% to 80% less than what is permitted by law. It means you'll often get much better deals with Diamond Banc than with traditional pawn lenders.
WE CARE FOR YOUR JEWELRY
You might be shocked to find out that most pawn shops don't insure your jewelry while it is in their possession. That means that natural disasters, fire, and even theft can compromise the value you've built up in your equity. A traditional pawn lender could lose your jewelry, and you'd still wind up repaying a loan without collateral to have returned.
We store your jewelry and our insured vaults. We first built up our company as a jeweler to understand how to take care of your antique, heirloom, and personally significant jewelry. Our team understands that your jewelry is more than just dollar signs. It's a part of your legacy, and we will treat your items with the respect they deserve.
GET IN TOUCH WITH DIAMOND BANC TODAY

You should have a reliable way to find pawn jewelry, Miami FL loans, and other opportunities. We work hard to ensure that our process is transparent to access the best jewelry equity loans on the market. This isn't your traditional pawn shop environment; this is a transaction that respects the equity you've built with your jewelry, watches, and other items.
We're here to help make sure you get the total value of your items. Reach out to us today to learn more about our loans and processes. Our expert jewelry equity lenders are ready and waiting to work with you.
Diamond Banc is the nation's top-rated jewelry buyer & lender. Visit one of our nationwide locations, or work with us from the comfort of your home.
CONTACT DIAMOND BANCnavigate_nextGET A LOANnavigate_nextPAWN JEWELRYnavigate_next
Related Posts