Imagine a situation where you need cash flow, yet all you have are hard assets. What do you do when you have excessive jewelry in your possession but need cash to pay bills or other emergency expenses immediately? People experience such situations often. It is this time that they discover a treasure trove of jewelry that they would like to liquidate in the most effective way possible. We want to explore some of the available options for those looking to make some quick cash on their hard assets.
LIQUIDATION VIA DIRECT SELL

Most people are familiar with the liquidation option of selling their jewelry to a wanting buyer. But, a pawn shop or other establishments purchasing jewelry will work with clients to buy their pieces at a fair price. That said, a pawnshop may try to make a big profit for itself and, therefore, may not offer you the best value for your piece of jewelry. In an emergency, you are likely to accept this offer so that you can satisfy your expenses at the moment. However, you shouldn't shy away from negotiating a price in your favor. Ensure that the negotiation process is mutually beneficial for both parties. 
When you decide to liquidate your assets via a direct sale, you get:
Peace of mind that you have cash in hand instantly

Fewer worries about how you will

sell your jewelry

and more time to spend satisfying your debts

No pressures to pay back a pawn jewelry lender in Miami

People frequently find themselves eager to use the direct liquidation method to achieve the quickest results. It doesn't necessarily mean they will achieve what they want out of the process, but it is usually enough to help them get past the crisis.
JEWELRY EQUITY LOANS

A pawn jewelry loan in Miami is an often-overlooked option for getting value from your jewelry. You receive money for your jewelry in the form of a loan. Lenders who work in this type of industry will be happy to lend you money against the value of your jewelry as long as they can hold on to the jewelry until you pay back the loan. The jewelry acts as collateral in this situation to ensure that the lender can retain value for the loan that they've given. Once you have paid off your loan, you will retrieve your piece of jewelry. Those who choose this option are often attached to selecting jewelry they borrow against. They may only need some cash for a short time and intend to pay back the loan when they have more liquidity.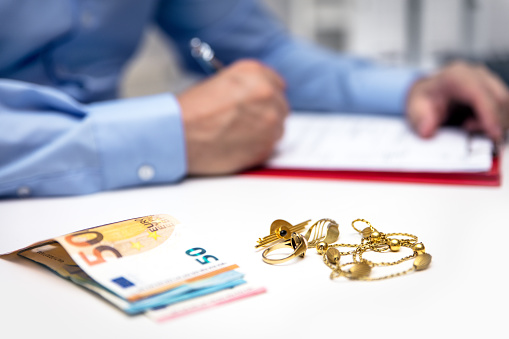 You should always check with the lender to see what interest rate they will offer on the loan they give you. You also want to check to see how much of a loan you can receive for your piece of jewelry. The amount the lender is willing to give out depends on the value of the jewelry and their belief that you will pay back the loan. They will loan smaller amounts to those who have jewelry of lesser value. However, you could receive a larger loan if you have a more valuable gem and have done business with them in the past.
WHY CHOOSE A LOAN OVER A DIRECT SALE?

Are you concerned that borrowing  against your jewelry instead of making a direct sell is the wrong move? Some people may feel this way because they are diving deeper into debt. However, there are advantages to taking out a loan against jewelry rather than selling it outright, including:
You retain ownership of your jewelry as long as you pay back the loan on time

You can take out another

pawn jewelry loan in Miami

after you have paid off the first one

People hear the word "loan" and immediately think it is terrible, but that does not have to be the case. There are many situations when a loan makes sense, which might be one of them for you. Let's look into the variety of liquidity options that Diamond Banc offers.
TYPES OF LIQUIDITY OPTIONS THAT DIAMOND BANC HAS TO OFFER.
1. IMMEDIATE PURCHASE
In this option, Diamond Banc offers immediate funds against your valuable items. For most people looking for instant cash, this option is the best as they get paid immediately. Diamond Banc offers industry-leading funds against diamonds, fine jewelry, and luxury watches. All transactions are kept confidential and take place on the spot.
2. EFFECTIVE CONSIGNMENT
Effective consignment is meant for individuals looking for a higher return over instant funding. The valuable is marketed to over 20,000 dealers, numerous retailers, and wholesalers in such scenarios. Diamond Banc pays you the preferred amount when the item is finally sold. Under this option, items over $10,000+ are eligible.
3. SELLER'S AGENT SERVICE
Seller's Agent Service is a method offered by Diamond Banc that allows you to maximize your return. In this option, Diamond Banc shall market your valuables through various platforms across the nation. You will be charged a percentage commission over the sale of the item. In such cases, valuable assets over $35,000+ are eligible.
4. JEWELRY EQUITY LOAN
As discussed above, under Jewelry Equity Loan, the person receives immediate funds and holds the item's ownership. You get to increase the fiscal power of your valuables by borrowing against it. Jewelry Equity Loans are quick, easy, and confidential loans.
5. ADVANCE SALE PROCEEDS
Clients are welcome to receive up to 25% of the sale proceeds of their piece of jewelry before the item sells if they wish to do so. Diamond Banc will give the seller 25% of the total sale price of their piece of jewelry in advance without interest. The seller then has the option to either purchase their item back when they have the cash to do so (assuming it hasn't already sold), or they can receive the remainder of the proceeds of the sale once the item has been sold to another customer. The lender, in this case, will make the difference between the selling price they offered to the original seller and the sale price that they provided to the new buyer. It is a simple way to get some quick cash into the hands of somebody who has a piece of jewelry and needs the money right now.
Most only consider using this option when urgently in need of cash. You are receiving just a portion of your money upfront, but you still retain the option to purchase your jewelry back if you decide to do so. However, you will need to act particularly quickly in this case because your jewelry will have gone up for sale, and you might not have the chance to repurchase it if another customer purchases it before you do. You are taking a calculated risk when you opt for this method of dealing with a pawn jewelry lender in Miami, consider this option carefully before making any rash moves.
CONCLUSION

If you are looking for a safe, reliable, and client-driven approach to leverage equity against your valuable items, choose Diamond Banc's expertise. We have been in the diamond industry for over 125 years, offering utmost professionalism and confidentiality for asset-based loans.
Diamond Banc is the nation's top-rated jewelry buyer & lender. Visit one of our nationwide locations, or work with us from the comfort of your home.
CONTACT DIAMOND BANCnavigate_nextGET A LOANnavigate_nextSELL MY JEWELRYnavigate_next
Related Posts