During these unpredictable times, it's not unusual to experience financial hardship. A pawn loan can help you use your jewelry as a temporary buffer to lessen the impact of an unforeseen emergency. Its fast and secure process allows you to receive the funds you need to meet your obligations without hassle. A seasoned lender can assist you in choosing the most suitable arrangement.
WHAT IS A PAWN LOAN?
A pawn loan is an exchange of a person's valuable jewelry for a monetary amount determined by the provider. The jewelry acts as collateral, and the lender keeps it in custody and retains the right to resell it if the borrower defaults on the loan. A smooth pawn loan term ends when the borrower repays the full advance, and the lender returns the jewelry to its rightful owner.
WHY PAWN LOANS ARE BENEFICIAL
It's wise to consider requesting a pawn loan if you need fast cash to resolve a financial issue. They are often the most beneficial loans to request for these reasons:
NO CREDIT CHECK
Pawn loans have many positive attributes, with a protected credit score being the most prevalent. A reputable pawn jewelry lender in Miami will not need to check your credit to issue you an advance because your jewelry's value will secure the loan. Thus, you'll never have to worry about your credit score plummeting. The lender also may not check your employment status if your advance request is lower than their threshold for employment checks.
EASY TO LOCATE
Diamond Banc is the nation's top-rated jewelry buyer & lender, therefore, you won't need to travel far to receive the cash you need right away.
NO APPLICATION
You don't have to burden yourself with lengthy applications or disclose personal information only to be rejected by a big lender. You'll only need to take your jewelry to the pawn loan provider for a professional appraisal to receive an updated quote and payout. The most you'll have to do document-wise is provide your identification and sign the loan repayment agreement. Hence, a pawn loan will give you less hassle and more positive results.
QUICK TURNAROUND TIME
Gone are the days of waiting for weeks to receive an answer on a loan application. You can pawn jewelry the same day and have money in your hands immediately via wire transfer or check. Pawn loan providers understand that consumers need their cash right away to solve real-life emergencies. Thus, you can count on a speedy process, unless you choose to process the loan through the mailing option.
SAFE STORAGE PROCESS
An esteemed pawn lender will have high-quality security systems in place. Thus, you won't have to worry constantly about your high-end jewelry while it's in their possession. You can relax and take a deep breath knowing that you can reclaim your items once you meet your loan obligations.
WHY SHOULD YOU CHOOSE DIAMOND BANC FOR YOUR PAWN LOAN? ?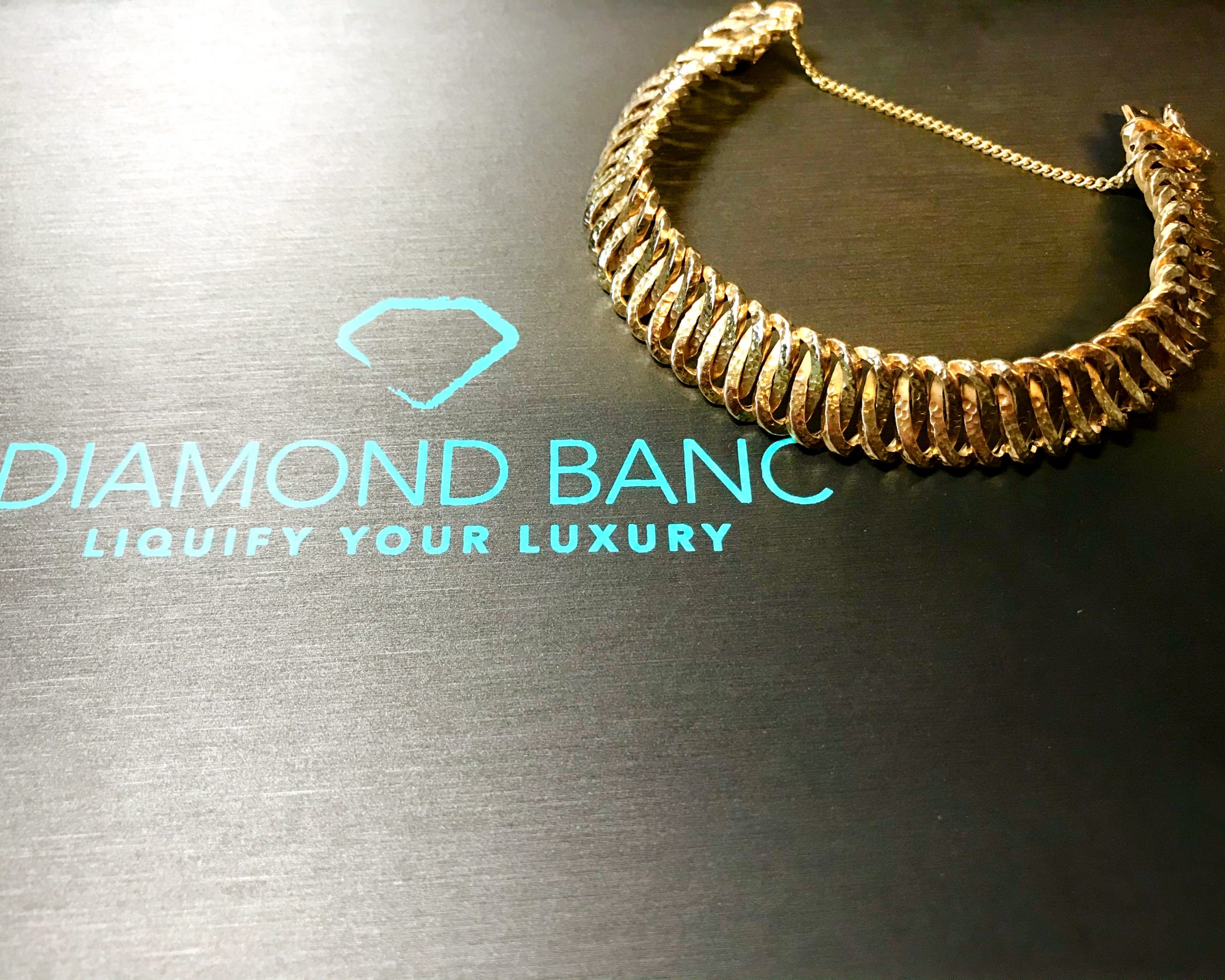 Diamond Banc has been providing trusted financial solutions since 1896. The company operates with the highest level of integrity and pledges to keep clients and their valuables secure. The founder comes from a closely knit family of jewelry experts and offers diverse expertise and insights to consumers. Diamond Banc is the obvious solution to solving your monetary crisis if you own jewelry. These are some of the many reasons why:
SUPERIOR LOAN VALUES
Diamond Banc knows how vital it is for borrowers to receive every penny their items are worth. The company is proud to offer the highest loan values and lowest borrowing costs in the nation. You can feel confident that you won't be taken advantage of or bullied into accepting a loan with ridiculous fees. Diamond Banc prides itself on offering fair financing fees and giving people what their jewelry is worth, whether they're pawning or outright selling those items.
UNMATCHED SERVICE
Superior customer service is Diamond Banc's priority. You will receive the highest rates for your jewelry, and you'll also receive your funds using the quickest process. You can look forward to having the loan concluded in fewer than 24 hours. Furthermore, you're going to the right place if you're looking for the perfect match for your jewelry's value.
CREDIT LINE FLEXIBILITY
Diamond Banc offers credit line flexibility, which means you can borrow funds as you need them. Speak with an expert about the various borrowing methods available.
FAIR HANDLING OF OVERPAYMENTS
You can make extra payments towards your loan at any time, and the extra amounts will go directly to your principal, unlike in other situations. Every penny you pay will go to the most honorable place because of the high standard of integrity at Diamond Banc.
REMINDERS AND AUTOMATIC PAYMENTS
Diamond Banc understands that sometimes life happens. People forget to make their payments because of busy jobs, family obligations, special events, and other distractions. That's why reminders and automatic payments are available. The automated payment system will automatically debit your payment from a designated bank account or card so that you don't have to think about it twice. Reminders will also come to you so that you can prepare for upcoming payments.
INSURANCE FOR YOUR VALUABLES
Diamond Banc provides insurance for clients' valuables while in transit and in the company's possession. Your jewelry will be protected as if it belongs to Diamond Banc until the day you visit to retrieve it.
FLEXIBLE PAYMENT OPTIONS
Diamond Banc offers initial 30-day loan repayment terms on some advance types. You'll have the option to extend your loan period in additional 30-day increments. You can also choose a loan type that involves installment payments instead of lump-sum offerings. The goal is to make you as contended as possible during the repayment process so that the loan completes smoothly.
TRANSPARENCY
You never have to wonder about value or calculations when dealing with Diamond Banc. Financial tools such as diamond value calculators are on the site so that you know what to expect beforehand. You can also find other transparent information about the facility's loan process and how the experts decide how much to lend borrowers. It's all right there in the spotlight because borrowers value honesty.
ROCK-SOLID REPUTATION
Diamond Banc has five-star reviews on various websites from consumers who have dealt with every office. Speed, communication, helpfulness, and professionalism are the highest compliments written. Many clients also attest to the 24-hour turnaround time for their loan products. Furthermore, they speak about the company's executives and experts so that future borrowers know where to go for high-quality help.
NUMEROUS SERVICE LOCATIONS
This facility is the right place to go if you're looking for a local jewelry buyer. Offices and services exist in Tampa, Boca Raton, Miami, Palm Beach, and Orlando, Florida. You can also find offices in Tennessee, North Carolina, Georgia, Missouri, and New York. Office locations are constantly expanding to new areas as well. Therefore, you can keep an eye on the list of locations for a store near you. Alternatively, the store closest to you may offer a mail-in loan process that will allow you to send your jewelry using a shipping label. The method may take a little longer than usual, but you will shortly have the funds in your hands.
MULTIPLE LOAN TYPES
Diamond Banc doesn't solely provide pawn-type advances. The company offers various financial solutions that an expert can match to your unique needs. For example, you can choose to sell your jewelry outright. You may also choose to engage in an equity loan if you own a Rolex. Loans can be anywhere from $1,000 to many thousands. An expert can help position you in a flexible, advanced model that meets your needs and aligns with your property's value.
EASY LOAN PROCESS
Diamond Banc has a simplified process for pawn loans. You can use the quick submission form to describe your jewelry. Experts will review your submission and then contact you with a preliminary quote. If you're pleased with the initial quote, you will need to mail the jewelry to Diamond Banc or visit the nearest location. An expert will then evaluate its condition and authenticity to ensure that they match the description. You'll receive a more accurate quote after the examination is completed.
You'll receive payment via check or wire transfer if you're pleased with the second offer. You are not obligated to go through with the transaction, however. Therefore, you can refuse it and receive your jewelry back with zero questions asked.
Aside from signing a document and repaying your advance as agreed, that's it. You'll be free to use the funds in any way that improves your quality of life.
You now know where to go when you're in a financial pickle and who to trust to settle it. You can contact Diamond Banc, the nearest diamond buyers by telephone or stop at the location to start your process. Alternative options are available if you have transportation problems or cannot find a facility close to your locale.
Diamond Banc is the nation's top-rated jewelry buyer & lender. Visit one of our nationwide locations, or work with us from the comfort of your home.
CONTACT DIAMOND BANCnavigate_nextGET A LOANnavigate_nextSELL MY DIAMONDnavigate_next
Related Posts