Knowing your jewelry and its history helps determine its value. With periods like the Edwardian era, Art Deco and Mid-Century design, it's easy to misdate your vintage beauties.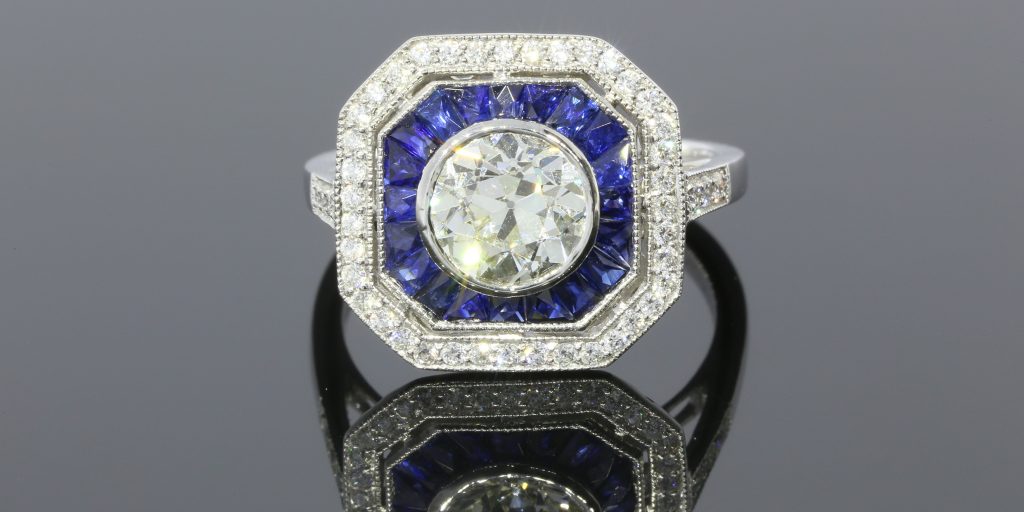 The worth of an estate piece depends on what style is popular at whatever time the owner decides to sell. For instance, the Art Deco period has become fashionable again, so jewelry from that period is worth more because there are more potential buyers. Some classic styles are more resistant to the ebbs and flows of fashion, like pendent necklaces or single-stone engagement ring settings. A vintage piece that is out of fashion will rarely be worth more than the gems and metals it's made from.
The value of vintage jewelry is also based on its rarity and condition. A piece in stellar condition with all of its original clasps and gems will most likely be worth more than a piece that has been repaired. If you're purchasing estate jewelry as an investment, make you sure you know how much of the piece is original. Some estate jewelry may even cost  more to fix than its worth, so try to get a jeweler's opinion before purchasing broken jewelry.
Designer pieces tend to hold their value better, too. Many jewelry companies release collections with a limited number of pieces available, like Tiffany & Co. or Chopard. A branded vintage piece retains more value than a similar piece without a brand name. Original designer packaging or paperwork also increases the value of the piece. Packaging should be considered in all appraisals, even if it isn't in perfect condition. Today, even empty Tiffany boxes sell for up to $50.
Vintage Jewelry: Edwardian, 1900-1915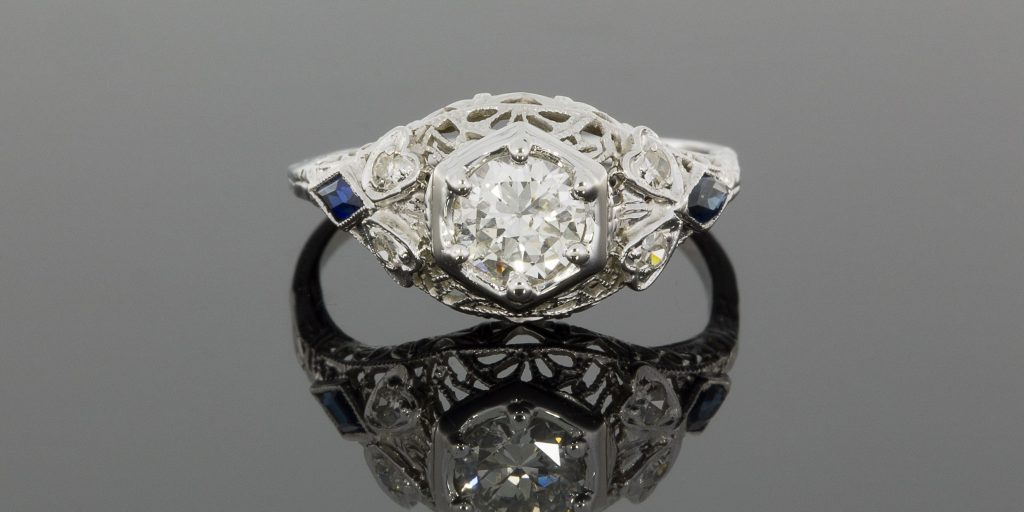 This short but sweet period of British history witnessed the rise of an extremely wealthy upper class who wanted to add light, delicate pieces to their jewelry boxes. The hallmarks of Edwardian design include intricate, filigree pieces created in diamond and platinum or white gold to resemble lace. Pearls were also in fashion along with chokers, jewels for the hair, and long dangling earrings.
Vintage Jewelry: Art Deco, 1920-1940
Art Deco began in France but represents the Roaring Twenties and classic American style. Art Deco jewelry gave newly independent women a bold way to express themselves. The age of speakeasies, jazz, a booming economy and the right to vote gave women new freedom. Jewelry from the period is easily recognizable by the use of clean lines, trapezoidal shapes, stepped edges, and arched corners. Art Deco emphasized geometric form and patterns. Popular stones included green demantoid garnets, black opals, and Montana sapphires.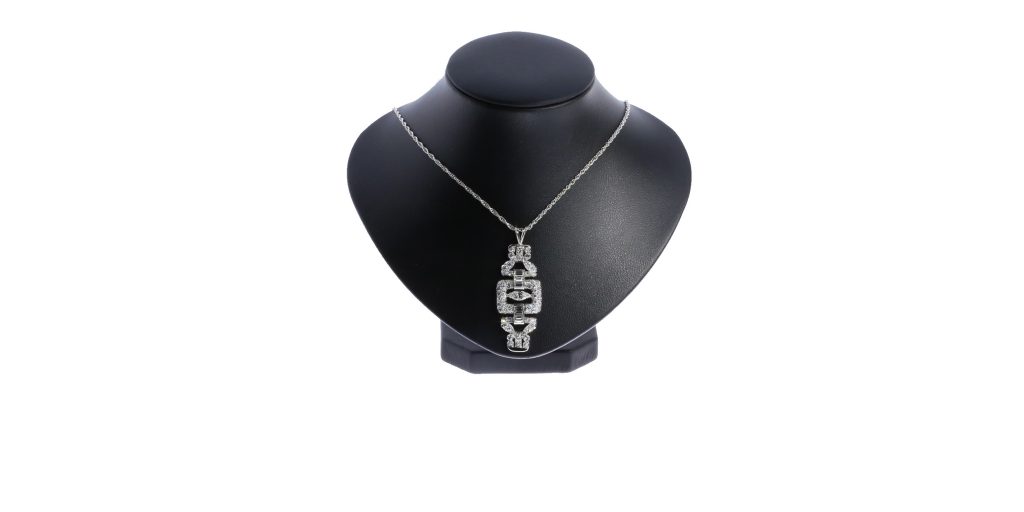 Vintage Jewelry: Retro, 1935-1950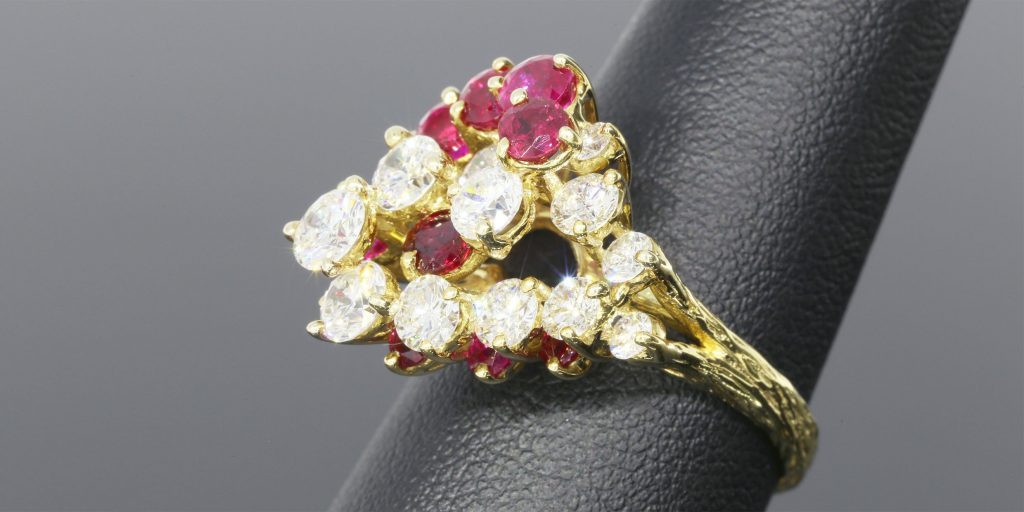 The Retro jewelry period started at the end of The Great Depression, when people could afford more luxuries. This bright and bold style featured large gemstones, especially the popular rectangular emerald cut. When World War II started in 1941, platinum grew scarce and designers experimented with gold. Different types of gold, like yellow, rose and green, were used in striking combinations. Large rectangular stones were set in cocktail rings, oversized bracelets, and watches.
Vintage Jewelry: Mid-century, 1945-1965
During the 1950s and 1960s, many abstract painters like Picasso, Braque, and Dali designed precious jewelry. Throughout the 1950s, abstract designs characterized by geometric shapes and clean lines were common. Buyers favored pieces cast in textured metal. The most popular stones included amethyst, turquoise, coral, and pearls for daytime wear.

Do you know how old your vintage jewelry is?  Many antique jewelry lovers find their pieces at estate sales or inherit them from family members and may not know exactly what they're worth. To learn more about the value and age of your piece, fill out our Sell Your Jewelry form for a free quote.
Once you know the value of your vintage jewelry, you may be interested in selling it. Diamond Banc offers the most competitive resale value for vintage jewelry in the industry. Vintage jewelry can also be used to acquire an asset-based loan from Diamond Banc. Contact us today or visit one of our locations to learn more.
Related Posts