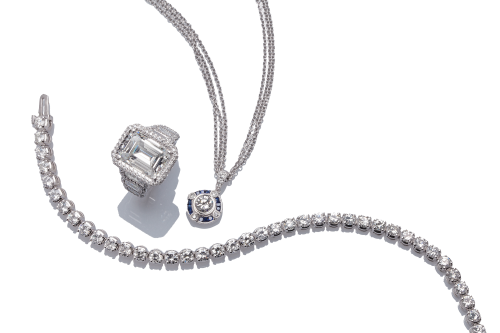 Diamond Banc of Orlando is the premier destination to sell your diamonds and fine diamond jewelry. We are dedicated to providing a discrete, secure, fast and professional option when it's time to sell your diamond jewelry. The process is so simple too!
Diamond Banc combines  the comfort and convenience of selling your jewelry online with the intimacy of meeting a buyer face to face in private, upscale office. To get started, all you have to do is go online and fill out a brief online submission form and our Orlando Market Director will reach out to you within one business day with results and to explain your selling options.  Or, you can call Diamond Banc at (407) 232-7688 or email deena@diamondbanc.com to schedule a convenient time to meet with an expert buyer for a personal evaluation.
Why should you sell your Diamond Jewelry to Diamond Banc of Orlando?
It's not only important to find a jewelry buyer you trust, but also one who will pay a fair value for your diamonds. Our diamond buyers are true experts with many of our team members being certified Gemologists who are fully accredited by the GIA (Gemological Institute of America). This means you can be confident that your diamond buyer has all the qualifications needed to accurately evaluate your diamonds to ensure every value-adding factor is taken into consideration when determining how much your diamond is worth. Diamonds are our area of expertise, which is why it's right there in our name!
Diamond Banc has become a nationally renowned company, known for going out of our way to accommodate seller's needs. Don't just take our word, look for yourself by browsing through our Orlando office's Google Reviews. As you know, selling jewelry can be an intimidating and sometimes emotional process. That's why our jewelry buyers take the time to fully explain each step of our transparent process, providing a comprehensive summary for how we arrive at values. Then we outline the numerous selling options we offer to ensure you make the decision that's best for you.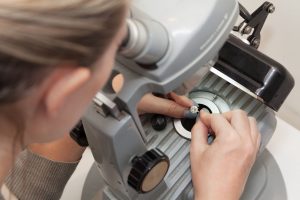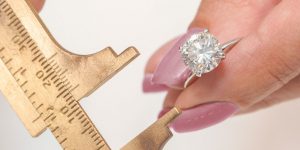 How Much Can You Sell Your Diamond For?
Diamond Banc of Orlando regularly purchases diamonds ranging from $1,000 to $100,000. Therefore, no value is too large or too small for Diamond Banc. Although the cost of your diamond depends on its quality and market demand, there is no limit on what we can pay. Diamond Banc's comprehensive examination process and network of resale channels ensure we can provide the highest, most accurate offer.
The four biggest factors we take into consideration to determine what your diamond is worth are…
Carat Weight: Carat weight is arguably the most important aspect of the 4Cs. It also is the most significant value-adding factor for your diamond. As the term Carat Weight suggests, carats are measured in weight, not in overall surface area. This means that some diamonds are deeper or more shallow than others. So, as a result, some diamonds with identical carat weight may look bigger or smaller.
Shape: Since the liquid value of a diamond is based on current market demand, after carat weight, the diamond's shape has the most influence on its value. As jewelry trends evolve, the market demand for particular shapes shifts with it. Consequently, this means that more classic styles tend to be worth the most on the secondary market.
Color Grade: Traditionally, the ideal diamond is white, however, very few diamonds are a pure white hue, without any warmth whatsoever. A diamond's color refers to its natural warmth. This warmth can be seen in the color a diamond casts. Diamonds can range from colorless to intense warmth.
Clarity: A clarity grade categorizes the amount and type of internal characteristics found within a diamond. As a diamond forms, foreign elements may build up within its structure. These elements, called inclusions, form something like a birthmark for diamonds and will appear as dark specs within a gemstone.
Diamond Banc  is by far the best option for selling your jewelry in Orlando, Florida. We are known for paying more for your diamond while also providing a luxurious and professional buying experience that cannot be rivaled. Fill out an online submission form to get started today!
Not in the Orlando area? No problem, Diamond Banc has offices nationwide!
Related Posts