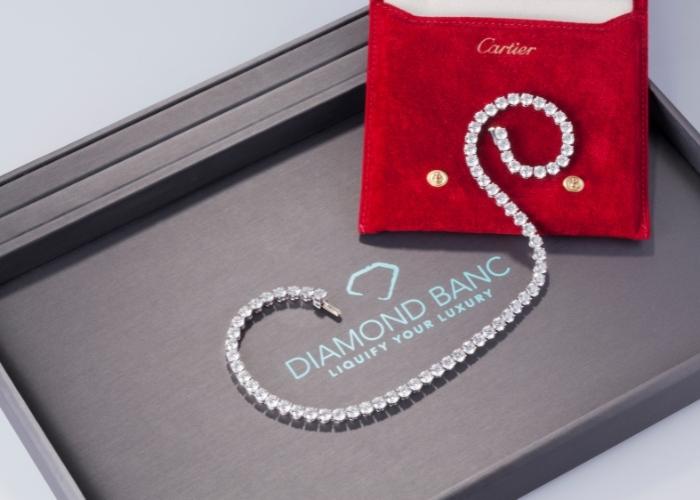 Are you having thoughts of selling your diamonds or designer jewelry? 
Before you take action, it is crucial to find out if the business you choose among multiple Tampa diamond buyers is trustworthy, helpful, and one that will offer you a fair value for your diamond jewelry.
But what are some of the warning signs you need to watch out for? Let's unpuzzle this topic in this short blog so you can sell confidently and walk out knowing that you've made the right choice!
Professional knowledge of diamonds & luxury jewelry
The #1 factor you must consider when selling your diamonds is ensuring the people appraising your jewelry have the knowledge and specialize in diamonds, gemstones, and jewelry. 
The team here at Diamond Banc is rich with talents ranging from GIA graduate gemologists and trained appraisers to people who've held positions at high-end retail brands like Harry Winston or Tiffany & Co.
We get a kick from educating customers about the four 4C's of a diamond before dropping any number because we deem it essential for them to know their genuine worth.
When you walk into a street corner local pawnshop with a Chopart necklace, for example, how likely is the person servicing you able to name the exact model and recognize its greatness?
Diamond Banc not only recognizes signature pieces but also pays a premium for them.
Your diamond jewelry assessed without foul play
Our Tampa diamond buyers here at Diamond Banc carry the process with honesty, integrity with complete transparency.
Your valuation may derive from any particular jewelry piece's unique aspects. Is it a designer brand, vintage, or has distinct and exceptional characteristics that require attention? 
The same goes for your diamond certificates. Although we evaluate and purchase diamonds of all kinds, certified and uncertified — we always suggest getting gradings done at the Gemmological Institute of America or GIA versus other laboratories.
We go the extra mile to ensure that your diamonds receive a fair and conservative valuation, notably on characteristics such as color or clarity. For instance, a slight level up of diamond clarity from a G Color SI1 to a K Color SI2 can significantly increase the value in your favor.
Our ultimate goal is to reveal your diamond's genuine worth and ensure you get the funds you deserve. You may come across Tampa diamond buyers trying to take advantage of the things mentioned above to make a quick profit, and that's a big no in our books.
O2O: Online-to-Offline reputation
Tampa is a thriving city where many new businesses keep popping up out of nowhere — here's where you want to do a bit of investigation before jumping too quickly in ice water.
Now, if your search begins online, you may want to start by checking out that diamond buyer's website with a dedicated page that lets users read and learn more about them. While browsing through, check if they are rated A+ by the BBB [Better Business Bureau] and whether or not they have Trust Pilot activated on the homepage.
To be confident in your decision-making, you may also read actual comments and reviews from real-life customers to summarize their experiences. Yelp or Yellowpages are great resources, and Facebook and Google Reviews to get to the bottom of it.
Diamond Banc was established by Mills Menser, a 3rd generation jeweler and owner of Buchroeders Jewelers — our sister company and legacy retail jewelry store that started in the Midwest and has been operating steadily since 1896. 
Privacy & high-end customer experience
Diamond Banc welcomes you to a spacious, stylish office that embraces luxury because, at the end of the day — we believe you deserve to sell with the same level of excitement as the first day you put on that very same piece.
Our Tampa diamond buyers at 3401 Henderson Boulevard will greet you courteously and make you feel comfortable discussing your gorgeous diamond jewelry privately.
Skip the noise and the unnecessary wait you would experience at your local pawnshop. We have a reputation for paying better for your diamond jewelry while giving exceptional customer service in a luxurious setting that simply cannot be matched.
Ease of use & flexibility
At Diamond Banc, we believe your diamonds are worth more than some Tampa diamond buyers in the city may initially offer you.
That's why we strongly encourage you to compare a few offers from competitors first, then come to Diamond Banc. Our goal is to give you the highest possible return for your luxury goods. 
We take particular interest in designer names like Cartier, Van Cleef & Arpels, Tiffany & Co., just to name a few. If you wish to retain ownership of your gorgeous jewelry, we will encourage to do it! We have a vast selection of liquidity options —. Tailored to your budget and needs.
Experience the difference in our Tampa office located at 3401 Henderson Blvd Suite E. 
Jodi Hudson is our Market Director and an expert diamond jewelry appraiser with over 25+ years of experience in the fine jewelry sphere. 
You may book an appointment with her or start the process yourself online now!
Tampa Diamond Buyersnavigate_nextGet A Loannavigate_nextLocationsnavigate_next
Related Posts