Fast. Simple. Secure.
Orlando's Premier
Diamond Buyer
Our expert diamond buyers will pay the most for your diamonds.
Customer-Centric Diamond Buyers in Orlando
There are several places in Central Florida that buy diamonds. Ensure you are receiving the most when choosing which company to sell your diamond to in Orlando. Diamond Banc of Orlando ensures our clients not only receive the best offer but also receive the exceptional customer service they deserve! Whether you are selling an entire estate of inherited diamond pieces or selling your diamond ring from a previous relationship, Diamond Banc's expert diamond buyer will provide an industry-leading amount for your diamond pieces. We are the best diamond buyer near you. Diamond Banc is Orlando's best diamond buyer.
Finding a diamond buyer doesn't have to be a stressful endeavor. A professional diamond buyer should be able to determine what your diamond is worth, communicate promptly and provide immediate payment options. A good way to accomplish this goal is to look at the company's reputation, review the initial offer range and how this number is determined. Diamond Banc in Orlando can provide all of these services while providing you with the best offer when selling your diamond items.
Diamond Banc in Orlando encourages clients to reach out using our simple online form above or visit our private office to meet with our local diamond buyer. We will provide you with an offer amount for your diamond piece(s). Our diamond buyers provide free verbal evaluations on your jewelry, so you can decide the best course of action for your situation.
Diamond Banc takes all value-adding factors into consideration to provide the highest offer in Central Florida for your diamond. Diamond Banc provides immediate funding when selling your diamond. Our diamond buying specialists will provide an easy to understand and transparent process, sharing with you the real time market values of your diamond. We offer access to diamond dealer platforms so you are able to see examples of diamonds comparable to your own and explore the current market value for those diamonds.
Being a national diamond buyer, Diamond Banc provides a variety of financial solutions to fit your needs. Our diamond buyers offer you far more flexible options than a traditional diamond buyer. Our Diamond Banc in Orlando offers not only immediate diamond selling options but also a consignment service. If you are not in a hurry to sell your diamond, consignment can be a great option. Consignment enables you to receive the maximum amount for your diamond as we can take the time to find the best end consumer for your diamond piece. We take the time to professionally refinish and photograph your pieces before offering them to a national network of buyers via numerous online selling platforms targeting consumers.
Diamond Banc of Orlando's communication and efficiency is superior to other diamond buyers in Orlando or online diamond buyers. We stand by our initial offer ranges and operate with integrity, provide immediate payment and provide maximum transparency. Diamond Banc's ownership group is made up of several of the biggest independently owned jewelers in the country whose combined revenues are greater than $50 million annually. This allows us to pay top dollar for your diamond jewelry, as we are vertically integrated, selling a significant amount of our inventory to the end consumer.
We have been working in the diamond lending and buying industry for the past 125 years and throughout our existence, we have maintained our position in the market as one of the most trusted and reliable diamond buyers in Florida and nationwide.
We are a customer-centric organization that focuses on allowing clients to make the most of their luxury items like watches, diamonds, jewelry, handbags, and much more. We also believe in 100% transparency and therefore, keep our clients informed about the process at every step. This is what makes use the preferred choice when it comes to selling your diamond.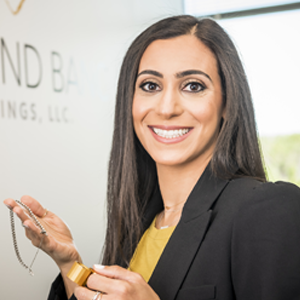 Meet our Orlando, Florida Director:
Deena Maali
Deena Maali is Diamond Banc's Orlando Director with over 10 years of experience in fine jewelry and luxury watches. Born and raised in the heart of Orlando, her past experience includes buying and selling loose diamonds and designer fashion items to working with a vast variety of high-end watches. With her knowledge from working in many facets of the industry, Deena provides her clients with stellar experience, offering the best values and the lowest interest rates for their items. Visit Deena at our Orlando office for a free, no-pressure evaluation!
HOW IT WORKS
Get a Quote
No Risk & No Obligation
Complete our free and simple submission form describing your item. After reviewing your submission, our team of experts will contact you with an initial quote, usually within one business day.
Start a Quote
Expert Evaluation
Mail-In or In Person
After reviewing our initial offer, we will provide you with a fully insured, prepaid shipping label to safely send your items to our national headquarters for official evaluation. You are also welcome to visit one of our numerous locations nationwide to immediately complete your transaction in person.
Receive Cash
Fast & Secure
Once your item has been evaluated, we will contact you with our official offer and arrange for an immediate payment via check or wire transfer. Don't like our offer? No worries! Your item will be quickly returned to you. No risk. No obligation.