Under the sun, trying to find the best place for selling your diamonds? 
Orlando diamond buyers will tempt you to think that their offer is the best you'll get in town — but do you ensure the establishment is no monkey business?
If you are feeling swamped or demoralized by the possibility of not getting a fair share — Diamond Banc understands. 
You deserve to find a place where staff members understand the ins and outs of diamonds & designer pieces and offer you a legit payout worthy of your time and efforts.
This short blog will reveal some of the top qualities a reliable Orlando diamond buyer must have so you can feel confident when selling your diamonds!
In-depth experience with diamonds and designer jewelry
One of the most essential qualities Orlando diamond buyers must hold is a team of knowledgeable individuals with extensive experience with diamonds and fine jewelry.
Diamond Banc hires only the best. Our expert assessors, jewelry specialists, and salespeople all have a solid background in the jewelry industry, from high-end luxury retail to GIA-graduate gemology.
If you walk into a local pawnshop with an expensive diamond bracelet by Graff and the person looking at your item can't spot the brand, model, or any crucial value-adding factor — that should be viewed as a red flag!
It's a minimum sign of respect to listen and ask open-ended questions to customers instead of speeding up the process to put a number together with pure profit in mind. Certain products dictate premiums, and having somebody who acknowledges such is a no-brainer.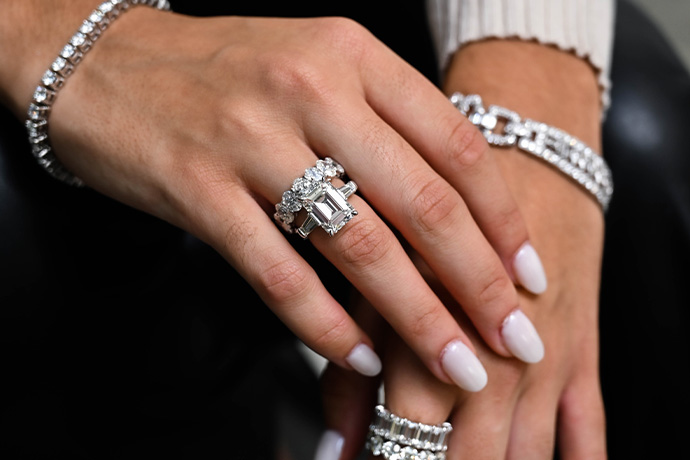 Jewelry buyers Orlando: Make sure the appraisal is fair and square
The following quality to look for in a steadfast Orlando diamond buyer is transparency and fairness during the evaluation process.
If you've already gone through a retail jewelry appraisal or considered the option, remember that the latter is not a clear representation of what your jewelry is genuinely worth.
Diamond Banc never leaves any stones unturned when assessing your diamond jewelry — and we do it with integrity, care, and absolute clarity at every step of the way.
We will accept any kind of diamond even if you don't have a certificate. In the case where the certification is done at any other labs except the world's authoritative laboratory, the GIA [Gemmological Institute of America] — our expert assessors will kindly propose a regrade at the latter.
You may hold a piece of paper that states your diamond's clarity or color attributes are such and such — but is it really so? Improper or liberal gradings can heavily impact the liquid value of your stone, consequently influencing how much you can get in the long run.
Good standing and reputation both online and on-site
There's a mishmash of Orlando diamond buyers in this beautiful city — we suggest verifying things like how long they've been in business and reading up on customer reviews to get a feel of service quality at that location.
A great place to start is searching online, starting with your Orlando diamond buyer's official website's about us page — do they even have one? Also, while you're there, check if they are Trust Pilot compliant and have an A+ rating at the BBB [Better Business Bureau], which increases trust and integrity.
Then, you may want to check sites like Facebook, Yelp, or Google Reviews to learn about things like customer experience, level of knowledge from staff members, or anything of that nature.
Diamond Banc has 125 years of background in diamonds, bridal jewelry, and luxury watches. We believe that luxury jewelry and tailored guidance go hand-in-hand, and we aim to conduct our operations with maximum diligence.
Confidential and luxurious customer experience
What's more satisfying than walking into a spacious area that breathes modernity and luxury? Similarly, getting greeted by certified industry experts will take the time to sit down with you and have a conversation.
Diamond Banc creates a pleasant atmosphere for its customers so they can feel comfortable showing their jewels without distractions or unwanted background noise. We take discretion seriously and lead with kindness when it comes to helping people.
Offering plenty of options to liquidate your diamond jewelry
Don't get lowballed or pressured to accept a deal the same, or it's gone. A reputable Orlando diamond buyer like Diamond Banc will never put an expiry date on an offer and encourage you to compare rates elsewhere to get true conviction about who's going to give the highest payout.
Our customers can quickly and effortlessly unlock the liquidity in their diamond jewelry in 3 easy steps:
Get an expert appraisal of your diamond or entire jewelry piece

Receive a quote

Discover our ample

liquidity options

and select one that fits your needs
Diamond Banc is one of the leading gold buyers in Orlando, South Florida, and throughout the nation online.
If you're reluctant to part with your diamond jewelry and would love to have a dialogue about it with one of our skilled Market Directors at our Orlando office — Call (407) 232-7688 to book an appointment, and we will be delighted to meet you in person!
Orlando Diamond Buyernavigate_nextGET A LOANnavigate_nextLocationsnavigate_next
Related Posts