Reselling designer jewelry can be tough. Going back to the jeweler you bought a piece from often only results in an offer for store credit, if they offer anything at all. Other jewelers may try to only pay you for the market value of the raw gold, silver, or other precious materials that make up the item. At Diamond Banc, however, we understand the true value of popular designers like David Yurman, and our nation-wide team of jewelry buying experts allows us to offer the best price for these pieces on the secondary market. Click here to find out how much you can get for your David Yurman jewelry today →
Why do pawn shops and other jewelry buyers make such low offers?
Most pawn shops and jewelry buyers purchase pieces based on the "scrap value," or the value of the raw materials contained within the item. Many designer jewelry pieces are made from sterling silver, which is worth significantly less than other precious materials like gold.
The price of one ounce of gold is typically enough to buy between 30 and 40 ounces of silver. But in recent years, the cost of gold has risen while silver prices plummeted. Now, the value of approximately 65 ounces of silver equals the value of one ounce of gold. With silver currently costing around $27 an ounce and gold valued at around $1,800 an ounce, most companies prefer to buy gold.
How is Diamond Banc different?
Diamond Banc has built long-standing partnerships with a network of jewelry resellers across the country, meaning we are much more likely to find an interested buyer for your piece exactly as it is, unlike a local store who will probably melt it down for parts. See what we can offer you →
Our recent David Yurman purchases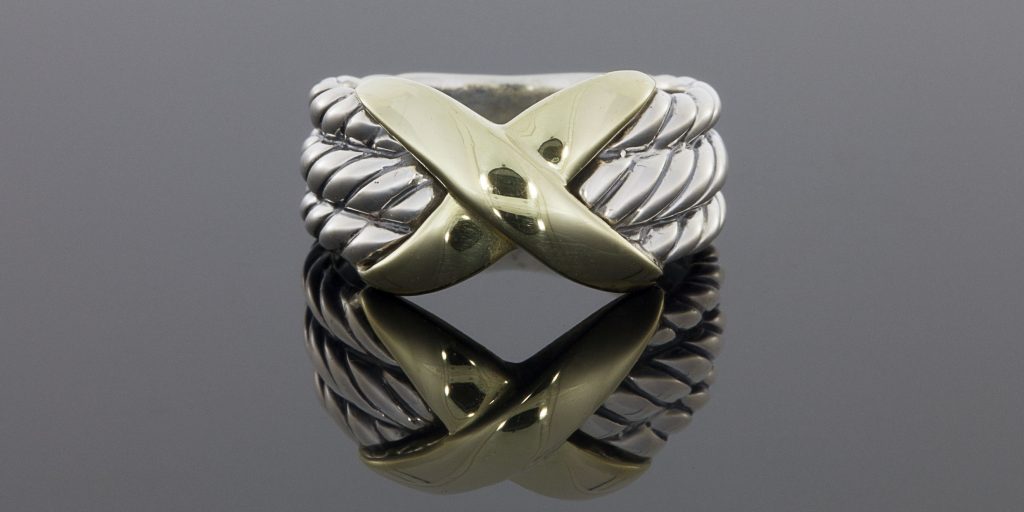 Contact us
Sell your sterling silver David Yurman to Diamond Banc instead of another jewelry buyer that will just melt down your piece. At Diamond Banc, we have the expertise to notice high quality, stylish designs and pay accordingly.
Are you curious to find out what we would offer for your piece? To get a quote on your David Yurman jewelry, fill out our easy, no-obligations form to receive a quote in 24 hours or less, or bring it into one of our Diamond Banc locations today:
Related Posts