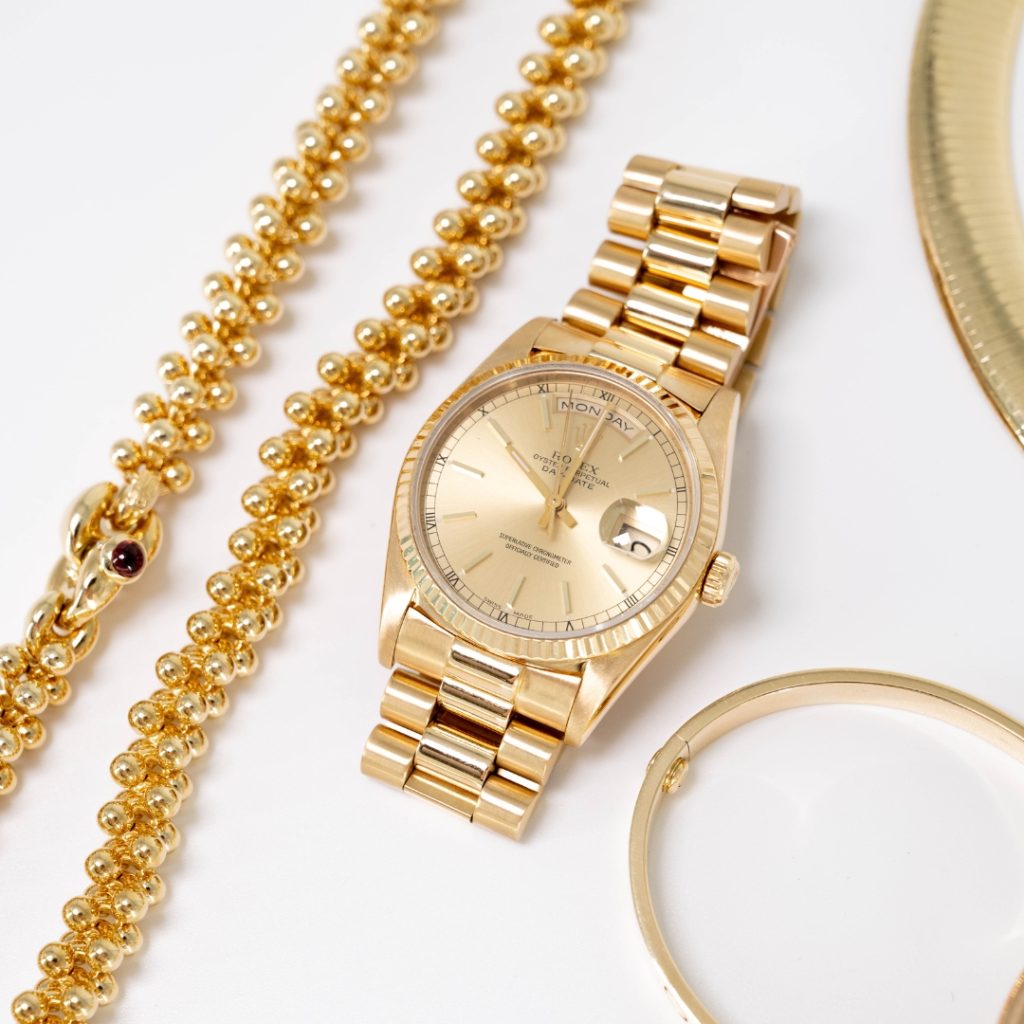 When you choose to pawn jewelry in Boca Raton, you also refuse to let go of a piece you deem special to you by selling it outright.
Before choosing where to get a decent jewelry pawn loan — it's essential to deal with a business where the terms are clear, easy to comprehend, and without any smoke & mirrors.
We believe that as an informed customer, it's only fair you acquire sound knowledge and comprehend what the numbers in a loan term mean before you write down your signature.
Are you considering getting a loan on jewelry in Boca Raton? Let's define interest rates, APR and present you with a representative example so you can feel confident about your decision in the long run.
Define interest rate
The cost of borrowing money is what defines the interest rate you pay Diamond Banc to pledge your fine jewelry as security collateral.
When the amount you borrow against your jewelry is between 30-50% of your item's liquid wholesale value — we have a fixed jewelry pawn loan interest rate of:
2.5% per month
or 30% APR
In case you need a large amount of capital against your antique, designer, or custom jewelry — you can borrow up to half a million dollars (fast/secure/confidential).
What is APR?
The APR or annual percentage rate is a fixed yearly rate representing the sum of supplementary charges necessary to make up the loan, including the interest rate, insurance, storage fees, and security.
The convenience of knowing how APRs work is that you can use them as marketing comps shopping for the jewelry loan with the best terms when shopping for pawn shops in Boca Raton.
Case Interpretation (for example)
Meet Nancy, a general practitioner in her mid-thirthies from West Miami.
Nancy wishes to remodel her home's kitchen with new floor and tiles and and paint job.
The home hardware store down her street is closing down and having liquidation sales and she couldn't think of a better time to make a move.
She doesnt have a couple of thousands handy to finance these renovation so she decides to open her jewelry box. With a few designer pieces in her collection, she picks her Love bangle bracelet by Cariter in yellow gold.
After searching online with "pawn jewelry near me", she found Diamond Banc. To get an idea of how much could she get for get bracelet, Nancy fills out a simple form to provide more detail concerning her item.
A day later, an initial offer via email arrived for $5,000 USD. Nancy desires simple monthly payments with equal amounts for her jewelry pawn loan with a 2 years term.
Mathematically speaking, this means:
5,000 x 0.025 = $125 per month of interests payment
OR
5,000 x 0.3 [APR] = $1,500 [one year] x 2 = $3000 of total interest paid after 2 years when her item is recouped
In this situation, a loan on jewelry was the fastest and most convenient way for Nancy to get a quick loan without jeopardizing her credit score or sacrificing her gorgeous jewelry!
A Flexible & Tailored Repayment Plan
If you're looking for a convenient way to pawn jewelry without high-pressure tactics or time-sensitive offers, come to Diamond Banc.
When we make you an offer, you can customize your repayment plan according to your own pace. Our typical jewelry pawn loans can range anywhere from 30 days to 5 years, therefore the length is exclusively dictated by you.
The best thing about this plan is that you can extend your repayment plan for as much 30-day periods as required, as long as your account is in good standing. When you make payments above minimum the interest, they are applied to your loan's principal balance and helps you settle quicker.
Get a decent loan on jewelry in Boca Raton
Jewelry pawning with Diamond Banc is fast, time-saving and tailored to your particular financial situation.
We approach every customer request individually and operate with utmost integrity and transparency when it comes to appraising jewelry and making you an offer.
Don't settle for some lowball offer with questionable terms at some random pawn shop in Boca Raton! Save yourself the trouble and work with knowledgeable experts with lots of experience in the jewelry industry.
You can start the jewelry pawn loan process online to get an initial quote for your jewelry and receive an offer just under 24 hours.
We encourage you to also compare rates elsewhere and see how Diamond Banc is the best place to pawn jewelry.
Our main objective is making the process of obtaining a loan on jewelry easy and exciting in a discrete, secure and relaxed environment. We want to empower you with excellent customer service and help you retrieve your items ASAP.
Visit our Boca Raton office to meet our wonderful Market Director, Kathleen Trocine — she's got a substantial background in the jewelry world and takes pleasure in helping customers!
Pawn Shop Boca Ratonnavigate_nextGet A Loannavigate_nextLocationsnavigate_next
Related Posts