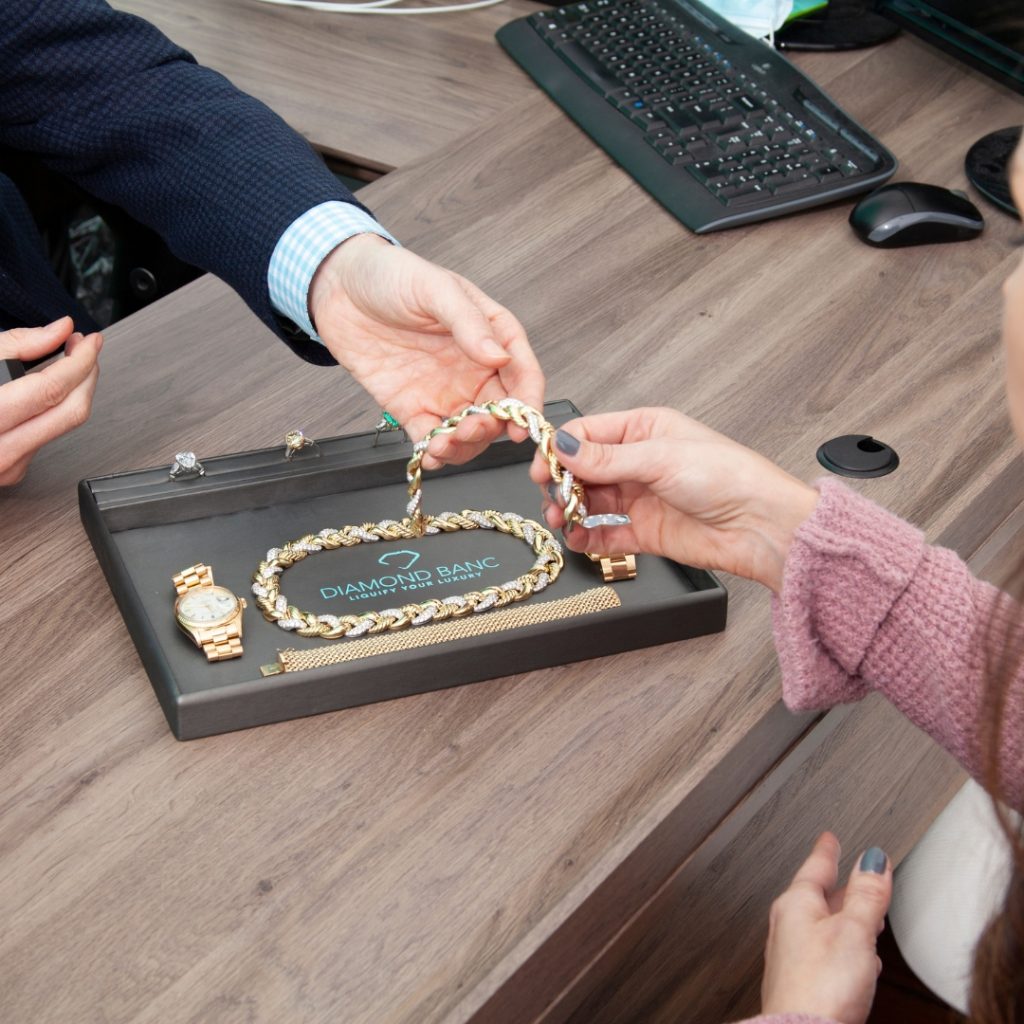 When the urge for quick cash kicks in and you're weighing which pawn shops in Miami might give you the best loan against your jewelry — don't forget to do the math!
Jewelry pawning on a long-term loan can be tricky, but with the right information and terms that make sense and aren't confusing, you can surely find the best deal in Magic City.
Diamond Banc always embraces transparency, honesty, and educating customers in knowing what they're signing up for — In this blog, we'll break down the definitions of an interest rate + APR and also demonstrate a short example of how these numbers work.
Interest rate explained
On luxury-backed collateral loans, the interest rate represents a fixed percentage we charge customers that want to borrow against their jewelry.
At Diamond Banc, our interest rate is 2.5% per month or an APR of 30% when the borrowed amount is 30% to 50% of the liquid wholesale value of your pawned jewelry.
In case you've got antique pearl jewelry, or a Tiffany or Cartier signed piece, you can get up to $500,000, and we can even settle for a lower percentage rate.
What is APR?
The annual percentage rate, or APR, refers to the yearly interest generated by a sum that's charged to borrowers.
APR is expressed as a percentage representing the actual yearly cost of funds over a loan term.
This includes any fees or additional costs associated with the transaction and provides customers with a bottom-line number they can compare among other lenders.
Representative Example
Meet Jake, a 46 years old commercial plumbing contractor servicing the South Florida area.
Recently, Jake wanted to help as many small businesses as possible overcome damages caused by coastal flooding due to Hurricane Ian.
Jake replaced the entire piping system for a customer who video-recorded the entire process. This inspired the plumbing expert to create his own YouTube channel to promote his skills and drive more business to him through the community.
With inflation making it hard to sustain a business for people working in construction or renovation due to gas prices and other factors, Jake decided to secure a loan through jewelry pawn to fund a series of promo videos and Facebook ads to attract brand awareness.
During his twenties, Jake purchased a 18" Gold Cuban Link Chain, a necklace he used to flex with back during his college days! However, he hasn't worn his gold chain for over a decade now, and it's just sitting in a wooden box.
Jake doesnt necessarily want to sell it so he turns on his laptop and searches "pawn jewelry near me".
Most results show Pawn shops in Miami, thus after studying a few options, Diamond Banc caught his attention, and Jake decided to visit our Coral Gable, FL office.
After being greeted by a jewelry expert who understands this particular style of chains , the gold purity and weight are assessed as 14 Karat and 120g, respectively. Jake is presented with a jewelry pawn loan offer of $6,000 at 2.5% monthly interest.
Jake wants to pay back his jewelry pawn loan with bimonthly payments and needs a short-term period of six (6) months.
In numbers, here's what we get:
6,000 x 0.025 = $150 per month of interest payment for six (6) months
Jake wants to pay $75 every 2 weeks via pre-authorized payments as a preference
6 months later, at the end of his loan: Jake paid a total of $900 in interest when recouping his gold Miami Cuban link chain.
A Flexible & Tailored Repayment Plan
No pawn shop in Miami can match the level of flexibility and convenience Diamond Banc offers to its customers!
Our loans are tailored to your financial situation in mind. You can pawn jewelry with loan periods stretching from 60 days to 5 years with the option to extend for as many 30-day period you'd like considering that your payment history is on par.
With a jewelry pawn loan from Diamond Banc, any extra amount that you wish to pay goes straight towards your principal balance, consequently reducing your monthly interest costs moving forward.
Diamond Banc offers convenient and pro-borrowing collateral loans on jewelry in Miami, with on-the-spot funding.
We provide the most convinient jewelry pawn loans
Securing a loan against your jewelry with Diamond Banc is easy, time-efficient and super convenient.
We make the entire process transparent and provide expert guidance so you can get the highest possible return on your loan. Don't get lowballed by pawn shops in Miami or feel pressured to accept questionable loan terms!
We have expert assessors, diamond experts and people with decades of experience in the luxury jewelry retail space to help you secure a loan in a confidential, personalized and professional manner.
Diamond Banc is the nation's most innovative choice to sell jewelry online, you may even request an initial quote sent to your inbox under 24 hours by filling out this simple form.
We've got 2 offices to welcome you in the greater Miami area:
Feel free to contact one of our Market Directors to get started straightaway! Diamond Banc is committed to providing you with outstanding customer experience and offer you the best terms on your loan so you can confidently retrieve your items quicker.
Pawn Shops in Miaminavigate_nextGet A Loannavigate_nextLocationsnavigate_next
Related Posts