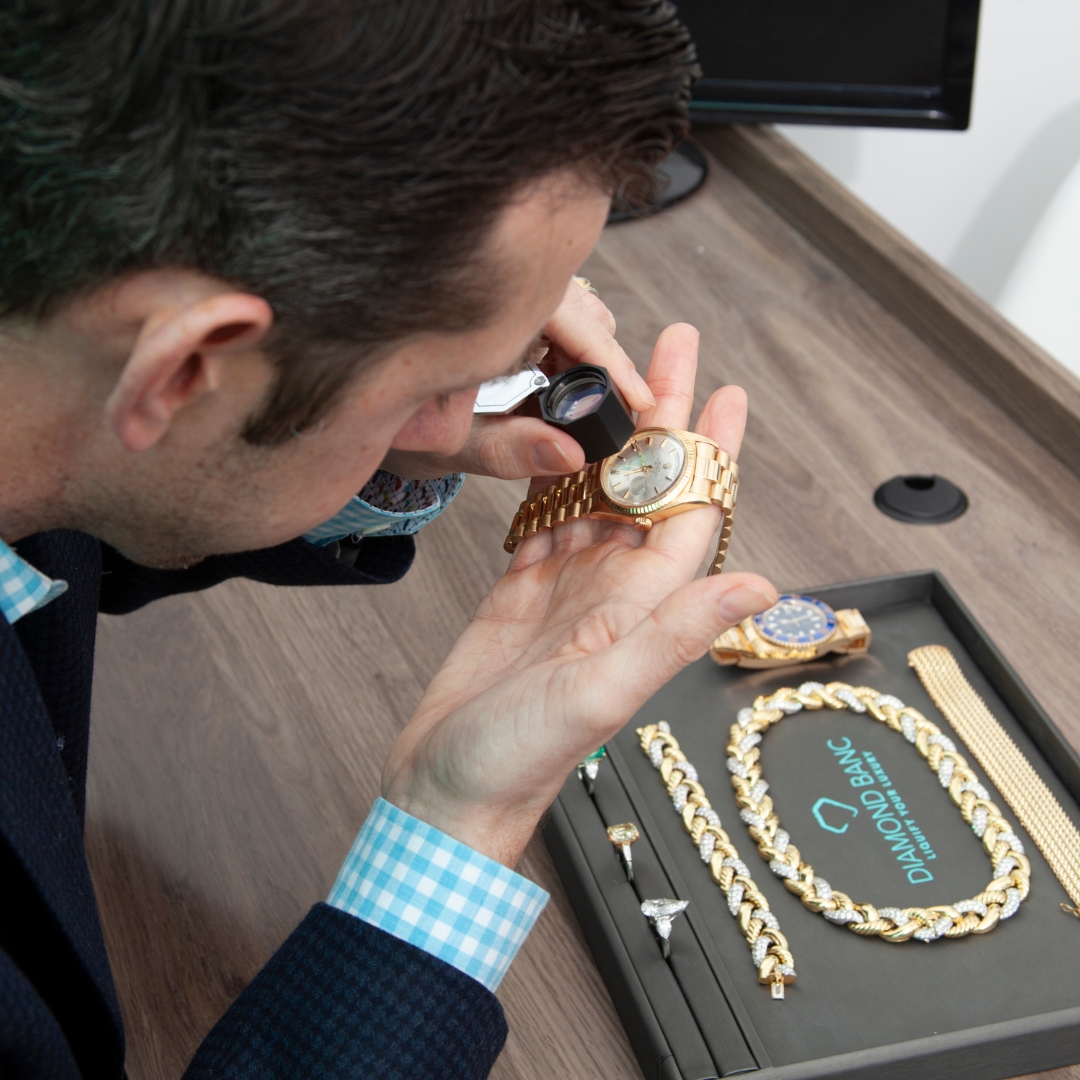 The captivating pieces in your jewelry box can save the day if you're going through a financial crisis and require speedy funding!
Before visiting a pawn shop in Rochester NY, it's important to understand the interest rates and APR concept. There's no worst feeling than accepting a lowball offer with ridiculous interest rates and nerve-racking repayment terms that just adds to your troubles.
Diamond Banc offers jewelry loans with flexible terms and maximum convenience to customers in a professional, no-risk, no-obligation manner.
This article will demonstrate how our fixed interest rates are calculated with a representative example and help put things into perspective regarding this topic.
What is an interest rate?
An interest rate is determined by a percentage of the principal (loaned amount) charged by the lender for access to their capital.
In the case of a jewelry pawn through Diamond Banc, our loan interest rate is 2.5% per month or 30% APR when the borrowing amount is at least 30% to 50% of your collateral's liquid wholesale value.
For a large lump sum, you can get funding in the six figures and have the possibility to qualify for an even lower interest rate.
What is APR?
The interest rate will tell you what you'll pay each month, on the other hand, the APR, or annual percentage rate, will tell you the total cost, including additional costs like storage or insurance calculated over the life of the loan.
APRs are great reference tools for negotiating and cross-comparing rates confidently whatever pawn shop in Rochester NY, you may walk into.
Representative Example
Meet Lynn, a 41-years old sales representative.
Lynn went through a divorce recently and is planning to start a new life. She decided to move to a new city and Rochester, NY, won her heart.
With everything that comes with change and moving into a new community, Lynn needs a bit of a boost financially to furnish a new apartment once she gets there.
She's currently in the process of dividing assets and debts with her ex-husband, and her credit score isn't in the best shape to take out a personal loan on the go.
Thank goodness, some of the pieces in her gold jewelry collection saved the day! Lynn got a few custom-made pendant necklaces, hoop earrings, and cuff bracelets ranging from 14K to 18K that are worth considering.
After the second day of her moving, she doesn't waste any time and searches for "pawn jewelry near me", and most of her search results suggest random pawn shops in Rochester NY.
Lynn is a bit skeptical about pawn shops due to a bad experience in the past, thus after digging a bit deeper, she discovers Diamond Banc and decides to book an appointment.
When she arrived on site, Lynn was greeted by industry experts who took the time to sit down and look at every single piece individually and have an open discussion about how much she was looking to loan.
After reviewing her gold jewelry's style in terms of market desirability and comps to make an offer, a jewelry pawn loan was approved for $7,500 USD.
Lynn is looking for a 3-month short-term loan with payments automatically charged to her debit card.
From a visual standpoint, this would mean:
7,500 x 0.025 = $187.50 per month of interest payment

187.50 x 3 = $562.50 total interest paid at the end of her loan
With such a loan structure, Lynn was able to buy furniture, appliances and decorate her new home within a few days. 3 months was perfect for her until her divorce settlement was finalized, and the best above all is that she could get her gold jewelry back!
A Flexible & Tailored Repayment Plan
If you want to repay your jewelry pawn loan with the most convenient and flexible terms, Diamond Banc is the answer!
You are free to define how much time you require to pay back your loan and the frequency of payments as well.
We also encourage additional payments towards your principal balance, which can help you shrink the life of your loan.
Other jewelry-backed loan providers, including pawn shops, won't let you pay above the minimum interest, which makes a world of a difference for loan seekers.
You can extend your repayment plan for as many 30-day periods as required, as long as you honor the minimum payment frequency in accordance with your loan terms.
Is Diamond Banc like a
high-end pawn shop in Rochester NY
?
Honestly speaking, we don't like to be associated with the term 'pawn shop'.
Diamond Banc is an innovative equity lender that offers a client-driven and modern approach to leveraging the liquidity of your jewelry.
Our goal is to provide you with exceptional customer care and make you feel absolutely confident that you've made the right choice.
Our team is dynamic, problem-solving and work tirelessly to ensure our clients get the highest possible loan offer for their pledged collateral, matched with the same level of professionalism you'd expect from a bank.
To start the process from home, you can fill out this simple form to describe your item. One of our experts will make you an initial offer within 24 hours.
Diamond Banc has affiliated with Mann's Jewelers to provide you with unmatched service to secure a loan with your jewelry. Call (816) 977-2677 for more information or visit our Rochester location in-person with your items handy!
Rochester Diamond Buyernavigate_nextGet A Loannavigate_nextLocationsnavigate_next
Related Posts