Fast. Simple. Secure.
Rochesters Expert Diamond Buyer
Our expert diamond buyers will pay the most for your diamonds.
Diamond Buyers of Rochester
Mann's Jewelers, a Rochester institution, has partnered with Diamond Banc to offer premium diamond buying services to all of Rochester. If you're seeking diamond buyers who will treat you with kindness and make you an industry-leading offer to buy your diamond or your entire jewelry collection, Diamond Banc is the answer.
When selling an engagement ring or any other type of diamond ring, the critical factor to understand is your diamond's current liquid market value. Among the characteristics that are considered when determining a diamond's current value are its carat weight, shape, color, clarity, and certification if applicable. We pay premiums for designer diamond rings and ring settings from the likes of Tiffany & Co., Cartier, Graff, and more. We are especially interested in buying diamonds between 2 – 10 carats. The bigger the better! We are best positioned to help clients who wish to maximize their immediate return on rare and valuable large diamonds. See other diamond buyers first, and we are confident you will ultimately sell your diamond to Diamond Banc.
Diamond Banc of Rochester is the most customer-focused diamond buyer in the area. Mann's Jewelers was scrupulous in selecting Diamond Banc to provide diamond buying services on their behalf. In our current market, the data-driven approach allows us to provide the most accurate diamond buying prices. We apply real-time market data from the world's largest diamond industry trading platform and consider all of the value-enhancing attributes your diamond possesses when deriving at our purchase offer.
Diamond Banc sells our diamond inventory nationally to a network of retail jewelers, diamond dealers, as well as directly to the end consumer. Our expansive selling network enables us to pay premium prices for a vast array of diamond types, qualities, and sizes.
As a leading diamond buyer in Rochester, we offer numerous financial solutions tailored to your situation. These include immediate purchase and consignment options. Consignment enables the seller to receive the highest possible return, as their item is only sold once the buyer who will pay the highest premium has been identified. While your diamond is on consignment we actively market it to a national network of potential buyers. If you elect to accept the outright purchase offer we issue immediate payment.
Diamond Banc of Rochester is located inside of Mann's Jewelers on Monroe Avenue. We happily provide zero-pressure evaluations and purchase offers on your diamonds and diamond jewelry. We look forward to serving you with all your jewelry selling needs.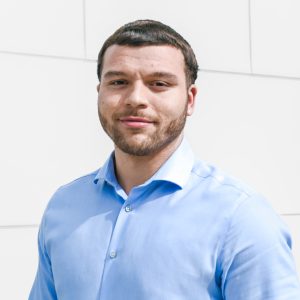 Meet Our National Director of Funding
Jordan Isaacs
Jordan Isaacs is the National Director of Funding for Diamond Banc's corporate office. His primary focus is to ensure that our clients receive the best experience possible while evaluating their items for immediate sale or loan services. Jordan is an expert communicator with prompt and informative follow-up. His unique skill set and expertise allow him to provide the highest offers in the industry, financing options catered specifically to our clients, and exceptional service. Please call us or make an online submission to begin working with Jordan.
HOW IT WORKS
Get a Quote
No Risk & No Obligation
Complete our free and simple submission form describing your item. After reviewing your submission, our team of experts will contact you with an initial quote, usually within one business day.
Start a Quote
Expert Evaluation
Mail-In or In Person
After reviewing our initial offer, we will provide you with a fully insured, prepaid shipping label to safely send your items to our national headquarters for official evaluation. You are also welcome to visit one of our numerous locations nationwide to immediately complete your transaction in person.
Receive Cash
Fast & Secure
Once your item has been evaluated, we will contact you with our official offer and arrange for an immediate payment via check or wire transfer. Don't like our offer? No worries! Your item will be quickly returned to you. No risk. No obligation.