Since 2020, purchasing a Rolex has become increasingly difficult due to the skyrocketing demand surrounding the brand. As demand intensified, prices for these luxury timepieces also increased. Consequently, returns for selling a Rolex also reached new heights over the past two years. However, beginning in April 2022, prices for Rolex watches have begun to fall.  
Presently, the Rolex market has become increasingly volatile. Enterprising Rolex owners looking to sell their pre-owned Submariner, Datejust, Daytona, or GMT model watches are left with one key question: What is my Rolex worth in 2022?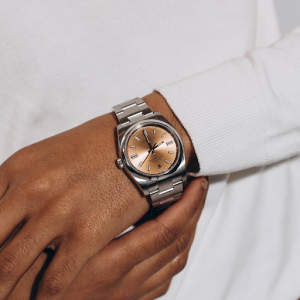 Rolex values have fluctuated greatly over the past few years, making it more complicated to assess the value of your RolexThe velocity of current demand can cause confusion when it comes to estimating a Rolex's value. Here are some of the key considerations to keep in mind when evaluating what your Rolex is worth:  
Rarity

The Watch Model and Reference Number

The Age of the Rolex

The Condition of Your Watch
·  The Presence of an Original Box, Packaging, and Warranty 
 The Rolex market is complex. As a result, your Rolex value can depend on several factors. As we have observed over the past two years, market fluctuations can have a profound impact on the value of a Rolex. Without the opinion of a trained expert, it can be impossible to assess the true value of each timepiece. Trained experts are aware of market shifts and changes in demand. These individuals can also provide personal assessments of the nuanced factors influencing Rolex value, such as the condition of the timepiece.  Therefore, these experts can provide a clear and up-to-date analysis of your watch's value. Many Rolex buyers, such as Diamond Banc, can provide free assessments of your watches' value on the secondary market. Therefore, visiting your local watch reseller can be a great place to start if you're looking to get an idea of what your Rolex could sell for.
Online Calculators
If you are short on time, however, using an online calculator can also be a way to get a cursory idea of what your Rolex is worth. Many Rolex calculators use data from current market trends to estimate the value of a watch on the secondary market. Because this data is based on historical prices of Rolex watches, and not current and predicted market trends, it may not be as up-to-date or accurate as an expert opinion. Nevertheless, online calculators can offer a quick-and-dirty overview of what a Rolex buyer may be able to offer for your watch.
 Although these online Rolex value calculators may not be able to take every single factor into account when evaluating a Rolex watch's value, they can help to provide a quick frame of reference to direct you to your watch's value. Check out Diamond Banc's calculator for an estimate of what a Rolex buyer can pay for your watch.
What Is My Rolex Worth?navigate_next
There are also a few, general considerations when evaluating the amount a watch buyer can pay when purchasing your timepiece. These variables can have the most direct effect on the value of your watch.
 1. Rarity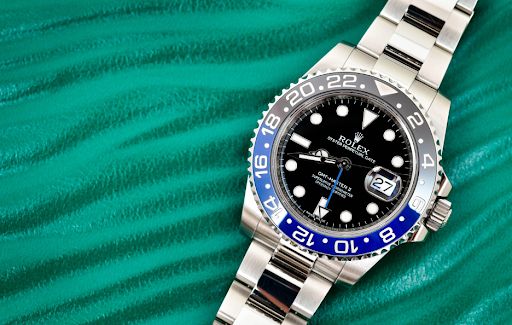 Supply and demand tend to play a major role in determining the value of any good in the economy. This is particularly true with Rolex watches. The rarer a Rolex is, the more a buyer can typically pay for the model. Certain discontinued color combinations are particularly difficult to find on the Rolex secondary market, such as the Blue and Black Rolex "Batman" GMT Master II, or the green "Hulk" Submariner. As a result, the values for the Rolex watches tend to be higher compared to otherwise comparable models.   Similarly, many of the highest-yielding Rolex watches in history have been extremely rare. The world's most expensive Rolex sold at $1,220,632 in 2014, due to the rarity of the vintage piece.  A watch's previous ownership can also have a direct effect on its rarity, thereby increasing its overall value. For example, Paul Newman's Rolex Daytona sold for $5.5 million in 2020, far more than a typical Daytona of the same model and reference number would sell for on the secondary market.
2. The Watch Model and Reference Number
The scarcity of a Rolex model or reference number can also have a direct impact on its value. The more rare, or more in-demand, a Rolex model, the more it will be able to elicit on the secondary market. A Rolex buyer can typically pay more for a watch that is likely to sell. When demand for a watch is high, or supply is low, Rolex models are more likely to sell quickly. As a result, Rolex buyers can typically pay higher values for certain rare, or in-demand, models. This means that some models may be worth significantly more than others. Rolex steel sports models have become particularly popular, and hard to acquire due to recent shortages in supply. Consequently, individuals selling their Rolex Submariners, GMTs, Daytonas, or Explorers. Certain dress models such as the Datejust are similarly hard to acquire for Rolex buyers, as a result, they may be able to provide higher values for these particular models.
 3.
The Age of the Rolex
A watch's age can also have a direct effect on what a buyer can pay for a Rolex. Although older watches are typically worth less than a newer Rolex, some models appreciate in value over time. A particularly well-cared-for vintage model may be worth more on the secondary market. Both the rarity and Rolex's model and reference number can interact with the age of a Rolex, so the first two points on this list are particularly significant for anyone looking to sell an older Rolex.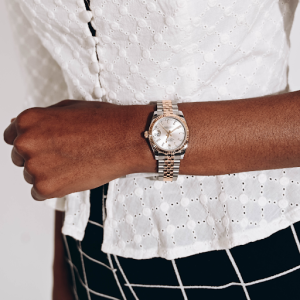 4. The Condition of Your Watch 
The state of your Rolex tends to have a strong direct effect on a timepiece's value on the secondary market. A Rolex buyer can typically pay more for a timepiece in pristine condition than what they could pay for a Rolex in a worse state. Consequently, condition plays an important role in determining what your Rolex is worth.
 "Condition" may refer to several characteristics, such as the tension of a jubilee band, scratches on the face of a Rolex, and the presence of any physical damage to the watch or its mechanism. A buyer will typically need to invest more to repair a damaged or poorly maintained timepiece to restore the watch to its fullest potential. Therefore, it is always a good idea to invest in the maintenance of your luxury watch throughout its lifetime, boosting your watch's long-term value and protecting your investment in the piece.
5.
The Presence of an Original Box, Packaging, and Warranty Card
Unfortunately, as the value of Rolex has increased, the number of counterfeits on the market has also gone up. Counterfeit Rolex watches on the market outnumber any other dupe. As a result, Rolex buyers can pay a premium value for watches that are proven to be authentic. By selling a Rolex with its original box, receipt, warranty/guarantee card and manual, you provide additional confirmation that your Rolex is authentic. Consequently, a buyer can pay more for a Rolex with its original packaging.
 Time and market trends are also important factors to consider when selling a Rolex. In an ideal situation, sellers can aim to sell their watch when demand is high and supply is low since your Rolex will be worth more during these periods. However, recent fluctuations have proven that the Rolex market is highly vulnerable to economic and market considerations. Set up an appointment with a local Diamond Banc Market Director or complete our easy online form to get an idea of what your watch is worth or to start the process of selling your Rolex.
Related Posts