Boca Raton's Premier
Pawn Jewelry Lender
Start Online, Complete In Person.
WHY DIAMOND BANC?
Highest Loan Values & Lowest Borrowing Costs In The Nation.
Borrow Funds As You Need. Credit Line Flexibility.
Payments Above Minimum Interest Are Applied To Loan Balance.
Automatic Payment & Digital Reminders.
Items Are Insured While In Transit & In Our Possession.
Boca Raton Pawn Loans from Diamond Banc
Traditional Pawn Loans in Boca Raton
Pawn shop loans work much like other types of loans, except that instead of borrowing from a bank, you borrow from a private company called a pawnbroker. You pay back the loan plus interest over a period of months or years. If you default on the loan, the lender can sell the item you pledged as collateral to recoup some of the money owed. These loans are offered by local pawn shops, where customers bring items such as jewelry, electronics, and other valuables to sell in exchange for cash. You'll pay interest on the loan, and the item will become collateral for the loan. You might think that getting a loan from a pawn shop would be easier than getting one from a bank, and in some cases that is the truth. However, there are some things you should know before applying for a loan at a traditional pawn shop in Boca Raton.
Looking for a quick and easy short-term loan on your diamonds, jewelry, silver and gold jewelry, or luxury timepiece? By using Diamond Banc Boca Raton, quickly get access to liquidity using your jewelry while simultaneously avoiding the stress of your local pawnshop. In addition to jewelry used as loan collateral, Diamond Banc of Boca Raton also makes loans against luxury watches such as Rolex, Patek Philippe, Cartier, Panerai, Breitling, and more. Diamond Banc pawn jewelry loans are set up with the borrowers' preferences and needs in mind, unlike traditional loans from a pawn lender. At the end of the day, we want the structure of our pawn jewelry loans to make sure your items are returned to you. If you are looking for "jewelry pawn loans near me", you have found the right place with Diamond Banc!
We are the experts in Boca Raton pawn. When you choose Diamond Banc Boca Raton as your pawn lender, you benefit from working with jewelry industry experts. Kathleen Trocine, the director of our Diamond Banc office in Boca Raton is an expert in the jewelry industry, which allows her to offer more for your jewelry items than a traditional Boca Raton pawn lender. When evaluating your jewelry, the market directors at Diamond Banc consider every value-adding factor.
Why We Are Boca Raton's #1 Jewelry Secured Lender:
Industry Experts in Boca Raton
The difference between a Diamond Banc pawn loan and a traditional pawn loan is that at Diamond Banc, we specialize in purchasing and loaning against jewelry exclusively. Traditional pawn shops purchase and loan against a variety of different items, thus, they do not have the expertise to evaluate your items to the extent that we do at Diamond Banc of Boca Raton. Although other pawn shops in Boca Raton will gladly purchase your Rolex watch, diamond engagement ring, or Cartier love bangle, it is essential to note that they simply do not have the knowledge base to know the true value of your items. Diamond Banc's niche is loaning money for pawn jewelry and we want to loan clients as much as possible. In the Boca Raton area, our loan offers are the highest when compared to other pawn lenders. We have the knowledge and experience to provide you with the best, consumer-focused pawn jewelry loan offers and terms. The majority of pawn shops across the nation and in Boca Raton do not have the capital on hand to make large loans. However, Diamond Banc regularly makes loans from $20,000 – $250,000 and has the ability to fund transactions up to $1,000,000. At Diamond Banc, we want our clients to know that they are receiving the ideal combination of their loan amount and cost.
Loan Offer & Buy Offer Are The Same
Most pawn lenders will offer to loan you less for your item than they will buy it for. At Diamond Banc Boca Raton, this makes no sense to us! Our Diamond Banc loan & buy offers are almost always the same amount.
Lowest Pawn Interest Rate in Boca Raton
Diamond Banc typically charges 50% – 80% less than the standard pawn industry interest rates allowed by law. Diamond Banc's interest rates are notably lower when compared to other jewelry lenders located in Boca Raton. Our lower interest rates mean you can get the better offer all while getting the most cost-effective pawn jewelry loan.
Secure A Loan Using The Following:
Our Interest Is In The Interest – Not Your Jewelry
We want you to get your jewelry back. With a traditional pawn jewelry loan, every month you can pay the principal and interest together or just the interest that is due. This type of structure is good for the pawn lender, but it is not ideal for the borrower. As long as your loan charges are current, with a jewelry pawn loan from Diamond Banc, the extra you choose to pay goes to your principal balance, thereby decreasing your costs associated with monthly interest. Our payment structure for our jewelry pawn loans is designed to be easy with automatic monthly payments and the digital reminders that we provide to our clients.
Flexible Funding
Our loans are structured similar to a line of credit. Let's say in Boca Raton, you borrowed $10,000 from Diamond Banc against your watch. You have paid your balance down to $3,000, which is not an option with most standard pawn loans. Then, an unprecedented situation comes up and you are in need of additional funding. The $7,000 you have already paid back to Diamond Banc can be applied back to your account, thus bringing your loan balance back up to the original $10,000. You can carry your pawn jewelry loan balance as long as needed, providing your interest charges have been paid as agreed and your loan is in good standing.
Peace of Mind
If you read the fine print on most pawn lender paperwork, you will discover that your item is not insured in the event of loss or theft during the time of your loan. At Diamond Banc all loan collateral is fully insured, offering our clients the peace of mind they deserve during their pawn jewelry loan duration.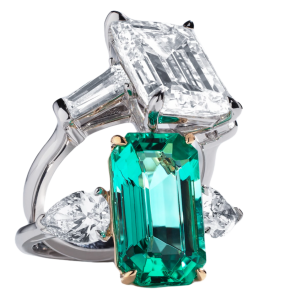 ---
In Boca Raton, Diamond Banc offers unparalleled funding that is fast, discreet and confidential. We provide a premier experience and treat all customers with kindness. Our team is dedicated to providing the best pawn jewelry loan terms possible to our customers. At Diamond Banc, we aim to build long-term relationships with the clients who choose us as their pawn lender. Whether you have a ½ carat diamond or a 10ct Cartier engagement ring, you will find your experience with Diamond Banc convenient, comfortable, and enjoyable.
Start the process online or visit one of our Florida offices:
TAMPA MIAMI BOCA RATON  ORLANDO
Diamond Banc has locations in Boca Raton, Miami, Orlando, Tampa, Kansas City, Columbia, Nashville, & Rochester.
Diamond Banc Boca Raton serves a wide area of South Florida including but not limited to: Palm Beach, Martin, Broward, St. Lucile, Indian River, Okeechobee, Highlands, Glades, & Hendry Counties.
At Diamond Banc, we want to help you find the best option for funding. If you need funding right away or you just want to talk to someone about your situation, Diamond Banc provides a zero cost, zero obligation, zero pressure, evaluation. Begin at DiamondBanc.com or call 561-430-5035 to schedule an appointment today at 100 S Federal Hwy., Boca Raton, FL 33432.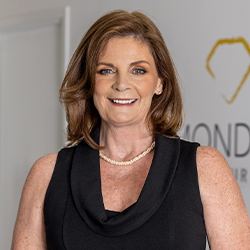 Meet our Boca Raton, Florida Director:
Kathleen Trocine
Kathleen Trocine is the Market Director of the Diamond Banc, Boca Raton office. Kathleen is a GIA Graduate Gemologist & has more than 20 years of experience in the jewelry industry. Her experience includes holding a quality control position at Tiffany & Co., working as a liaison for a U.S. manufacturer and was the jewelry production manager for Lazare Kaplan Inc. Her vast knowledge of the fine jewelry business, GIA certification, and loan expertise combined ensure the highest values paid and lowest interest rates in the industry.
HOW IT WORKS
Get a Quote
No Risk & No Obligation
Complete our free and simple submission form describing your item. After reviewing your submission, our team of experts will contact you with an initial quote, usually within one business day.
Start a Quote
Expert Evaluation
Mail-In or In Person
After reviewing our initial offer, we will provide you with a fully insured, prepaid shipping label to safely send your items to our national headquarters for official evaluation. You are also welcome to visit one of our numerous locations nationwide to immediately complete your transaction in person.
Receive Cash
Fast & Secure
Once your item has been evaluated, we will contact you with our official offer and arrange for an immediate payment via check or wire transfer. Don't like our offer? No worries! Your item will be quickly returned to you. No risk. No obligation.