Boca Raton's Premier
Jewelry Secured Lender
Fast. Simple. Secure.
Start Online, Complete In Person.
Describe your item
Final Step
Thank You
THANK YOU
We have received your submission.
A member from our team will
contact you shortly!
WHY DIAMOND BANC?
Highest Loan Values & Lowest Borrowing Costs In The Nation.
Borrow Funds As You Need. Credit Line Flexibility.
Payments Above Minimum Interest Are Applied To Loan Balance.
Automatic Payment & Digital Reminders.
Items Are Insured While In Transit & In Our Possession.
What We Loan On
Diamond Banc is a trusted industry leader offering online short-term jewelry equity loans for people who use their jewelry as collateral.
Boca Raton Pawn Loans from Diamond Banc
Looking for a quick and easy short-term loan on your diamonds, jewelry, silver and gold jewelry, and luxury timepiece? Get access to quick liquidity using your jewelry while simultaneously avoiding the stress of your local pawn shop using Diamond Banc in Boca Raton!
Diamond Banc specializes in providing loans to individuals who have fine diamond jewelry and engagement rings, high-end luxury watches, and jewelry from top designers like Cartier, Bulgari, Tiffany & Co, and more. These items are used as collateral to secure the loan. The loan amount is determined by the liquid wholesale market value of the item. While the loan is in repayment, the item is stored in our secure vault. Once you have repaid the borrowed amount and fees, we will return the item to you.
Diamond Banc of Boca Raton also makes loans against luxury watches such as Rolex, Patek Philippe, Cartier, and more. Diamond Banc pawn loans are set up with the borrowers' preferences and needs in mind,  like traditional loans. At the end of the day, we want them to make sure your items are returned to you. Our Market Director in Boca Raton will tailor the loan details to your individual needs.
Benefits of a Pawn Loan from Diamond Banc's Boca Raton Office:
Highest Loan Values:  Diamond Banc's team of experts and vast network in the jewelry industry ensure that you receive the highest pawn loan values for your items.
Customizable Loan Repayment Terms: We value transparency and work hard to meet your needs. Our loans are structured with flexible repayment terms that fit your financial needs. We offer superior repayment options compared to other pawn loan options in Boca Raton.
Credit Line Flexibility: Diamond Banc even allows you to use your loan as a traditional line of credit. Providing your loan is current, we allow customers to draw funds up and down against their items as needed.
Best Loan Terms Guarantee: We offer you the best combination of the loan value and low cost of funds. Check our competition for yourself. Our pawn loan values never expire, meaning that you can shop around for comparable offers. Once you're confident you've gotten the top offer, come do business with us!
Contact-Free, Digital, and Automatic Loan Repayment Options Available: Diamond Banc has simplified the entire process of obtaining and paying off a pawn loan. We have set up an easy loan process that can be started from the comfort of your own home and ensures your account stays in good standing.
Once you have a loan, we make it easy for you to make payments and options to pay down the principal amount as you go, something a traditional pawn shop rarely offers. We offer automatic monthly payments, so you don't have to worry about remembering to make your payment each month.
Large Loans $50,000-$250,000 Available for Business or Personal Use: Every situation is different. Whether you're looking to borrow a small amount or a larger amount, we can help you. We offer loan values up to $10,000,000 with immediate funding.
Diamond Banc offers an unparalleled experience that is a fast, discreet, and confidential way to be funded in Boca Raton. We provide the white-glove experience you deserve and treat all customers with kindness and professionalism. Our team is dedicated to providing the best loan terms possible to our customers. Whether you have a 0.50-carat diamond or a 10.00-carat engagement ring, you will find your experience with Diamond Banc convenient, secure and confidential.
Diamond Banc's Unique Loan Process
Diamond Banc does not run any credit checks, employment verification, or require a repayment guarantee. We also do not report the loan to a credit bureau; so it will not affect your credit score, even if you default on the loan.
The loan process with Diamond Banc is quick and easy. We can usually have funds in your account in as little as two days. Start by filling out our simple loan quote form on our website. Within 24 hours of receiving your submission, we will send you our initial offer. After reviewing our initial offer, we will schedule an appointment with you at our conveniently located Boca Raton office. Once your item has been evaluated in person, you will be given our official offer and paid immediately via check or wire transfer.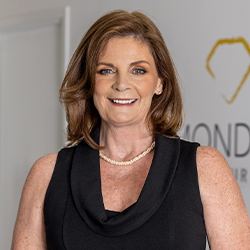 Meet our Boca Raton, Florida Director:
Kathleen Trocine
Kathleen Trocine is the Market Director of the Diamond Banc, Boca Raton office. Kathleen is a GIA Graduate Gemologist & has more than 20 years of experience in the jewelry industry. Her experience includes holding a quality control position at Tiffany & Co., working as a liaison for a U.S. manufacturer and was the jewelry production manager for Lazare Kaplan Inc. Her vast knowledge of the fine jewelry business, GIA certification, and loan expertise combined ensure the highest values paid and lowest interest rates in the industry.
HOW IT WORKS
Get a Quote
No Risk & No Obligation
Complete our free and simple submission form describing your item. After reviewing your submission, our team of experts will contact you with an initial quote, usually within one business day.
Start a Quote
Expert Evaluation
Mail-In or In Person
After reviewing our initial offer, we will provide you with a fully insured, prepaid shipping label to safely send your items to our national headquarters for official evaluation. You are also welcome to visit one of our numerous locations nationwide to immediately complete your transaction in person.
Receive Cash
Fast & Secure
Once your item has been evaluated, we will contact you with our official offer and arrange for an immediate payment via check or wire transfer. Don't like our offer? No worries! Your item will be quickly returned to you. No risk. No obligation.