What Is A Happy Diamonds Watch?
Since 1976, Happy Diamonds have been joyfully lighting up the creations from Chopard. This iconic collection features loose diamonds that float freely within the jewelry. Since the introduction of the celebrated line, the famous moving diamonds have been staged through a myriad of precious jewelry. In the four decades since the line's founding, Chopard's celebrated collection has featured rings, necklaces, pendant, earrings and watches.
The Happy Diamonds line originated when Chopard designer, Ronald Kurowski, took a stroll through the Black Forest. As he embarked on his stroll, Kurowski was struck by a waterfall. The luminous reflection of the sun's rays in the waterfall mesmerized the designer. This brief excursion inspired Kurowski to develop the now iconic Happy Diamonds line to Chopard's product assortment.
What Is Your Chopard Happy Diamonds Watch Worth?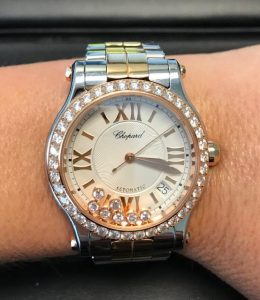 Diamond Banc Tampa was able to loan our client $5,000 for the exquisite Chopard Happy Sport 18K Rose Gold and Stainless Steel featured on the left. Ultimately, we calculate the value of your watch based on its condition and the presence of the original box and papers. Our Market Director offered a premium value for the watch featured above due to its pristine condition. Depending on the condition of your Chopard Tu-Tone Happy Sport, you can expect to receive even more.
Why Diamond Banc?
Obtaining a Jewelry Equity Loans is convenient, fast and easy with Diamond Banc! Just fill out our simple form to get started. Be sure to include any information you can provide, along with photos and the amount you are looking to borrow.
Within 24 hours of submitting the form with an initial offer, you will hear back with an official offer.  Next, we will arrange a convenient appointment in our private Tampa office. We are conveniently located in front of The International Plaza. There, one of our jewelry experts will evaluate the watch in person to provide you with a final offer. Once this offer is accepted, Diamond Banc will fund you immediately.
You can also stop by our office or call us at 813-367-3372 to set up an appointment today!
Related Posts