Fast. Simple. Secure.
Orlando's Premier
Jewelry Buyer
Let our highly qualified experts assist when it's time to sell your jewelry.
Deena Maali
Orlando, FL Market Director
Diamond Banc was such an amazing place. The process is flawless and the people are amazing. Would highly recommend everyone to use this place.
Deena is awesome, honest and trustworthy.I started with her then dug deep in all other options to sell my Rolex. Lots of scammers out there. Be careful or just don't waste your time and deal with Deena at Diamond Banc.
Deena was great to work with. Respectful, professional and courteous. Smooth transaction. You can tell she truly cares about the client. Would do business again!
Get a Quote
In Person or Online
Schedule a private evaluation at your local Diamond Banc or use our online submission form.
Start a Quote
In-Person Evaluation
Complete In Person
Meet privately with a Diamond Banc director who'll evaluate your items right in front of you & make you an offer.
Get Funded
Fast & Secure
If you accept our offer, we will issue payment immediately via check or wire transfer.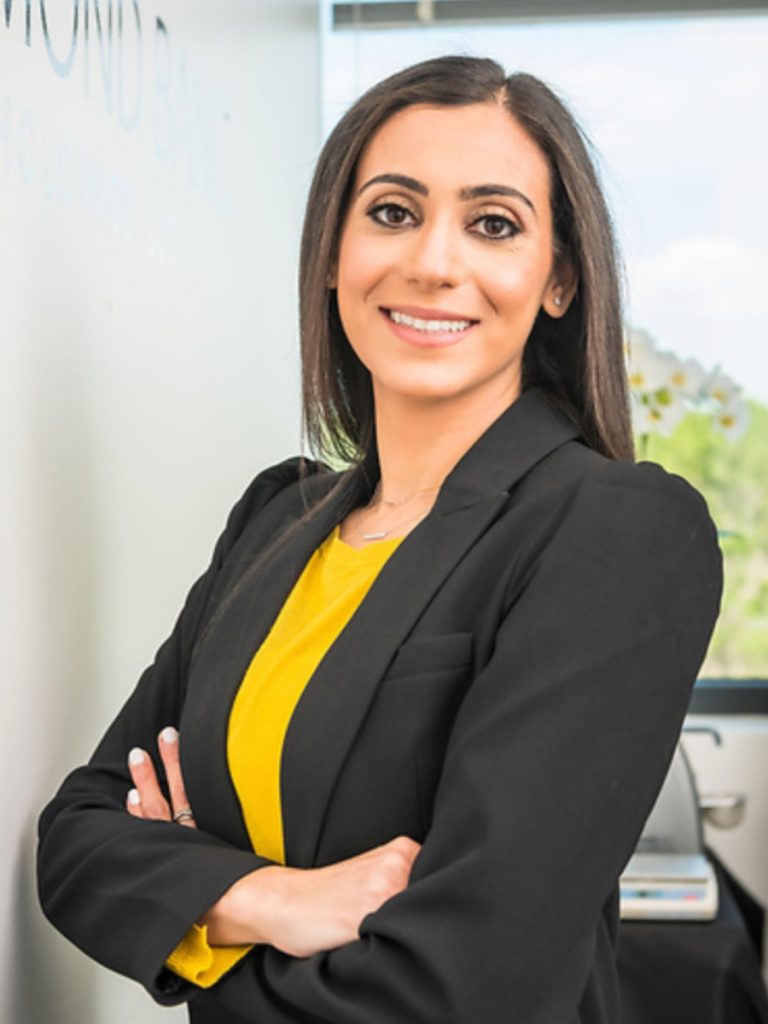 Deena Maali
Orlando, FL
Deena Maali is Diamond Banc's Orlando Director with over 10 years of experience in fine jewelry and luxury watches. Born and raised in the heart of Orlando, her past experience includes buying and selling loose diamonds and designer fashion items to working with a vast variety of high-end watches. With her knowledge from working in many facets of the industry, Deena provides her clients with stellar experience, offering the best values and the lowest interest rates for their items. Visit Deena at our Orlando office for a free, no-pressure evaluation!
FAQs
There are two ways you can sell your jewelry to Diamond Banc:
Fill out our online submission form above & receive a quote within 24 hours from one of our expert jewelry buyers. Our team will provide you with a fully-insured shipping label to mail your item(s) to our headquarters. From the moment your jewelry arrives at our headquarters, it remains on continuous video surveillance until the package is opened and your items are verified. If you accept our offer, payment will be issued immediately via wire transfer. If you elect not to accept our offer, your item(s) are expedited back to you with a fully-insured shipping label.
Visit a Diamond Banc office near you. If you are looking to receive an immediate offer & same-day funding, we encourage you to visit one of our offices nationwide. Schedule an appointment at a Diamond Banc location near you, have your jewelry evaluated on the spot, and get paid immediately. Typically, this process takes less than 40 minutes.
How do you determine how much my jewelry is worth?
Diamond Banc takes several factors into consideration when making an offer to purchase diamonds, jewelry, and watches. When evaluating any diamond, we consider the 4 C's (carat, cut, color, clarity) and its overall appearance and beauty.
We also take into account the current market demand for those characteristics. When putting together an offer for your jewelry, we take into account the maker of each piece, its date of production, condition, and quality of craftsmanship, style, and desirability.
Our vast network of over 20,000+ buyers & collectors ensures that we can make industry-leading offers for your items.
Is my jewelry secure while in transit?
Yes. Your jewelry is insured while in transit and while in our possession. We provide you with a fully insured shipping label to send your item(s) to our headquarters.
Our shipping & logistics team tracks your package every step of the way. From the moment your item arrives at our headquarters, it remains on continuous video surveillance until the package is opened and your items are verified.
What if I don't accept the final purchase offer?
If you elect not to accept our purchase offer, we will expedite your jewelry back to you under a fully-insured shipping label.
What types of jewelry do you accept?
Diamond Banc actively purchases diamonds 0.50ct+, engagement rings, diamond jewelry, estate jewelry, & signed designer jewelry from designers such as Cartier, Tiffany & Co., Harry Winston, Van Cleef & Arpels, Graff, and more.
Why should I sell my jewelry to Diamond Banc?
Diamond Banc offers the most expansive & pro-consumer jewelry liquidity options in the nation. Our sole focus is to provide our clients access to the liquidity their fine jewelry items possess. Thus, we are committed to paying industry-leading prices for your jewelry while offering you a simple, speedy, and professional transaction.
Check out our Google Reviews to see what clients' of Diamond Banc are saying about their experience.
Once you accept our purchase offer, we issue payment via check or wire transfer immediately.
Can I get a loan instead?
Yes. Diamond Banc is the nation's #1 jewelry-secured lender. With a Jewelry Equity Loan, you can borrow against the value of your jewelry while still retaining ownership of it. Learn more about our Jewelry Equity Loan service by watching this video or visiting our Jewelry Equity Loan page.
From The Founder
What We Buy
Sell Your Jewelry in Orlando Florida:
Are you looking to sell your jewelry? Diamond Banc of Orlando is the best place to sell your jewelry items. We understand when you are selling your jewelry, receiving the highest amount is the top priority. Our jewelry buyers provide not only the highest amount when selling your jewelry, but also provide an excellent experience without the high-pressure tactics some other jewelry buyers use. Diamond Banc Orlando is the premier jewelry buyer of the Central Florida area.
We take every value-adding factor into consideration when completing your no-obligation jewelry evaluation, to ensure you get the best return for your jewelry. Diamond Banc offers a variety of jewelry liquidity options. Our jewelry buyers can assist you in selecting the option that best suits your needs, including; Immediate Purchase, Consignment, or a jewelry-based pawn loan. With Diamond Banc of Orlando, the process is simple, safe, and secure.
Start the process online by filling out the simple form with some basic information and an image of the jewelry pieces you want to sell. Or visit our local Diamond Banc office in Orlando to receive an offer from our expert jewelry buying staff.
You can schedule an appointment easily to come in for a one-on-one meeting with Deena, the Director of our Orlando offices. With over a decade of experience in the jewelry industry, Deena is well-prepared to work with you and assist in buying your jewelry.
Diamond Band | Premier Buyers of Jewelry
Diamond Engagement Rings:
We buy diamond engagement rings of all sizes, qualities, and styles. Diamond Banc buys all forms of diamond rings, bridal sets, wedding bands, etc. We can pay premiums for true antique vintage diamond settings and rings that feature a center diamond of two carats and larger. Designer diamond rings also have a premium value from designers like Tiffany & Co., and Cartier.
Diamond Fashion Jewelry:
We buy diamond bracelets of all kinds, including diamond bangles or diamond cuff bracelets. We buy tennis bracelets from two-carat total weight and above. We actively purchase diamond necklaces and pendants of all types; from classic styles such as diamond solitaires to high fashion designer styles. Diamond Banc buys diamond earrings of every style; like diamond studs, diamond hoops, diamond drop earrings, diamond dangles, and more. We are buyers of designer earrings including designers such as David Yurman, Cartier, and Tiffany & Co.
Diamond Banc is pleased to buy one piece or entire estates and we provide zero-pressure value assessments. If you are looking to sell one inherited piece or if you are wanting to sell an entire jewelry box worth of items, Diamond Banc is the best place in Orlando to receive immediate funding and a stellar experience.
Our process is simple, fast, and confidential. We can fund transactions immediately. Start the process online to discover the value of your items and visit us in person at our Diamond Banc of Orlando private office.
Diamond Banc's Orlando office serves a wide area of the Orlando metro including but not limited to:
Windermere, Dr. Phillips, Lake Nona, College Park, Winter Park, Downtown Orlando, Winter Garden, Downtown Winter Garden, Kissimmee, Baldwin Park, Thornton Park, Golden oaks, Delaney Park, Lake Eola, Metro West, Millenia, Clermont, Ocala, Orange County, Osceola County, Polk County, Lake County, Sumter County, Brevard County, Volusia County, Seminole County, & Marion County