Boca Raton's Luxury
Diamond Buyer
Fast. Simple. Secure.
Our expert diamond buyers will pay the most for your diamonds.
Describe your item
Final Step
Thank You
THANK YOU
We have received your submission.
A member from our team will
contact you shortly!
Boca Raton's Top-Rated Diamond Buyer
When you want to sell your diamond in Boca Raton, you will find there are numerous options. If you want to sell your diamond and ensure you are being paid the most, Diamond Banc in Boca Raton is the wise choice. When choosing a diamond buyer in Florida, you want to be confident that you're receiving the most for your diamond. 'Sell my diamond' is a seemingly simple task, however, it can make a huge value difference by choosing the right diamond buyer. Diamond Banc of Boca Raton is the leading diamond buyer in Boca Raton and all of Florida. You will receive the highest level of customer service, confidentiality and will work with true diamond buying experts. Diamond Banc buying team pulls from their collective nationwide knowledge to ensure the best prices for diamonds of all types. We are positioned to help clients who wish to sell major jewelry pieces and diamonds 2 carats and larger.
Sell Your Diamond With Confidence
There are many factors that play an important role in determining your diamond's value on the secondary market when you go to sell your diamond. Among the most important characteristics to evaluate a diamond's worth is the carat weight, shape, color, and clarity. The presence of a diamond lab report from the Gemological Institute of America (GIA) can add value to your diamond jewelry piece when selling it but is never required. Diamond Banc in Boca Raton are expert diamond buyers. We would love the opportunity to provide a purchase amount offer on your diamond for sale, regardless of your diamond having a GIA lab report or being appraised by another party or non-certified.
Diamond Banc of Boca Raton will offer you the best and the highest amount for your loose diamond, diamond engagement ring or inherited diamond jewelry items. Once you accept our Boca area-leading offer, you will receive funds immediately. Unlike most local Boca Raton diamond buyers who only sell back to a localized limited market, Diamond Banc sells to a nationwide network of retailers, diamond dealers, and private collectors. This unique advantage allows us to pay higher prices for diamonds of all carat weight sizes, as we have curated buyers and selling avenues that prefer different qualities, shapes, and diamond sizes.
The Expertise You Deserve
Our local Diamond Banc Director, Kathleen Trocine, is an accredited Graduate Gemologist from the Gemological Institute of America. Her unique expertise ensures she has all the knowledge needed to fully assess the value adding factors of your diamond and accurately evaluate your diamond's current market value.
Our Boca Raton diamond buyers pride themselves on transparency, which is often difficult to find in an industry that isn't exactly known for its clarity. We will show you diamonds comparable to yours which are listed for sale on the largest dealer-to-dealer diamond trading platform in the world and explain how we derive our current offer based on those specific diamonds that are like yours. We discuss with you the factors that are involved in reselling your diamond and how we come to our immediate purchase offer amount and tailor each clients' experience to best fit their needs. Diamond Banc offers the most all-encompassing menu of liquidity options when you want to sell your diamond in Boca Raton.
Diamond Banc will pay you for your primary center diamond, as well as add to the offer for the diamond ring setting. We pay notable premiums for designer diamond rings and ring mountings from high-end diamond designer companies like Tiffany & Co., Cartier, Graff, and many more.
Our market director's main objective is to provide you with the value of your diamond in the current marketplace and assist you in maximizing your return. If you wish to sell your diamond in Boca Raton, we offer a variety of services to suit your specific needs. These diamond liquidity services include immediate cash purchase or consignment services for those who have a longer time horizon to get the most money possible for their items. Clients with items that will yield the seller $50,000 or more are eligible for our transparent VIP Seller's Agent Service, where we will market your piece nationwide, advocating for top dollar. For this option, we charge a transparent, fixed percentage commission. This means our interests are aligned to yield you the highest payout possible.
Diamond Banc of Boca Raton loves seeing our customers in person and we pride ourselves on kindness, transparency, confidentiality, and professionalism. We are truly the best diamond buyers in the Southern Florida area and love to help our clients. We are happy to provide zero-obligation evaluations and explain all of your liquidity options to find the one that best fits your needs, even if you're only seeking diamond value information and are not ready to proceed with selling your diamond just yet.
Interested in learning how much your diamond is worth? You're in the right place. Visit our office in Boca Raton, call Kathleen directly, or get started with our easy online form to find out what your diamond is worth.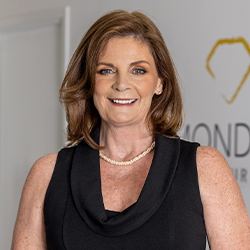 Meet our Boca Raton, Florida Director:
Kathleen Trocine
Kathleen Trocine is the Market Director of the Diamond Banc, Boca Raton office. Kathleen is a GIA Graduate Gemologist & has more than 20 years of experience in the jewelry industry. Her experience includes holding a quality control position at Tiffany & Co., working as a liaison for a U.S. manufacturer and was the jewelry production manager for Lazare Kaplan Inc. Her vast knowledge of the fine jewelry business, GIA certification, and loan expertise combined ensure the highest values paid and lowest interest rates in the industry.
HOW IT WORKS
Get a Quote
No Risk & No Obligation
Complete our free and simple submission form describing your item. After reviewing your submission, our team of experts will contact you with an initial quote, usually within one business day.
Start a Quote
Expert Evaluation
Mail-In or In Person
After reviewing our initial offer, we will provide you with a fully insured, prepaid shipping label to safely send your items to our national headquarters for official evaluation. You are also welcome to visit one of our numerous locations nationwide to immediately complete your transaction in person.
Receive Cash
Fast & Secure
Once your item has been evaluated, we will contact you with our official offer and arrange for an immediate payment via check or wire transfer. Don't like our offer? No worries! Your item will be quickly returned to you. No risk. No obligation.