Everyone runs into difficult financial times in their life where they are strapped for cash and need access to it quickly. The good news is that there are ways to receive a short-term loan without disrupting your credit score. Although today's banking world often promotes borrowing money against credit rather than a physical asset, there is a much better answer.
Anyone in possession of a home, car, or specific luxury items, can borrow money against those items. Imagine this when applying for a mortgage –  you make payments on your new home but missing a payment could lead to foreclosure by the bank. If you need a small loan, yet do not want to remortgage your home or vehicle, consider bringing a luxury item to a trusted lender that will allow you to take out a loan against it.
In the United States, many lenders specifically loan money against luxury items like Rolex watches. Interest rates and the loan period will vary from lender to lender. However, across the board, the factors that determine your loan amount tend to be the same.
Typically, a lender will look at the model and condition of your watch. Additionally, it is reasonable to expect that the metal used in your Rolex will affect the loan amount. Having the original packaging and paperwork for your Rolex watch available to the lender can expedite the loan process.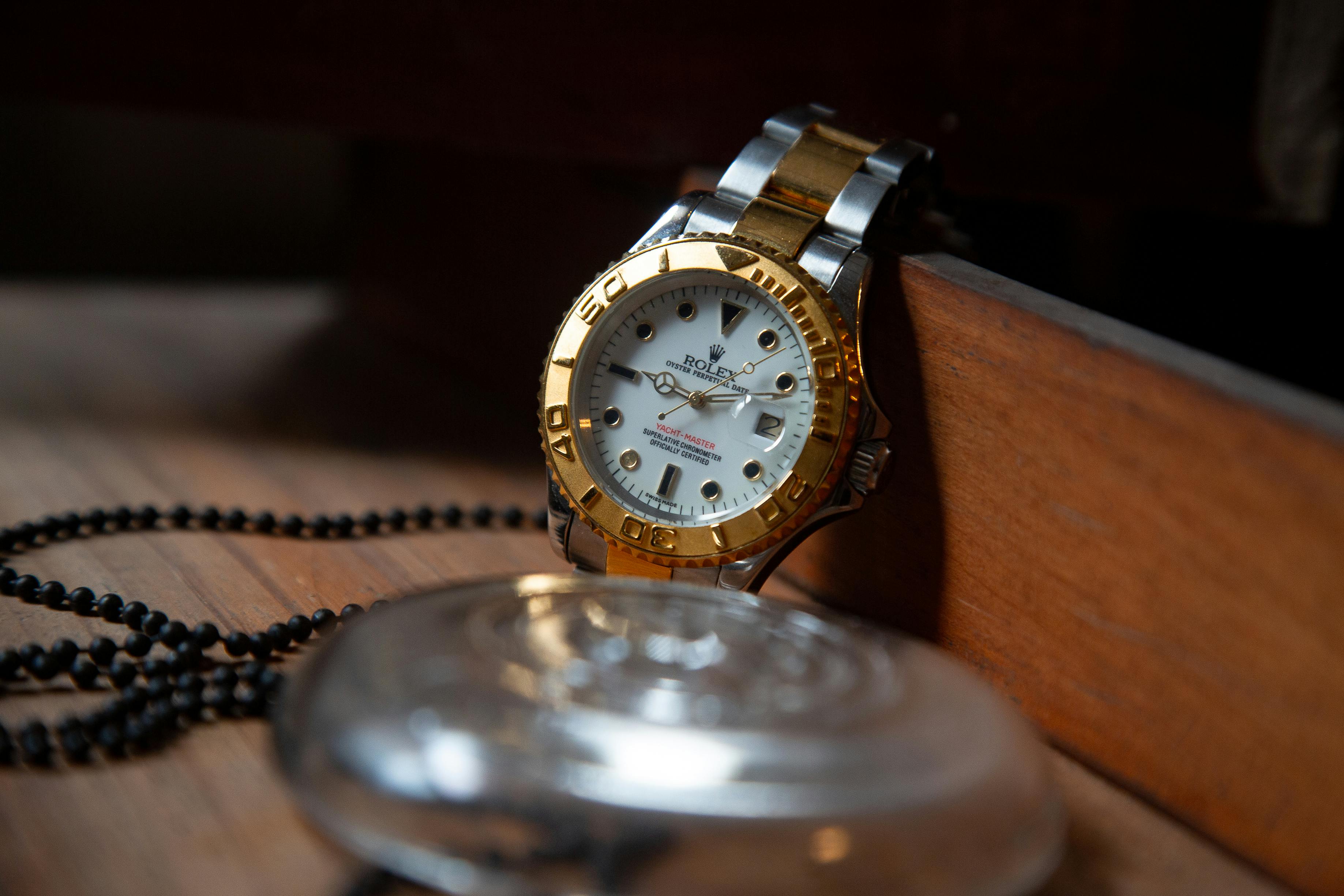 What Is A Rolex Collateral Loan?
Rolex watches are a luxury brand that has a proven record of retaining their value over time. These pieces are made with the utmost care, design, and the highest quality materials. The name 'Rolex' always induces a spirit of appreciation for the artistic process of designing jewelry. This is what makes it so valuable as a liquid asset, and what gives lenders peace of mind about offering a loan against its value. A loan of this type is often referred to as a collateral or equity loan because you borrow money against something you have complete ownership over.
If you want to take out a loan against your Diamond Rolex, or another model of a Rolex watch you own, the first step is to find a trustworthy lender that will appraise the watch against accurate market prices. Diamond Banc is one of many lenders in the United States specializing in appraising luxury items and loaning money against their value.
Borrowing money on your Rolex watch does not necessarily mean you are giving up that item. As long as you pay the loan back on time, you will be able to get your piece back. On the flip side, if you cannot pay the loan back, the lender will sell the watch and use that money to pay back the loan. Unlike loans you receive through financial institutions like banks and credit card companies, a Rolex Equity loan will not harm your credit score.
How Does A Rolex Collateral Loan Work?
Bring it to your chosen lender when you decide to take out a loan against your Diamond Rolex. Ideally, you should have the original box and paperwork available with the watch. If you do not have these items, it is not a deal-breaker. However, it can expedite the entire process of determining the value of your watch.
After you have delivered the watch to your chosen lender, they will begin appraising it based on current market prices. Many factors can determine the amount of your loan. Among these are the model, condition, and materials that make up your watch.
Most lenders will quickly give you the loan amount and have the money issued to you within 24-48 hours. The loan duration depends on the lender, but most will offer a maximum loan term of about six months. If you pay the loan off by the end of the term, you will receive your watch back. Throughout the entire process, you retain your ownership of the piece. It is only when you cannot pay the loan back that you forfeit ownership, and the lender can legally sell it.
When this happens, the lender sells the Diamond Rolex through an auction house and uses the proceeds to pay back your loan. As stated previously, there is no damage to your credit if you cannot pay back the loan.
Factors That Affect The Amount of Your Loan:
MODEL
When you request a loan on watch, the model is one of the most critical factors determining how much you qualify for. There are times when some models are more desirable on the market than others, which can cause the price to fluctuate upwards.
When you bring or send your Rolex to a lender, they will do a careful evaluation. Having the paperwork on hand for them to see can help speed up the process. However, it is not a requirement. Rolex watches have model numbers that are in distinct places on the watch, hidden from view. A lender with an intimate knowledge of luxury watches will know the Rolex brand and where the model number is located.
MATERIALS
The type of material your Rolex is made of also affects the loan amount you will receive. Rolex watches are often made of stainless steel, yellow, white, or rose gold. Just as the model of the watch can determine its value, the materials of your Rolex will influence its current desirability on the market.
Rolex is known for releasing limited edition watches that have unique features or colors added to the watch. These watches tend to be valued at a higher price than others because they are harder to find.
CONDITION
A knowledgeable jeweler will expect any used Rolex watch to look as though it has been worn. Minor scratches on the watch face or wear and tear on the band are to be expected. At the same time, this may or may not affect the loan on watch amount you can receive.
The condition of the watch expands to include whether it has been customized. For instance, many Rolex watch owners will have diamonds or other unique features added to the band or watch face. This does not necessarily decrease the loan amount, but neither does it indicate a more desirable product.
ORIGINAL PAPERWORK
Having the original warranty paperwork and box with your Rolex is always a plus. Most jewelers agree that it does not directly affect the loan on watch amount. Like most high-quality luxury items, having the original paperwork can be a special bonus because it certifies that the product is authentic.
Why Choose Diamond Banc?
The founder of Diamond Banc, Mill Menser, is a third-generation jeweler and the owner of Buchroeders, a company that has been family owned since 1896. The mission of Diamond Banc is to provide unmatched options and service for customers selling or borrowing against their jewelry. This mission is what sets us apart from other jewelry buying and lending companies. 
When you come to Diamond Banc with your Rolex watch, you will receive service similar to any bank you walk into, with the difference being you are turning a physical asset into a liquid one. You will receive fair appraisals backed by the most current market values and a low interest rate.
THE DIAMOND BANC PROCESS
Diamond Banc offers two ways to receive a collateral loan on watch. The first is through the mail. This option allows you to send your Diamond Rolex to one of our locations under the protection of insured overnight shipping. Jewelers Mutual and Brinks provide this insurance, so it is guaranteed that your Rolex is well-guarded.
Once it has been received, the experts on the Diamond Banc team will evaluate your Rolex and decide what it's worth. You will be contacted within a few hours and be given a final offer. If accepted, the money is wired directly to the account you request. Should you decline the offer, Diamond Banc guarantees no obligation and the return of your Rolex.
Another option is to bring your watch directly to one of the Diamond Banc offices across the nation. In-person, a professional jewelry expert will perform an evaluation and give you an exact quote. If you are satisfied with the number, Diamond Banc will finalize the transaction and issue payment on the spot via check or bank wire transfer. If you are not satisfied with the offer amount, no worries, all evaluations are cost and obligation free!
THE DIAMOND BANC PROMISE
As you can see, Diamond Banc has a long history of providing jewelry services and a reputation for honest prices and service. This means you can count on the professionalism of Diamond Banc, and, most importantly, you can trust your Rolex in their hands. Taking out a loan against a luxury item involves no risk to your credit. Contact Diamond Banc for any questions or concerns you have about receiving a collateral loan against your Rolex.
Diamond Banc is the nation's top-rated jewelry buyer & lender. Visit one of our nationwide locations, or work with us from the comfort of your home.
CONTACT DIAMOND BANCnavigate_nextGET A LOANnavigate_next
Related Posts