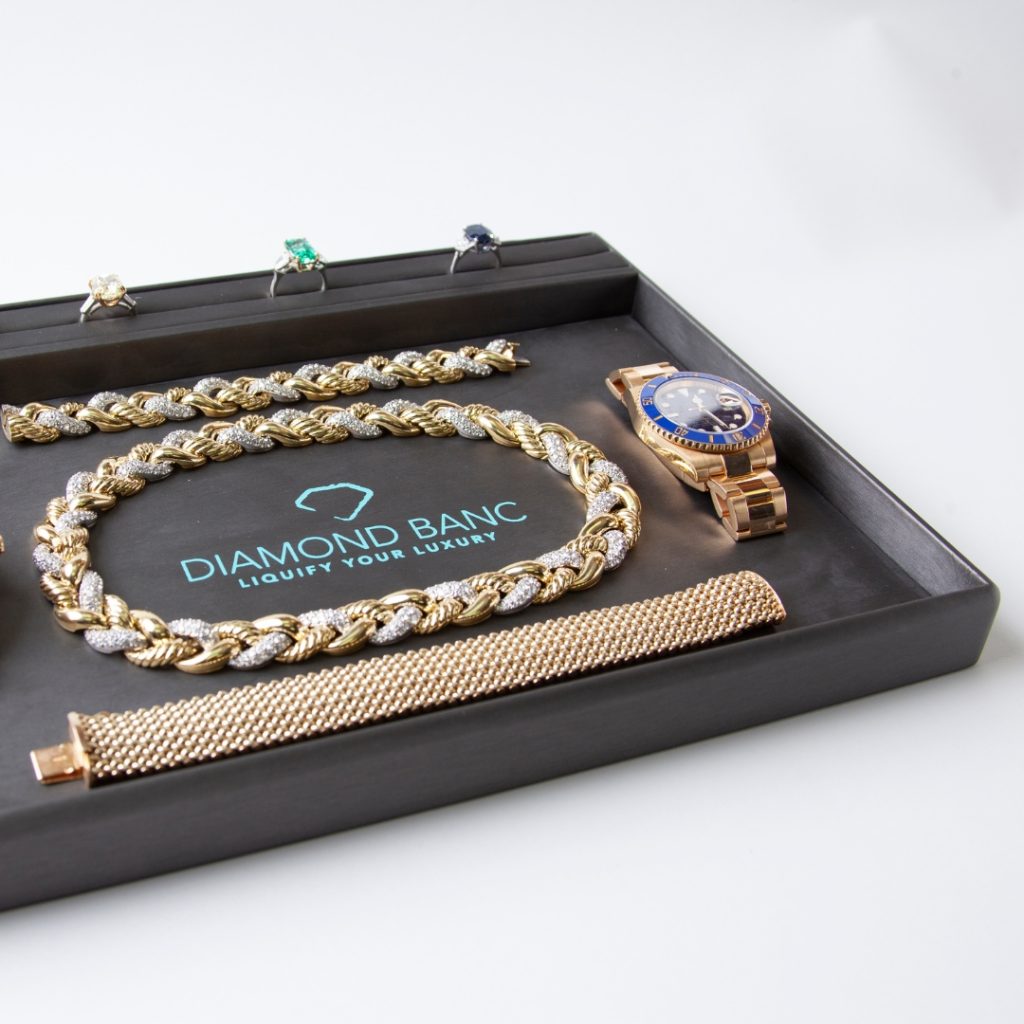 When one suddenly needs cash quickly, he or she may find themselves in a difficult position. Getting a loan secured by your jewelry can be a great way to guarantee funds for an unexpected expense.
Diamond Banc understands the importance of providing a fast, professional and convenient service — but value even more transparency with pro-borrow terms that are fair, convenient and easy to understand for customers.
Want to pawn jewelry in Kansas City? Keep reading this blog post which we'll demonstrate how our interest rates & APR are calculated for a loan on jewelry.
What is an interest rate?
An interest rate basically the amount you are charged for borrowing money against your jewelry — set as a % of your loan's total amount.
Avoiding questionably high rates from unethical certain pawn shops in Kansas City can also be greatly rewarding in making you save money down the road!
Diamond Banc's loan interest rate to pawn jewelry is as low as 2.5% or APR of 30% when at least ⅓ or half of your jewelry's liquid wholesale value is pledged as collateral.
If you've got high-end designer jewelry and looking to borrow in the 6-figure, you can qualify for even a lower rate.
What is APR?
APR stands for Annual Percentage Rate, and it's summed calculation that takes into account the main rate of interest you'll pay for borrowing cash as well as any extra costs associated to prepare and manage the loan.
This detailed structure is referred to as 'Representative APR', where you can simply compare rates elsewhere and get a better idea of your long-term expense when repaying that loan.
Representative Example
Meet Megan, a 67-year-old retired flight attendant from Columbia, MO.
Megan is recently widowed and needs to raise money to fund her husband's funeral arrangements and burial.
With an active automobile and debt consolidation loan, she's skeptical her bank will grant her a personal loan at a decent interest rate.
During the 1970s, Megan inherited a collection of vintage-quality art deco jewelry from her mother.
She knows her pieces are rare items and hopes to find a lender that will appreciate the quality of her collateral. Megan is a bit wary of pawn shops in Kanas City because she heard stories about people getting lowball offers or being pressured to accept ridiculous terms.
When she asked one of her close friends to suggest a place of business for non-bank lending, the latter encouraged getting a jewelry pawn loan through Diamond Banc.
Megan went to visit our Kansas City office, where an expert appraised her vintage pieces and made her an offer for $17,000 USD.
Megan asked if she could make monthly payments and ensure the life of her loan doesn't go over a year.
If we break down this example:
17,000 x 0.025 = $425 per month of interests payment
OR
17,000 x 0.3 [APR] = $5,100 of total interest paid after a year when the item is retrieved
By trusting the right lender, not only she got the highest possible return for her rare items but discovered a new and convenient way to leverage her finances via collateral loans on jewelry.
A Flexible & Tailored Repayment Plan
The level of flexibility we provide on repayments is unseen in the alternative lending industry.
Your payment plan is fully customizable, and we always work around your preferences. When it comes to structuring your loan from start to finish, you are the architect! We can do it if you need one month, 6 months, or 5 years to settle your jewelry pawn loan.
Diamond Banc operates like a traditional lending institution without long waiting for a response or bureaucracy. Need to re-borrow during your active loan? We offer a revolving line of credit if needed.
Plus, managing your loan online is super easy with activable features like setting up an automatic payment or reminder alerts.
Get the best pawn jewelry loans in Kansas City
Why accept a lowball offer with ridiculous terms from questionable pawn shops in Kansas City?
Diamond Banc has been running a successful business for over 15 years, shadowed by a jewelry retail store in Columbia, MO with 125+ years of continuous operations.
We help customers just like you get the highest possible jewelry loans in Kansas City and throughout the nation.
Our company's core values of transparency, integrity, and trust combined with our amazing team of industry experts make us the most honest jewelry buyer and equity lender in the country.
Diamond Banc makes the jewelry pawn loan process straightforward, quick and confidential. To get started, fill out our simple online form or book an appointment with our friendly and super helpful Market Director, Sicily Von Blakey. If you are in the downtown area, visit our Kansas City office located conviniently at the Country Club Plaza.
Pawn Shop Kansas Citynavigate_nextGet A Loannavigate_nextLocationsnavigate_next
Related Posts