COLLATERAL PAWN LOANS SECURED
BY JEWELRY IN KANSAS CITY
Borrow up to $500,000 in 24 hours or less secured by your jewelry.
WHY DIAMOND BANC?
Highest Loan Values & Lowest Borrowing Costs In The Nation.
Borrow Funds As You Need. Credit Line Flexibility.
Payments Above Minimum Interest Are Applied To Loan Balance.
Automatic Payment & Digital Reminders.
Items Are Insured While In Transit & In Our Possession.
Kansas City Pawn Loans from Diamond Banc
Why Choose Diamond Banc Kansas City for Your Jewelry Pawn Loan?
If you are looking for a pawn loan secured by your jewelry near you, Diamond Banc of Kansas City is the best choice for your pawn lender! Through our pawn jewelry loans, you are given a loan based on the value of your luxury timepieces, designer jewelry, fine jewelry, diamonds, and precious metals such as gold & silver. As a pawn lender, We offer the highest loan values in the industry, immediate funding, flexible repayment options, and cost-effective pawn jewelry loans. When you select Diamond Banc Kansas City as your pawn lender, in as little as 24 hours, you can receive the funds through our secure, fast, and simple process.
Whether you are a real estate investor, a small-business owner, or if you simply need fast funding, you can use your Cartier LOVE bangle or Rolex watches or other jewelry pieces as collateral for a pawn jewelry loan based on the value of your items. At Diamond Banc, as your jewelry lender, our focus is to issue a loan to meet your specific needs. We want you to get your jewelry back so our pawn jewelry loans are structured in your favor.
Jewelry lending is a very specific niche. Seemingly insignificant factors can have a profound impact on an item's worth and the amount a jewelry pawn lender can offer. Diamond Banc's data-driven process and our team of jewelry industry experts are trained to take into account every aspect that can add value to your item to ensure we provide the most for your pieces.
Diamond Banc was founded on transparency. Today, as a pawn lender, transparency is still important to us. We want each client to know exactly what to expect throughout their pawn jewelry loan experience and to feel that they were treated with respect. Instead of waiting for a lengthy loan process, through a traditional bank, use something you already own such as a Rolex watch or designer jewelry to get paid quickly, without giving up ownership of your jewelry. When you choose Diamond Banc as your jewelry lender, you get rapid funding without affecting your credit score.
Higher Loan Offer Amounts
Ultimately, our mission is to loan you the most for your items. At Diamond Banc, our experts have been trained to recognize every facet that can affect the value of your items. This expertise means that we can offer clients superior values for jewelry pawn loans. Sicily Von Overfelt, the Director of Diamond Banc Kansas City is an industry expert who is an accredited GIA Diamonds Graduate (the world's authority on diamond grading). Our Diamond Banc Kansas City office has been open since 2016, which provides us years of experience in the Kansas City jewelry lender market. Sicily's deep industry knowledge allows us to offer the highest jewelry pawn loan values in Kansas City.
Loan and Buy Offers Are Equal
At Diamond Banc, we have never understood why most pawn lenders offer to loan you less than they would purchase the piece for. At Diamond Banc of Kansas City, the amount we offer as a loan will almost always equal our buy offer.
Customizable Loan Repayment Terms
Diamond Banc has been in business for over a decade, which means we've been in the industry long enough to know that every loan scenario is different. As a jewelry lender, Diamond Banc Kansas City experts are dedicated to finding the best solution for your individual needs. From a 30-day loan to a four-month short-term loan, our flexible options can help in any scenario. As your pawn lender, we want to work with you to design a plan for your jewelry pawn loan repayment that takes into consideration your distinct situation.
Access to a Line of Credit
We understand that sometimes everyone needs a little flexibility. As long as your loan is in good standing, you can use your Diamond Banc pawn jewelry loan to draw funds up and down against your items. This aspect of our loan structure means that your jewelry pawn loan can be utilized similar to a line of credit because you can increase your balance back up to the principal amount as needed. If interest charges have been paid as agreed and your loan is in good standing, we also allow customers to carry their balance for a length of time as they need. We will work with you to ensure you can set the terms of the repayment length to fit your needs!
Drastically Lower Interest Costs
Diamond Banc interest charges range from 50% – 80% less than the legal amount and what other pawn lenders charge for jewelry pawn loans in the Kansas City area.
You Getting Your Jewelry Back is Our Priority
Our goal is for our clients to receive their items back! Most pawn lenders only offer two options for repaying their loans. They allow clients to pay off all of their interest every 30 days or clients can pay the entire principal & interest amount due. When the pawn jewelry loan repayment structure reflects these two options, it heavily favors the pawn lender over the client. In comparison, a Diamond Banc loan applies any extra money paid, beyond your current loan charges, to the principal, which lowers monthly interest costs in the future.
Pawn Jewelry Loan Collateral is Insured
At Diamond Banc of Kansas City, all loan collateral is insured and protected during your loan period. In contrast, with most pawn loans your pawn jewelry collateral is not insured in the event of loss or theft during your loan.
Best Loan Terms Guaranteed
With Diamond Banc, you will receive the ideal combination of the value of your pawn jewelry loan and the cost of the loan. We know that we offer the best loan offers and terms, which means we want you to shop around before you select us as your jewelry lender. We want you to know firsthand that when you choose us as your pawn lender, you are receiving the best combination with your pawn jewelry loan! Additionally, the offer you receive from us does not expire, which gives you the ability to look elsewhere to ensure our pawn jewelry loan is the best fit for your needs. Explore other pawn lenders' offerings then stop by our Diamond Banc office on the Country Club Plaza in Kansas City to do  business with Sicily!
Automatic, Digital, and Contactless Repayment Available
Diamond Banc specializes in fast, convenient, and easy loans. When you choose us for your jewelry pawn loan, you can get a loan from the comfort of your own home. With Diamond Banc, repayment of your pawn jewelry loan is simple. You can choose to enroll in online and automatic repayment options, so you don't have to worry about forgetting your monthly payment.
Large Loans of $50,000-$250,000 Available for Business or Personal Use
Unlike most pawn shops, we have the immediate capital to provide large loans on a regular basis. Our flexible models allow us to provide a wide range of loans from small loans to values up to $1,000,000.
Diamond Banc is Kansas City's premier option for confidential, significant, and fast pawn jewelry loans. We treat all customers with kindness and strive for building a relationship with our clients. Whether you have a 4ct Tiffany & Co. engagement ring or a 0.5 carat diamond, we work hard to provide the best loan terms possible to our customers. We prioritize transparency and we strive to make sure that you are educated on the process in its entirety.
Diamond Banc has locations in Kansas City, Columbia, Nashville, Rochester, Boca Raton, Miami, Orlando, & Tampa.
Diamond Banc's Kansas City office serves a wide area of the KC metro including but not limited to:
Kansas City, Missouri and Kansas, Overland Park, Independence, Olathe, Lee's Summit, Shawnee, Blue Springs, Kearney, Liberty, Parkville, Gladstone, Platte City, Lenexa, Leavenworth, Leawood, etc.
Diamond Banc of Kansas City also serves the following counties but not limited to:
Wyandotte County, Platte County, Johnson County, Jackson County, Clay County, Leavenworth County, Ray County, Miami County, Clinton County, Caldwell County, Linn County, Bates County
At Diamond Banc, it does not matter to us if you are researching different options or you already have decided to get a pawn jewelry loan, we are happy to provide you with an evaluation of your pieces in a no-pressure zone. Call our office at 816-977-2677 to schedule an appointment today at 435 Nichols Road, Suite 200 Kansas City, Missouri 64112 located on the Plaza or fill out the form online at DiamondBanc.com.
What We Loan On
Diamond Banc is a trusted, national jewelry lender, offering online short-term jewelry equity pawn loans for people who wish to use their jewelry as collateral.
Secure A Loan Using The Following: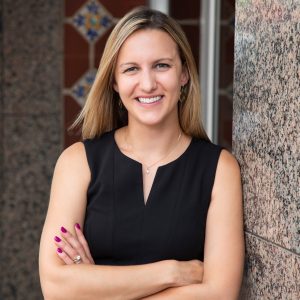 Meet our Kansas City, Missouri Director:
Sicily Von Overfelt
Sicily has over 14 years of experience in the jewelry industry and 10+ years with Diamond Banc. She began her jewelry career in retail sales, where she gained a vast knowledge of many designer brands. She has managed online sales for a multi-million dollar retail store through eBay, 1st Dibs, and other pre-owned luxury jewelry-selling websites. She is a GIA Diamonds Graduate and is working towards completing her Graduate Gemologist degree on scholarship.
Sicily is the Director of Diamond Banc in Kansas City, authenticating and purchasing pre-owned luxury designer jewelry, diamonds, and watches from the public. Along with buying, Sicily specializes in Jewelry Equity Loans, which allows her clients to retain ownership and secure funds using their luxury items.
Sicily has extensive training in designer jewelry, diamonds, and fine Swiss watches. Due to this dedicated continued pursuit of education, Sicily heads the training of new directors/buyers for Diamond Banc. She prides herself in offering clients the experience and expertise they deserve. Sicily enjoys volunteering/fostering for KC Pet Project, playing with plants, and painting.
HOW IT WORKS
Get a Quote
No Risk & No Obligation
Complete our free and simple submission form describing your item. After reviewing your submission, our team of experts will contact you with an initial quote, usually within one business day.
Start a Quote
Expert Evaluation
Mail-In or In Person
After reviewing our initial offer, we will provide you with a fully insured, prepaid shipping label to safely send your items to our national headquarters for official evaluation. You are also welcome to visit one of our numerous locations nationwide to immediately complete your transaction in person.
Receive Cash
Fast & Secure
Once your item has been evaluated, we will contact you with our official offer and arrange for an immediate payment via check or wire transfer. Don't like our offer? No worries! Your item will be quickly returned to you. No risk. No obligation.