Attention Retail and Wholesale Jewelers: Leverage your dated inventory to with Diamond Banc today
. 
Make your high-value, low-turn merchandise work for you, instead of allowing it to accumulate dust on the sales floor. Diamond Banc is the top provider of inventory loans in the industry. Turn your jewelry immediately into cash using an Inventory Equity Loan.
We can finance up to $500,000 in under 48 hours. No amount is too large. If needed, you can even access your collateral to showcase during your loan term. Diamond Banc makes your process simple. Separate your loan out by item for added convenience.
Your loan
is backed by
the equity of your jewelry. Therefore, it does not affect your JBT Score, store profitability, personal credit score or income
. Our industry expertise and unlimited cash flow distinguish Diamond Banc as leaders in the marketplace. Consequently, we loan more than our competitors. 
We supply capital in your time of need. Diamond Banc's process is easy and fast. Moreover, we can come to you for an in-store evaluation, if needed. Our Boca Raton office services Miami, Broward and Palm Beach Counties.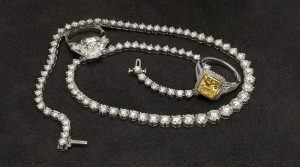 Make the Most Out of Your Diamond Jewelry
To schedule a discrete, secure and convenient appoint in our Boca Raton office call 561-988-8464 or visit Diamondbanc.com
.
Call today to find out why Diamond Banc is the leading source for Inventory Equity Loans for the retail and wholesale jewelry industry
.
Related Posts