Inheriting multiple pieces of jewelry can be overwhelming. Which pieces are valuable? Which pieces are costume jewelry? As the nation's largest Jewelry Equity Lender and Buyer, Diamond Banc sees countless inherited and estate items on a regular basis.  We often receive questions about inherited and estate jewelry.
Here are our quick tips to understanding the best course of action for your inherited jewelry.
1. Consider if You Will Ever Wear the Item.
Ask yourself: Is this an item I will ever wear again? If the answer is no, then you may consider parting with your jewelry.
2. Are there any strong emotional connections to the piece.
There can be a strong emotional connection with your loved ones' jewelry, even if the items never leave your jewelry box. Consider what your loved one would want. Would they prefer you pass the jewelry onto future generations, or would they rather you use the funds provided by that jewelry for self-improvement, such as going back to school, starting a business, or traveling?
3. Understand the true value of your items
For an untrained eye, estimating the value of your inherited items can be difficult. We often see large quantities of jewelry passed down from generation to generation. Sorting through these pieces to discover which items have value can be like finding a needle in a haystack.  There are a number of pervasive misconceptions regarding appraisal values that further muddy the conversation.
There are two types of appraisals that come up frequently with estate jewelry: insurance and liquidation appraisals.
Insurance appraisals reflect the full retail amount, which is ideal if you wish to retain and insure the item.
Liquidation appraisals provide the amount an item is likely to sell for in an immediate payment situation.
Struggling to sort through your inherited items? Let Diamond Banc help! Our GIA certified experts are here to provide free liquidation appraisals on your items.  In order to allow you to accurately determine the value of the inherited pieces and go into the decision making process informed.
What are my options if I decide to part with my items?
There are a few key options for your jewelry if you are considering liquidating the pieces. First, you can sell your item for the full liquid value. Diamond Banc provides the highest values in the industry for your jewelry. Our offers never expire and we encourage you to check with other sellers in the area to make sure you're getting the most for your jewelry.
Still torn about whether or not to keep your items? Consider a Jewelry Equity Loan. Jewelry Equity Loans from Diamond Banc enable you to borrow against the value your inherited jewelry possesses, without giving up ownership of the item.
Whether you want to sell a piece of jewelry or obtain a loan, the process is easy. Start by filling out our simple, no obligation form on diamondbanc.com. One of our experts will review the information and contact you with an initial offer.
After reviewing the items, Diamond Banc will provide funds immediately.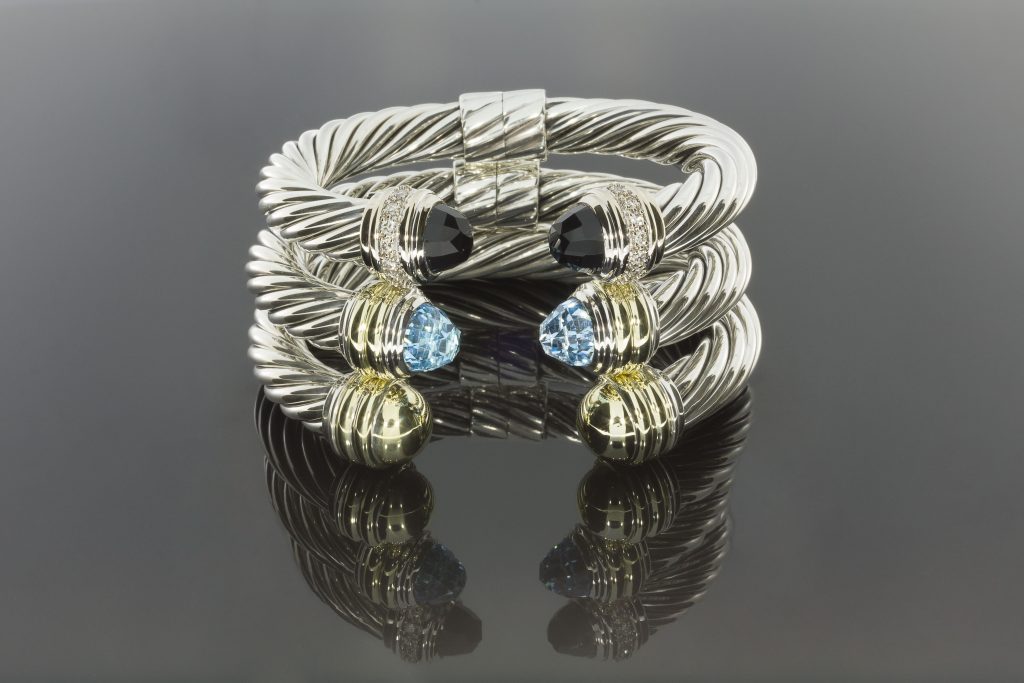 What items does Diamond Banc accept?
Diamonds (0.75CT+) and fine diamond jewelry
Designer jewelry (David Yurman, Tiffany & CO, etc.)
Luxury watches (Rolex, Patek Philippe, etc.)
Precious metal (gold, platinum, gold coins/bullion, sterling silver flatware)
If you are looking to let go of items you have inherited, Diamond Banc is here to help. Our Market Directors are experts in evaluating the liquid value of your jewelry items. We are happy to sort through a collection of jewelry to provide a transparent view of the liquid value of your items. Our offers are the best in the industry.
Related Posts