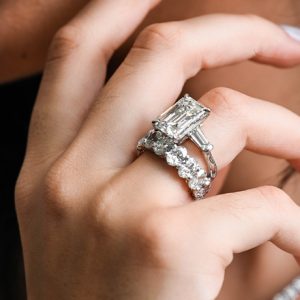 Need cash to solve a pressing personal matter, finance a side-hustle you've been thinking about for a while, or simply for leisure?
Selling your diamonds or jewelry can be rewarding, but only if you take the time to do a bit of research.
Finding the best Kansas City diamond buyer who will pay more than the others and making the selling experience truly enjoyable is the difference between getting paid what's right or getting lowballed.
Your Kansas City diamond buyer must be knowledgeable, honest, and fair in their dealings. We've compiled a list of things to consider to help you find the perfect one for you right here in the city of fountains.
Expertise and knowledge of diamonds & jewelry
Whether you've got an unwanted wedding band, or engagement ring, or bought a designer piece you no longer wish to keep in your jewelry box, what matters first is who's level of knowledge and experience you trust your products with.
Does the Kansas City diamond buyer you want to do business with have GIA-certified appraisers? and a strong network of contacts to help you find the right buyer for your diamond? 
This is also a skilled individual who understands what to look for in a jewelry piece and can almost instinctively bring forward every value-adding factor your item possesses.
With Diamond Banc, you can get an idea of the value of your diamond before coming into our office by using our free diamond value calculator.
Diamond Banc is fortunate enough to have on its premises master jewelers, people with management positions in high-end retail, and GIA-graduate gemologists who can examine your entire jewelry piece or diamond and give you an estimate based on its size, cut, clarity, and color grading system.
Transparency throughout the entire appraisal stage
An honest Kansas City diamond buyer will demonstrate transparency throughout the entire selling stage, notably during appraisal. 
Being able to explain the differences between cut, color, clarity, and carat weight when appraising your diamond jewelry should almost feel natural. A job well done involves answering questions you may have and making you feel confident that the most accurate appraisal possible is being provided to you.
Diamond Banc accepts any diamonds, certified or not — we bestow GIA gradings over other labs with reason. You can watch this video to find out why!
You should also ask them if they can tell you what an appraisal is versus a valuation. An appraisal is an official document from a certified gemologist that states how much a piece of jewelry is worth. 
In contrast to this, valuations offer only an estimate of value based on current market conditions for diamonds in general.
Find a Kansas City diamond buyer with a good reputation
Look for a diamond buyer with a good reputation, and Google is a great place to start.
Check whether or not the company's website is verified by Trust Pilot and has an A+ rating from the Better Business Bureau, enforcing trust & integrity. 
You can also verify if the business in question works with GIA or IGL. These organizations are known for having strict standards regarding how diamonds are bought and sold and how companies work with customers. If a company is not part of one of these groups, it may be more difficult to trust them.
Try to find out if any complaints have been filed against this particular Kansas City diamond buyer in recent years. To do this, you can look at: 
Google Review or other public review websites such as Yellowpages or Yelp, where you can read client testimonials and get an idea of the overall experience there. 
You may also want to check comments on social media sites such as Facebook or LinkedIn — The more negative comments you read concerning bad customer service or dishonest business practices — the less likely it will be worth the shot, right?
Asking friends, family and co-workers can also be great to know if they have used the company before and, if so, what their experiences were like.
Privacy & high-end customer experience
If you are going to be selling your diamonds or fine jewelry, it is important that the location of your meeting is discreet. Diamond Banc will your privacy and make you feel at ease about discussing your product in a neat, modern & luxurious office space.
Aside from the location, you must instantly feel welcomed by the staff. Diamond Banc's philosophy is that we're in the people business. Therefore, listening first and providing actionable advice in a professional and straightforward manner are reasons why we do it better than others.
Provides flexible options to liquidate your luxury
Selling your diamonds should not be like looking for a needle in a haystack!
It must be done with the help of industry experts who embrace transparency and always have the customer's best interest at heart. 
Diamond Banc works with people from all walks of life in KC and enjoys making them feel comfortable along the sale process.  
We're located right in the heart of the Country Club Plaza. Come and meet Sicily Von Overfelt, our super competent Market Director who's going to help you get the highest return for your diamond jewelry.
Kansas City Diamond Buyernavigate_nextGet A Loannavigate_nextLocationsnavigate_next
Related Posts