Fast. Simple. Secure.
Jewelry Buyer in Kansas City
Let our highly qualified experts assist when it's time to sell your jewelry.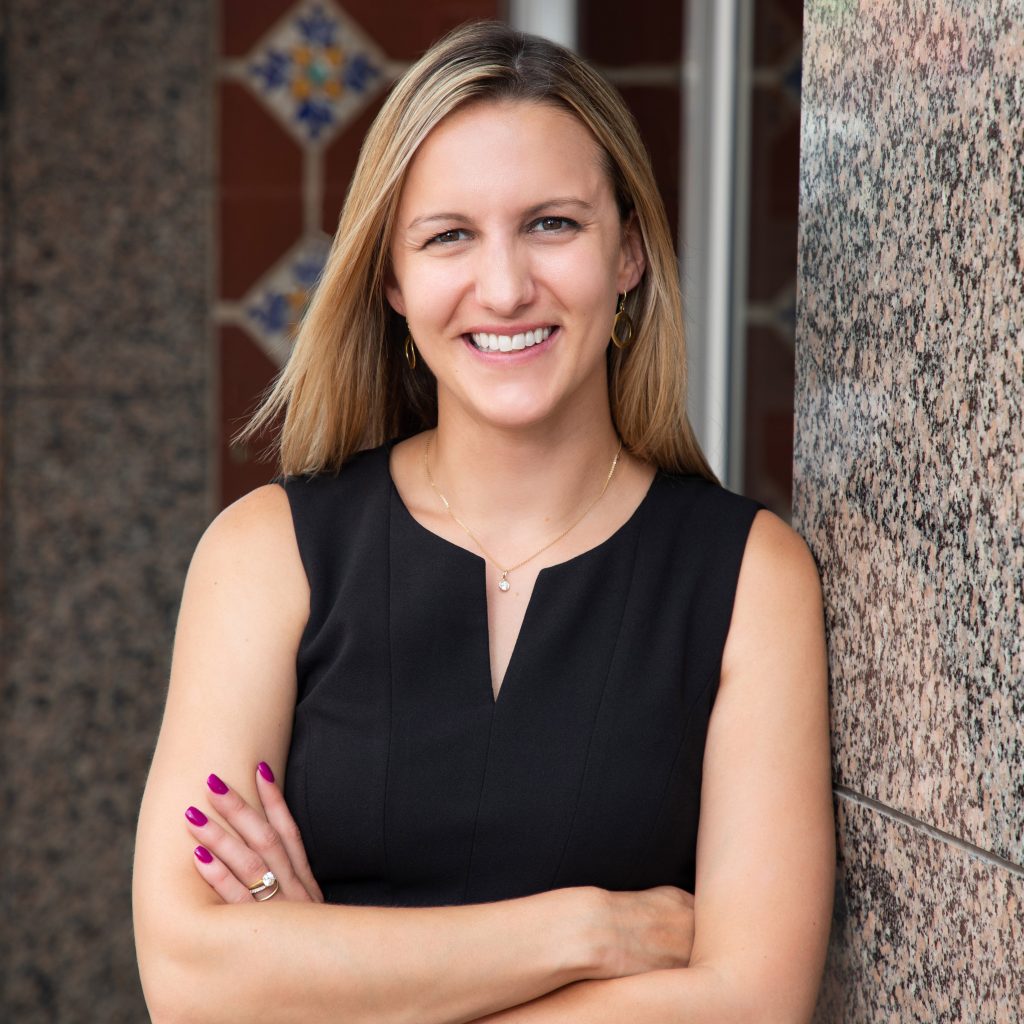 Sicily Von Overfelt
Kansas City, MO
Sicily has over 14 years of experience in the jewelry industry and 10+ years with Diamond Banc. She began her jewelry career in retail sales, where she gained a vast knowledge of many designer brands. She has managed online sales for a multi-million dollar retail store through eBay, 1st Dibs, and other pre-owned luxury jewelry-selling websites. She is a GIA Diamonds Graduate and is working towards completing her Graduate Gemologist degree on scholarship.
Sicily is the Director of Diamond Banc in Kansas City, authenticating and purchasing pre-owned luxury designer jewelry, diamonds, and watches from the public. Along with buying, Sicily specializes in Jewelry Equity Loans, which allows her clients to retain ownership and secure funds using their luxury items.
Sicily has extensive training in designer jewelry, diamonds, and fine Swiss watches. Due to this dedicated continued pursuit of education, Sicily heads the training of new directors/buyers for Diamond Banc. She prides herself in offering clients the experience and expertise they deserve. Sicily enjoys volunteering/fostering for KC Pet Project, playing with plants, and painting.
Get a Quote
In Person or Online
Schedule a private evaluation at your local Diamond Banc or use our online submission form.
Start a Quote
In-Person Evaluation
Complete In Person
Meet privately with a Diamond Banc director who'll evaluate your items right in front of you & make you an offer.
Get Funded
Fast & Secure
If you accept our offer, we will issue payment immediately via check or wire transfer.
FAQs
There are two ways to work with us:
Visit an office near you: Schedule an appointment at one of our offices nationwide to have your jewelry evaluated on the spot, right in front of you, in a private, luxury environment & get paid immediately.
Work with us online: Fill out our online submission form above & receive a quote within 24 hours from one of our expert jewelry buyers. Our team will provide you with a fully-insured shipping label to mail your item(s) to our headquarters & issue funding immediately upon accepting our offer.
Why should I sell my jewelry to Diamond Banc?
Clients love working with Diamond Banc based on the transparency and guidance that we deliver.
We show you wholesale comparable items to yours, what dealers are asking for them, and what dealers are selling them for and we show you this on the largest dealer-to-dealer trading platform in the world. We explain why we're making the offer that we're making, and allow you to understand that you're truly getting the most they can for your fine & designer jewelry.
Our ultimate goal is to ensure you feel confident in your decision to sell your jewelry by providing you with the transparent industry-specific education you deserve.
What jewelry brands do you buy?
Diamond Banc purchases a variety of designer jewelry brands, including but not limited to, Cartier, Tiffany & Co., Graff, Van Cleef & Arpels, Harry Winston, & David Yurman.
Upon acceptance of our purchase offer, we will issue payment to you immediately via check or wire transfer.
How long does it take to sell my jewelry?
Selling your jewelry to Diamond Banc is fast, simple, and secure. Schedule an appointment at a Diamond Banc location near you, have your jewelry evaluated on the spot, and get paid immediately. Typically, this process takes less than 40 minutes.
No. When you sell your jewelry to Diamond Banc, there are no additional fees. We encourage you to visit an office near you for a free, no-obligation item evaluation to find out what your jewelry is worth.
What is a Jewelry Equity Loan?
At Diamond Banc, you have the option to retain ownership of your jewelry, while still enjoying the liquidity as if you sold outright. Diamond Banc is the nation's #1 jewelry buyer & jewelry-secured lender.
With a Jewelry Equity Loan, you can borrow against the value of your jewelry while still retaining ownership of it. Visit our Jewelry Equity Loan page for more information.
What Clients Are Saying
Sue is
★★★★★
Roberto
★★★★★
Ann Marie Hernandez
★★★★★
Sicily was very professional and friendly. I highly recommend her!!
paige munk
★★★★★
John Browne
★★★★★
John Brown
★★★★★
J Brown
★★★★★
Zoe Stephens
★★★★★
Sicily was super helpful and very friendly! 10 outta 10 would recommend!
Allen Draws
★★★★★
Jason Perry
★★★★★
Super knowledgeable! Sicily works hard to get you the best deal when selling your jewelry!
Tommy Goodwin
★★★★★
Sicily is honest, transparent, fair…and just a good person. I sold a pair of diamond stud earrings and received twice as much $$$ from her than any other offers from other jewelry buyers, and I visited 4 places in one day! If you trust Google reviews, save yourself some time and go to her first. She is well informed on FAIR prices and her 16 years in the business speaks volumes. Seriously…go see her first and get an honest offer for your jewelry.
Ella Alexandrah
★★★★★
loren faldtz
★★★★★
Loren Vaughn-Faldtz
★★★★★
loren Vaughn
★★★★★
Kym Thompson
★★★★★
I cannot recommend Sicily at Diamond Banc enough! Great experience! She was beyond helpful and clearly explained everything. The process was easy and quick. We had to change our appointment and there was no problem. If you have jewelry to sell This IS the place!
Stuart Lovejoy
★★★★★
Sicily is amazing. She absolutely knows the market on high end watches. I received a very fair offer on two watches, and the process was very simple. This is the second time I have used Diamond Banc, and I will use them again in the future. Sicily is friendly, courteous and very fair.
Mia Thep
★★★★★
If you're looking to sell your jewelry in Kansas City, I highly recommend Sicily. I can attest that they are the BEST jewelry buyer in the area. When I was ready to sell my engagement ring, I visited several other local buyers, but none of them could match the price that Sicily offered me. Their team was professional, knowledgeable, and made the entire process a breeze. If you want top dollar for your jewelry, choose Sicily – they truly are the best!!!
Corey Mobley
★★★★★
Sicily at Diamond Banc is the best! Fairest pricing, superb service, and she loves dogs! If I could give her ten stars I would!
Angie Cunningham
★★★★★
Sicily is wonderful to work with!
Trenton Pickett
★★★★★
Sicily was incredible to work with!Selling an engagement ring is definitely a less than great experience, but she was completely transparent on how she evaluates the jewelry and what a lowest and best offer could be and then explains how she came to her evaluation. She offered me much more than other places I had visited as well and was great in the process.I would highly recommend her for any and all jewelry needs!
Mas Ania
★★★★★
Recently had to look into selling a couple of my husbands watches, and Sicily was a huge help. Super knowledgeable! I left her office feeling like a watch expert myself! Only go to Sicily if you're looking to sell your watches and jewelry. A couple friends of mine referred me, and I can see why everyone raves about her!
Tatiana Tsitolovsky
★★★★★
Sicily has been such a huge help to me. She has been very knowledgeable and professional. Thank you Sicily for your help!!!
Molly Ramsey
★★★★★
10/10 experience, great results and amazing overall experience
Sage Willis
★★★★★
Sicily is the best. I just sold some small pieces to her, and she walked me through exactly what their value was and why. Only go to Sicily!!!
Shon Tsitolovsky
★★★★★
I've only ever had amazing experiences with Sicily. She's incredibly knowledgeable and is the most honest and transparent luxury goods buyer that I've ever met. After going to a few other places in town, I was feeling incredibly overwhelmed and frustrated. No one was being completely honest with their pricing until I came to Sicily. I'd highly recommend that you work with her. She is truly the best.
Beth Bellome
★★★★★
Tom O'Brien
★★★★★
Sicily assisted us with evaluating jewelry that my wife no longer needed. She is very detailed oriented and the consummate professional. Very personable and she made the entire process comfortable with absolutely no pressure. The offer she proposed was excellent and we would highly recommend her services and return for any future jewelry assistance. Final thought we had gone to another jeweler and our experience at that store was quite the opposite of our time with Sicily. The other jeweler made me feel very pressured and uncomfortable.
Jo Ann Weber
★★★★★
Excellent experience and fast results. Will use again!
Deezy Cool
★★★★★
Awesome experience at the kc office!!!
Angelique "Twitch" Dilmore
★★★★★
Incredibly friendly and informative. Great experience and price.
boss mayne
★★★★★
I have sold jewelry to experts in the past & the experience was horrific. But Sicily at Diamond Banc made me feel at ease selling my Rolex. I must say she is amazing. & I got an awesome price on my timepiece.I admit, I was skeptical at first. Until several minutes into our meeting. I'm so glad I found this place will most certainly do business in the future. Thank You Sicily
Ashton Harrington
★★★★★
aya maali
★★★★★
Dalia Abu Soud
★★★★★
Martha Friedrich
★★★★★
Hollie McKinney
★★★★★
Sicily was awesome! Thank you! I appreciate you working with me and being so thorough and honest.
Michele Sands
★★★★★
Sean Baker
★★★★★
Sicily was great to work with. Very professional and a quick & smooth transaction.
Annie Powell
★★★★★
I have shopped a lot of places to sell my old jewelry and Diamond Banc gave me the best price. Thank you, Sicicly
Kerry Baker
★★★★★
I have sold Sicily several things and am grateful for her expertise
Robbie Herron
★★★★★
As a customer, I appreciated the information Diamond Banc gave me about my items, both the ones they purchased as well as the others. The detailed research made me feel confident I got a fair price. I will use Diamond Banc as a resource again, and have already recommended it to my friends.
Mac
★★★★★
Very courteous and patience I wish every business was 1/4 as kind and helpful as Sicily was I loved the experience I have extra card for anyone that needs one Highly recommend their service to anyone
John No
★★★★★
Great experience selling my Rolex to Sicily. She was very courteous and professional in guiding me through the entire process. Sicily gave me a very fair and transparent offer, and there was absolutely no pressure or expectation to sell. Transaction went very quickly and walked out with my money on the same day as the evaluation. I will definitely go back to Diamond Banc to sell any of my unused jewelry and watches!
Carl Jiabia
★★★★★
They provided great customer service, I'd recommend working with them.
Dunia Abusoud
★★★★★
Thank you so much Sicily for all your help, you made me feel comfortable and confident throughout the entire transaction.
Manda Lynn
★★★★★
Is there an actual store phone number if I have any questions?
Alex Strutz
★★★★★
Sandra Holliday
★★★★★
Sicily is the go to girl for all your jewelry selling needs. Shebis easy to talk to, explains everything in detail and will give you a fair price for your pieces. I was super nervous coming in as I've never sold jewelry before but she made so easy and relaxed. I will always go to her if I hmever had more jewelry to sell!10/10 recommend 😁
Kasedra Simpson
★★★★★
Sicily was amazing to work with she's very friendly and makes you feel at ease. I highly recommend working with her at Diamond Banc, she's very thorough, open about the process and will give you a more than fair price.
Ava Cook
★★★★★
Sicily was a great help! Would come back
Genevieve Dsilva
★★★★★
Jennifer Ellison
★★★★★
Sicily is absolutely wonderful to work with . After getting the run around from other local retail buying outlets. I thankfully chose The Diamond Banc. The best price, professionalism, and quality experience I have encountered. Thank you again, Sicily and the Diamond Banc. A truly great experience!
Jerry P.
★★★★★
So this was my first experience with Diamond Banc but I felt compelled to leave a review because of how amazing the service was. There was a very kind, professional and helpful lady named Sicily that explained in detail what different options I had regarding the jewelry I brought in. I felt like she listened to my concerns and then I a got a very reasonable offer for my items I wanted to part with. If I have anything to sell in the future, I know who will have my business. Thanks again!
Linda McCaslin
★★★★★
Chunling Watts
★★★★★
Britney Gardner
★★★★★
Jason Perry
★★★★★
Chase Moyer
★★★★★
Andrew Phoebus
★★★★★
Sicily was very knowledgeable and made this experience great. Thank you.
Kristal Walker
★★★★★
Joshua Johnson
★★★★★
Hector Xiong
★★★★★
Tracey Johnson
★★★★★
Gail Dunford
★★★★★
Sicily was professional and a delight to work with. We had some investment gold coins left by our parents and received what we felt was a very fair price for them. Highly recommend this business for your jewelry or bullion or coin evaluation and sales.
Laura Gray
★★★★★
Perfect place to get the right price on your jewelryI had a round-cut bridal set.25 karat I would say I got the right average price.
Emily Campbell
★★★★★
Sicily was gracious and steadfast for an emotional transaction with me. She gave me the best price around for my ring, even compared to the biggest store in NKC. She made me feel comfortable and eased any uncertainties I had. Thankful for the financial freedom our transaction offered me.
Phoenix Thomas
★★★★★
Mandi Dassel
★★★★★
Extremely friendly, very fair, will most definitely do business again and highly recommend Diamond Banc and Sicily!!
Kathy Dickerson
★★★★★
They were extremely polite and informative. And they found a way to help me. And they made me feel respected which is really important when you're having to deal with something like this. I would highly recommend them.
Danabelle
★★★★★
I'm so happy to have found Sicily! She's professional, very kind, and trustworthy. Selling my jewelry was an easy and wonderful experience. I will definitely continue to go to her in the future!
Katt Godin
★★★★★
Friendly great customer service above and beyond definitely will use them again
Lauren Walz
★★★★★
Billy Hernandez
★★★★★
best deals and offers
Kenneth White
★★★★★
love how friendly staff are
John Doe
★★★★★
I love this place
Hector Hernandez
★★★★★
best place to sell your unwanted jewelry
yoshi bare
★★★★★
extremely fare wen selling your gold silver extra…
Yoshi Gost
★★★★★
Best place to sell ur jewelry for top dollar hands down
Hattie Saltzman
★★★★★
Mellissa Klassen
★★★★★
Jacey Klassen
★★★★★
Bob Sabata
★★★★★
Excellent customer service!
Nadine Kaufman
★★★★★
Highly recommend working with Sicily and Diamond Banc. They truly care about your needs and are trustworthy, reliable and punctual. Couldn't have asked for a better loan experience!
AJ Paddack
★★★★★
Sicily will guide you through the process with her kindness and expertise.
Sarah Richards
★★★★★
C. Craig Richards
★★★★★
Kris Eubank
★★★★★
Cicily was amazing!
Debbie Coots
★★★★★
Great !!
Kitty Richards
★★★★★
They know what they're doing. Fair and always with a smile!!
Isaac Norton
★★★★★
isaac norton
★★★★★
rodolphe birulli
★★★★★
Suzanne Menser
★★★★★
Amber Bailey
★★★★★
Sicily knows about the bling, fah real.
Amber Lompe-Johnson
★★★★★
Sicily was very easy to work with the handful of times I have had the pleasure of interacting with her. Extremely efficient, professional, and kind; she made the selling process a breeze. Promt responses and great prices. Highly recommended. Would absolutely work with again
Lord Phoebus
★★★★★
Nancy Barney
★★★★★
This was a new experience for me, I had never even heard of an asset loan before and it was a simple, pleasant encounter with Sicily in the KC office. She was so patient with me as I had to reschedule, was late, and even got lost trying to find her office. She found me outside in the parking garage and welcomed me as if I was right on time. Super professional, thorough, and reassuring, she explained everything in great detail without taking too much time. I would recommend Diamond Banc and Sicily to anyone with financial short term needs, I believe them to be trustworthy and reliable.
Hope Hart
★★★★★
Sicily was very helpful, communicative, and punctual – I only waited probably 10 minutes for her to get back to me about scheduling an appointment! The process was super quick and she explained what she was doing to verify what I brought, and I got a very good price for my items. If I had anything else to sell I would definitely go back, thank you Sicily!
See all Google Reviews
Visit a diamond banc near you
Diamond Banc has locations in Tampa, Boca Raton, Miami, Aventura, Orlando, Nashville, Atlanta, Charlotte, Kansas City, Columbia, & Rochester.
Premier Jewelry Buyer in Kansas City
Sell Your Jewelry in Kansas City
Looking to sell your jewelry? Diamond Banc of Kansas City is your best option. Our deep understanding of the jewelry industry set Diamond Banc apart from other jewelry buyers in the industry. We have a thorough comprehension of the current market value for diamond jewelry of all types, and we are eager to share that information with you. Diamond Banc of Kansas City is the exclusive retail buying partner of TIVOL, Kansas City's most famous retail jeweler. We offer a variety of jewelry liquidity options for you to choose from. These include immediate purchase, consignment, and loan services.
Diamond Banc buys the following types of jewelry:
Tennis Bracelets: We buy tennis bracelets from two carats and up. And, we can pay a premium for large total carat weights. We buy diamond bracelets of all kinds, including diamond bangles.
Earrings: Diamond Banc buys diamond earrings of every style. We are buyers of designer earrings including designers such as David Yurman, Cartier, Henry Dunay, Lagos, John Hardy, Penny Preville, Tiffany & Co., and many more! We buy diamond studs, diamond hoops, diamond drop earrings, diamond dangles earrings, and more.
Diamond Necklaces: We actively purchase diamond necklaces and pendants of all types and styles. Diamond Banc in KC buys everything from classic pieces such as diamond solitaires to high fashion designer styles to vintage and estate diamond necklaces.
Luxury Watches: Sicily loves buying vintage and modern watches. Some of the brands with the best value retention are Rolex, Patek Philippe, Cartier, Omega, and many more! Sicily has had extensive training in evaluation and authenticating fine Swiss timepieces, with or without diamonds.
We also purchase estate diamond jewelry, antique cut diamonds, and any other type of diamond jewelry that has value. Our Kansas City Director, Sicily, has over a decade's worth of experience evaluating and purchasing jewelry of all kinds and is a GIA Diamond Graduate. Sicily has bought thousands of pieces of jewelry within the Kansas City community and is truly an expert in her field. Rest assured, we will make you the most competitive offer possible while providing all of the information needed to make the best decision for your situation. Sicily particularly loves helping with estate jewelry items. If you've inherited jewelry pieces and need to split the value among siblings and sell a portion or all of the pieces, Sicily is there to be a resource for you!
Our process is straightforward, simple, and we fund transactions immediately. Start the process online to discover the value of your items and visit us in person at our Diamond Banc of Kansas City location on the Country Club Plaza. You can also schedule an appointment with Sicily at either Tivol location, both in Kansas City and in Johnson County – Leawood – Overland Park.