Cartier's Love Bracelet has become one of history's most iconic pieces of jewelry.
Originally
developed by Aldo Cipullo in 1969, the bangle symbolizes romance and partnership
.
A decade later, in 1979,  Cartier incorporated diamonds into the bracelet's design, further elevating the elegant design
. Unlike many famous pieces of jewelry, Cartier intended for both men and women to wear the bangle.
The bracelet demonstrates that the wearer is
 locked
in a relationship. Cartier underlined the notion of partnership throughout all aspects of the bracelet.
 Cartier once prohibited customers from purchasing bracelets for themselves without a partner
. Only couples could buy the item.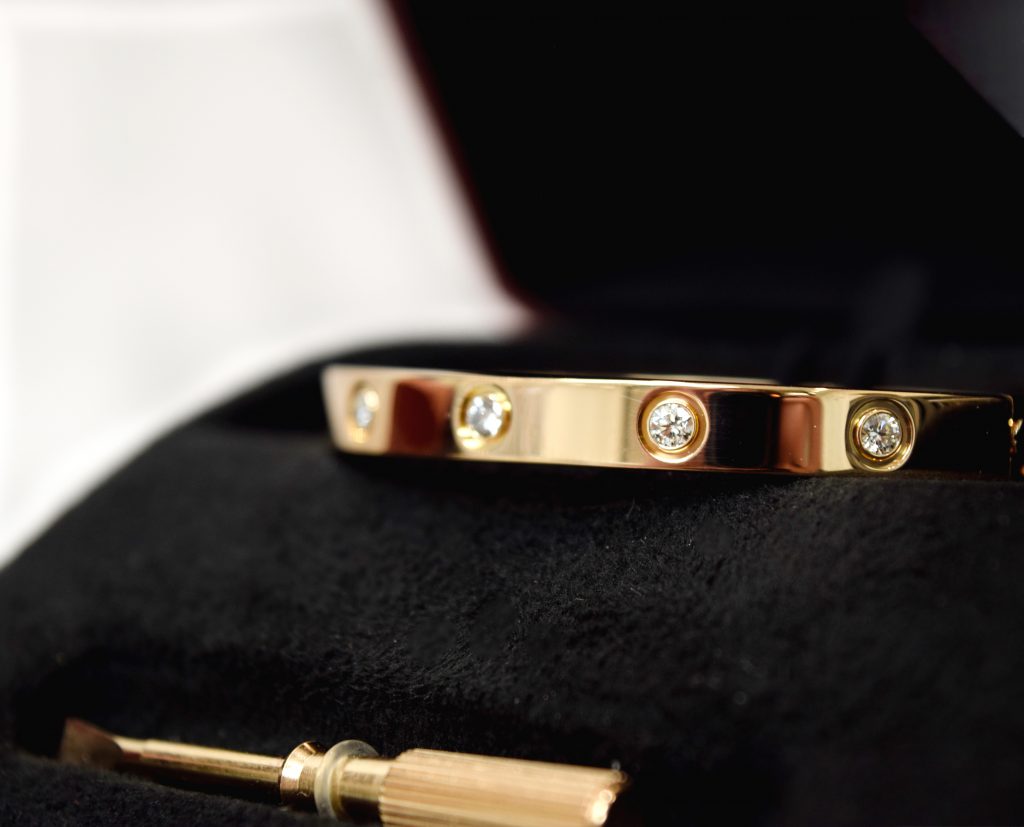 Even putting the bracelet on your wrist requires two people.
You can only slip the bracelet on or off with the use of a small screwdriver. A 
famously
difficult task to accomplish
 alone
. 
Cipillo once explained, "What modern people want are love symbols that look semi-permanent – or, at least,
require
a trick to remove
. After all, love symbols should suggest an everlasting quality." Demand for this bracelet has remained equally everlasting.
Love for the Love Bracelet
When the bracelet first debuted, Cartier has
 gifted the Love to 25 celebrity couples
.
Luminaries including 
Elizabeth Taylor and Richard Burton
, Sophia Loren and Carlo Ponti and Ali McGraw and Steve McQueen all received the iconic bracelet
. 

Public demand for the bangle grew

rapidly

both among Hollywood celebrities and everyday shoppers

. This fervor for the celebrated bangle continues today.
More than a half-century after their launch, Cartier Love bracelets remain as popular as ever.
In 2011,
Vogue reported
that hospitals keep small screwdrivers on hand for patients who need their Love bracelet removed
. Tastemakers
 including Kate Middleton, Sarah Jessica Parker, Kanye West and Drake have been known to wear the gold bangle. In 2016, Kylie Jenner reported that her Cartier Love bracelet had become stuck on her wrist. Today, it appears that the makeup tycoon has finally removed her bangle. 
Cartier Love Bracelet's Value on the Secondary Market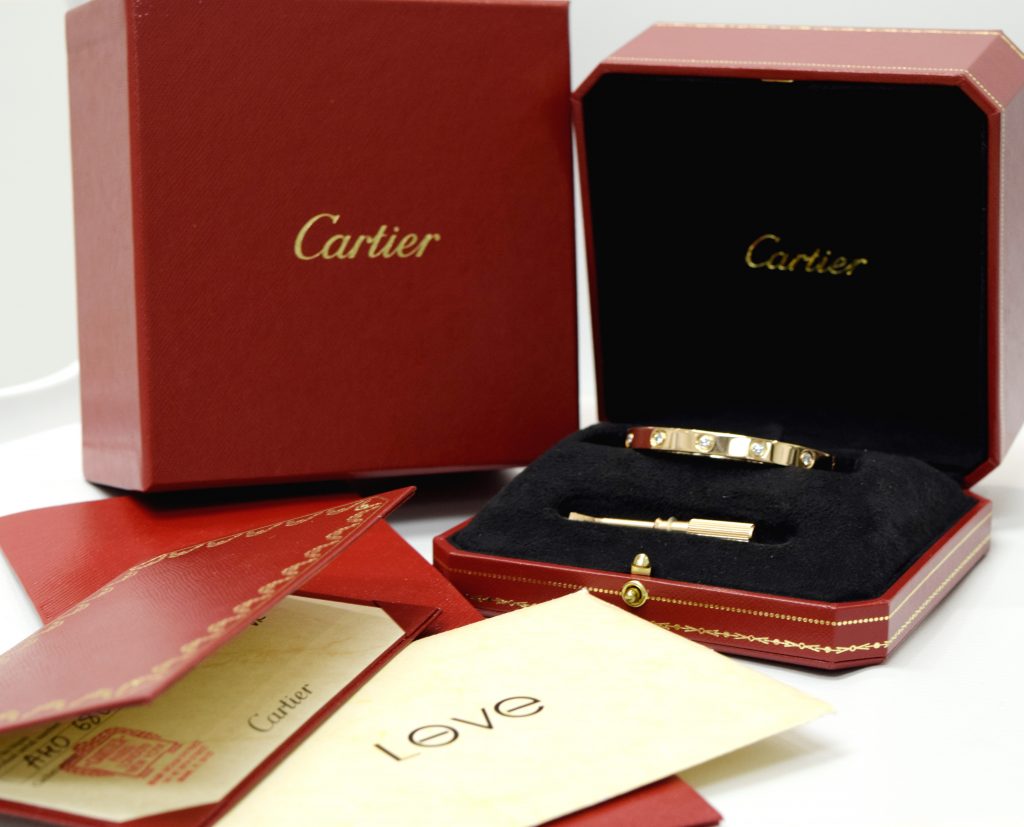 Designer jewelry, like Cartier, retains its value on the resale market. Love Bracelets perform particularly well.
 The original screwdriver, Cartier box, certificate of authenticity and receipt increase the value of your item
.
Diamond Banc the Most for Cartier Jewelry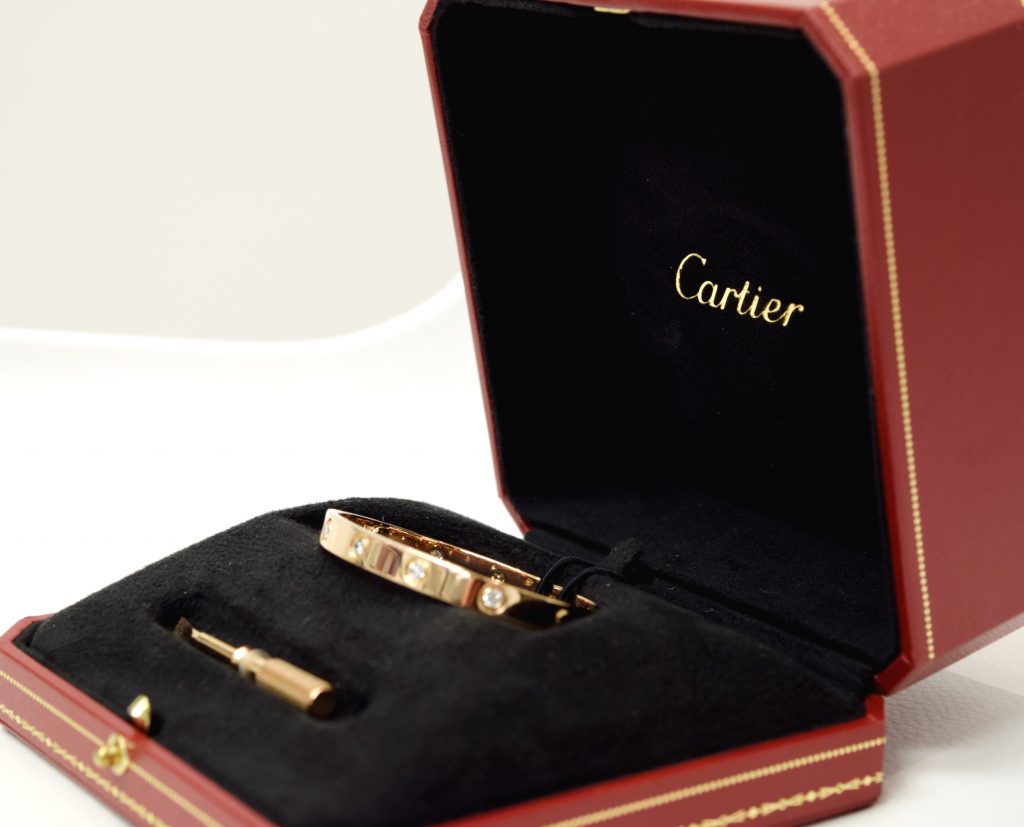 Diamond Banc
provides matchless offers for your designer jewelry. We take every value-adding factor into consideration when examining your designer jewelry. Whether you want to sell your bracelet, or need an asset-based loan, our team pays the most for your jewelry. Our Boca Raton office provides top values for your items
. We provide simplicity, discreetness and professionalism. Discover how easy it can be for yourself.
Fill our free interest form to get started today!
Related Posts