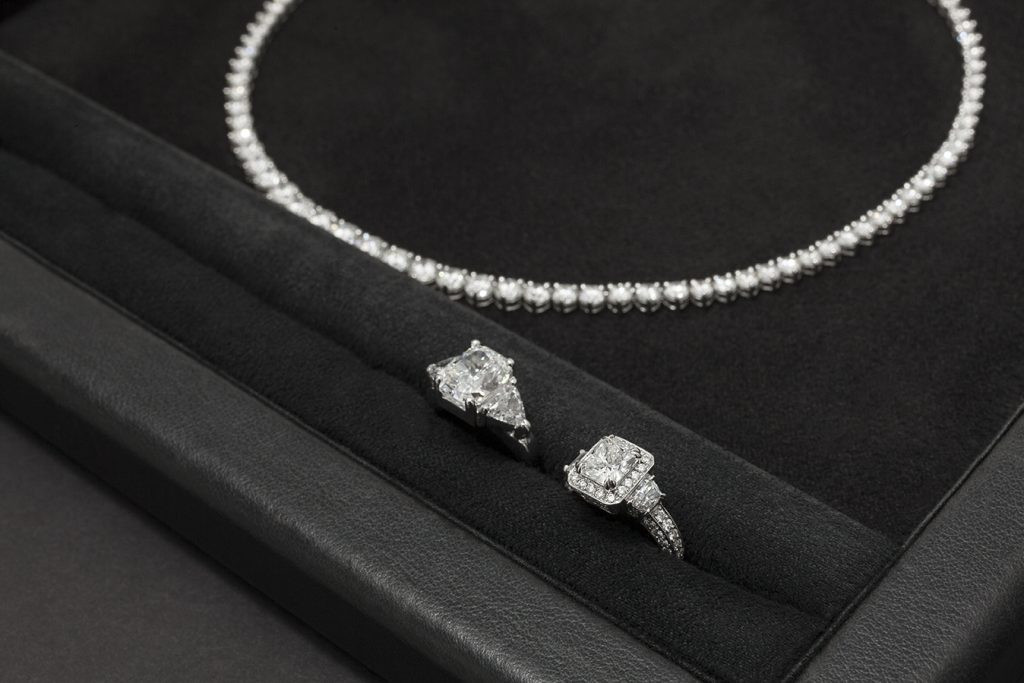 If you're in the Miami, Coral Gables, or Aventura areas and find yourself asking, "Where can I find a trustworthy diamond buyer near me?" look no further. Diamond Banc is the premier diamond buyer in your area! Our expert Market Directors have revolutionized the diamond selling experience, providing a solution that takes the stress and uncertainty out of the process. In this comprehensive blog, we will discuss why Diamond Banc stands out as the perfect option for selling your diamonds, whether it's through online channels or in-person. Furthermore, we will provide valuable insights on how to maximize the value of your diamond when selling, ensuring you secure the best possible price.
The Benefits of Selling Your Diamonds Online
In today's digital age, the internet has transformed how we perform an array of tasks, including the sale of valuable items like diamonds. While traditional avenues such as brick-and-mortar jewelry stores and pawnshops may seem appealing due to their familiarity, they come with limitations such as geographic reach, lengthy negotiations, potential security issues, and inconsistent valuations.
Selling your diamonds online with Diamond Banc offers an appealing alternative. From the comfort of your home in the Miami, Coral Gables, or Aventura area, you can access a rewarding selling experience at your finger-tips. No longer are your diamonds limited to local buyers – you now have the potential to reach international clientele, often leading to more competitive offers.
An important advantage to note is the flexibility online platforms provide. Traditional selling avenues may pressure you into quick decisions, whereas online buyers like Diamond Banc allow you to control the pace. You have the freedom to manage your selling process in a way that suits your needs, making online diamond selling a popular choice among sellers.
How Diamond Banc Builds Trust and Transparency in the Process of Selling Your Diamonds
When it comes to selling something as valuable as diamonds, trust plays a huge role. Diamond Banc has emerged as a trustworthy diamond buyer near you, thanks to our commitment to transparency and reliability. Every phase of Diamond Banc's process, from the initial assessment to the final payment, is transparent. We ensure you understand how your diamond's worth is determined, removing any mystery from the process. With Diamond Banc, the 'wow' factor stems solely from the joy of receiving a competitive price for your diamond – no unpleasant surprises.
Safety is another cornerstone of our service. Diamond Banc secures your peace of mind by providing insured shipping and secure payment methods. By meticulously ensuring safety, they allow you to focus on what truly matters – getting the best value for your diamond. Diamond Banc's security protocols ensure that every step of the process, from evaluation to final payment, is protected against any fraudulent activity. We also provide you with detailed tracking information for your shipped items, allowing you to monitor your diamonds every step of the way. With Diamond Banc, you can rest assured knowing that your valuable assets are in trustworthy, professional hands from the moment you start the selling process until the funds are securely transferred to your account.
Diamond Banc: Offering Competitive Pricing and Superior Customer Service
At Diamond Banc, selling your diamond goes beyond a simple transaction – it's about maximizing its value. hat's why we go the extra mile to provide exceptional service and ensure you receive the best possible offer for your diamond.One of our key strengths is our extensive network of diamond buyers. Through strategic collaborations and relationships with industry professionals, we are able to tap into a wide range of potential buyers, allowing us to offer you highly competitive pricing. By leveraging this network, we can connect your diamond with the right buyers who truly appreciate its unique qualities, ensuring you receive an offer that accurately reflects its worth.
However, what truly sets Diamond Banc apart is our unwavering commitment to customer service. We understand that selling a diamond can be an important and emotional decision, and we are here to support you every step of the way. Our knowledgeable and experienced team of experts is dedicated to providing personalized guidance, answering all your questions, and addressing any concerns you may have.
We value the trust you place in us and strive to create a comfortable and transparent diamond selling experience. From the moment you reach out to us, our team will listen attentively to your needs, understanding your specific requirements and preferences. We take the time to thoroughly evaluate your diamond, considering its unique characteristics, such as the cut, clarity, color, and carat weight, as well as any additional factors that may affect its value.
Throughout the process, we will keep you informed and provide regular updates, ensuring that you remain fully involved and empowered in the selling process. Our goal is to make the diamond selling experience as seamless and satisfying as possible, so you can feel confident and content with your decision. When you choose Diamond Banc, you can trust that your diamond will be treated with the utmost care and respect. We are passionate about diamonds and understand their significance, both sentimentally and monetarily. By working with us, you can rest assured that you are partnering with a reputable and trusted company that will prioritize your needs and strive to exceed your expectations.
Diamond Banc's Services Extend Beyond Diamond Buying
Diamond Banc offers a wide range of services beyond the purchase of diamonds. We also provide the option to buy or loan on gold, designer jewelry, and luxury watches. By expanding our services to include these luxury assets, we strive to be your one-stop solution for all your luxury asset needs.
Our services have become especially convenient when you have multiple assets you want to unlock the value of. Instead of dealing with various buyers or lenders, you can conveniently handle all your transactions through one trusted place – Diamond Banc. Whether you're looking to sell your gold, designer jewelry, luxury watches, or use them as collateral for a loan, we have the expertise and resources to assist you every step of the way.
At Diamond Banc, we understand the value and sentiment attached to your luxury assets. Our team of experts is committed to providing exceptional customer service, ensuring that you feel heard, understood, and valued throughout the process. We take the time to evaluate each item thoroughly, considering its unique qualities and characteristics, to provide you with fair and competitive offers.
By offering this broad array of services, Diamond Banc aims to simplify and streamline the process of unlocking the value of your luxury assets. Our goal is to provide you with a seamless experience where you can confidently entrust your valuable items with us, knowing that you'll receive the best possible outcomes. With Diamond Banc, you can navigate the world of luxury asset transactions with ease and trust, knowing that we are dedicated to giving you the best and most rewarding experience.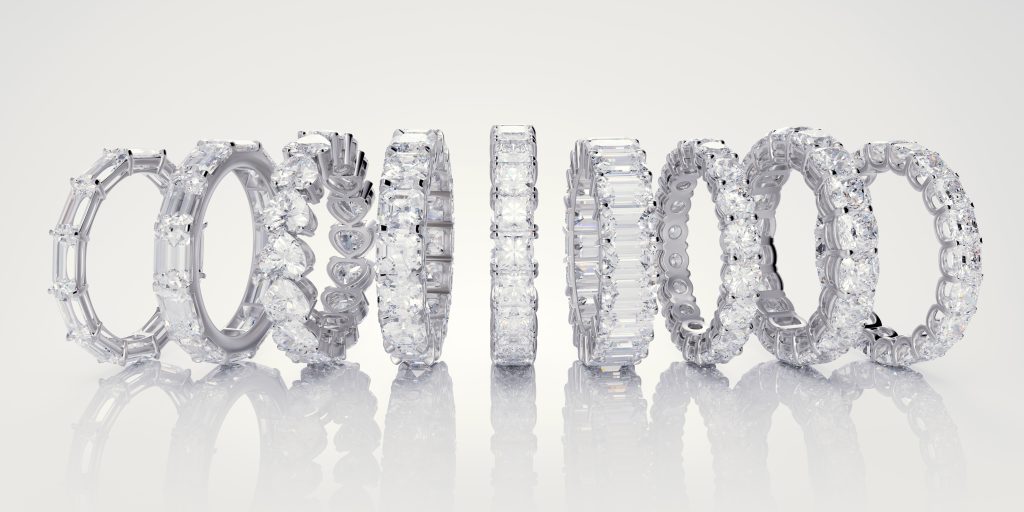 How to Sell Your Diamonds with Diamond Banc: A Seamless and Rewarding Process
Diamond Banc has simplified the diamond selling process into three easy steps.
You fill out an online evaluation form on Diamond Banc's website, providing details about your diamond, such as its carat weight, cut, color, and clarity. This forms the basis for your initial quote.
Once you submit the form, Diamond Banc's team of expert gemologists reviews the information and provides an initial quote. Then, a dedicated Market Director gets in touch with you to discuss the offer and answer any questions you might have about selling your diamonds.
The final step involves shipping your diamond for a thorough evaluation. Diamond Banc takes care of the shipping, ensuring your diamond is safely transported for the final assessment. After this, we provide a final offer. Should you accept, you receive immediate payment. With this straightforward and secure process, selling your diamond becomes an effortless task.

Diamond Banc has streamlined the diamond selling process into three simple steps, offering a convenient and secure experience. From filling out an online evaluation form to receiving a final offer and prompt payment, their dedicated team ensures a seamless journey for selling your diamonds. Are you ready to sell your diamonds to Diamond Banc?
Diamond Banc: Your Partner in Miami, Coral Gables, and Aventura
when it comes to selling your diamonds in the Miami, Coral Gables, and Aventura areas, Diamond Banc is the trusted partner you can rely on. With our transparent and efficient process, competitive pricing, and exceptional customer service, we have revolutionized the diamond selling experience. Whether you choose to sell your diamonds online or prefer an in-person transaction, Diamond Banc's expert team will guide you every step of the way, ensuring a seamless and rewarding process. Experience the difference with Diamond Banc and unlock the true value of your diamonds today.
Not in that area? Find a Diamond Banc near you!
Atlanta | Boca Raton | Charlotte | Columbia | Kansas City | Nashville | Orlando } Rochester | Tampa
Related Posts