Diamond Banc of Kansas City is the best place to sell your antique jewelry in the Kansas City area. If you have inherited estate jewelry from one of your family members, you can rest assured knowing our experts will take every value-adding factor into consideration when purchasing your antique pieces. We not only take the metal value into consideration, we also look at the era in which the jewelry was created. Jewelry fashion trends tend to be cyclical and older jewelry pieces are often sought after for their character, craftsmanship and unique design features.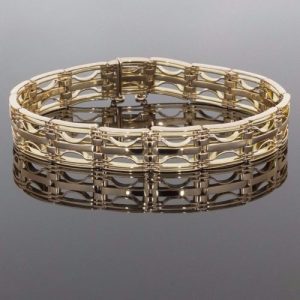 Recent Estate Jewelry Purchased in Kansas City
Recently, we purchased this gorgeous rose gold antique bracelet that was inherited by the client. Our jewelry experts determined the bracelet to be from the 1920 era. The recent popularity of rose gold and the timeless style of this bracelet allowed us to offer much more than the client expected to receive for this piece.
Recycle Your Antique Jewelry
Not every inherited jewelry piece is the perfect match for the recipient. Selling the items can be a great way to receive extra income to spend on things that take higher priority. By selling your antique jewelry to Diamond Banc, you'll give the piece a new chance at finding the right owner. Instead of melting down your previously owned estate or antique jewelry, recycle it! Another great reason to sell your antique jewelry to Diamond Banc of Kansas City is the knowledge that your jewelry can be worn and admired by future generations. Don't let your inherited jewelry sit in your jewelry box or safety deposit box, give it new life!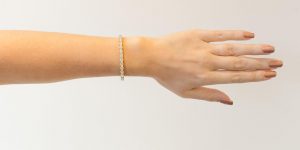 Diamond Banc has numerous connections within the jewelry industry, including estate dealers and jewelry stores specializing in selling antique and vintage items. These connections allow us to make industry-leading offers on your family heirlooms. Diamond Banc offers free evaluation services for your inherited jewelry. If you want to sell antique jewelry in Kansas City, use the contact form to set up an appointment today with our local, knowledgeable staff to get a quote.
Not in Kansas City, check out our other locations in Columbia MO, Charlotte, NC and Atlanta, GA.
Related Posts