It is expected that the diamond industry will be vigorous in 2022, primarily through the first half of the year. In addition, the diamond industry may hit 120 million carats, even though it may not reach pre-pandemic levels within the next five years. Further development and growth of the diamond industry depend on the support provided by the government, lockdown regulations, and the extent to which diamond retailers manage to shift their sales online.
In general, it is expected that the diamond industry will remain stable for diamond buyers between 2023 and 2030, with only a few online mine projects, the purpose of which is to help recovery.
The positive changes in the diamond industry were already noticed in 2021 when diamond mining-derived revenue increased by 62%. Two of the industry's most significant yearly revenue draws were the Valentine's Day season and the Chinese New Year.
SHOPPING TRENDS AND THEIR IMPACT ON THE JEWELRY INDUSTRY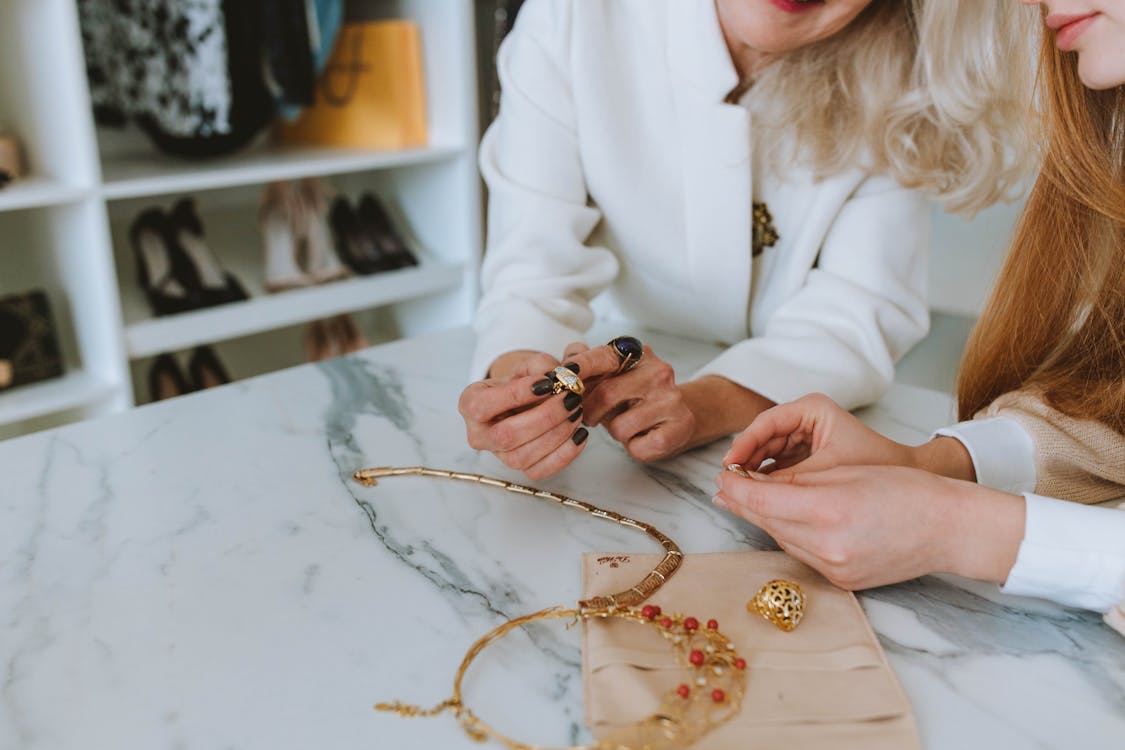 The most common diamond trends in 2022 are straight from diamond experts.
UNIQUE SHAPES
In 2022, people will be more interested in unique and unusual diamonds, such as ovals, pears, and emerald cuts, which were popular in the past. They are becoming popular again among the upper class and royalty. People also want to have something unique and different, signifying something personally.
LAB-GROWN DIAMONDS
Many diamond experts say that lab-grown diamonds are flying off the shelves right now because people are more interested in eco-friendly diamonds. Lab-grown diamonds are created in a lab, which means less negative environmental impact of mining, lower prices, and increased toughness.
BIGGER DIAMONDS
In 2022, customers are buying bigger diamonds, which is expected to continue. It might be a post-pandemic surge to make the most out of every purchase. One of the main reasons people prefer lab-grown diamonds this year is to get more giant stones for less money.
It is also expected that the new year will be characterized by the boom of the wedding ring business. Many couples can finally move forward with their wedding planning after postponing in 2020 and 2021. Couples are even purchasing a second set of their wedding rings with diamonds.
Also, gender-free engagement rings are becoming more and more popular. Young millennials who represent Generation Z and LGBTQ communities consider gender labels a thing of the past. For this reason, in 2022, custom engagement rings that feel unique are becoming more and more popular.
One of the most critical trends blossoming in 2022 is multi-stone engagement rings characterized by a mixture of old and new stones. Typically, they include four different types of settings, such as Cluster rings, Three-stone rings, Gypsy rings, and Toi Et Moi rings.
Dave Marcotte, senior vice president of global research art retail advisory group Kantar Consulting highlights the following shopping trends in 2022:
Shoppers prefer high-value items to high-volume things. That means that in 2022, they will become more discerning about how the things they buy affect their quality of life.

In-person shopping will remain the preferred shopping method. As a result, online shopping and commerce will become more convenience-oriented.

After several years of the pandemic and travel restrictions, international tourism is gradually back, characterized by increased international flights and cross-border travel. It all is associated with duty-free, luxury retail in airports, urban flagships, and upscale malls.

Another new year trend is a spike in graduations, weddings, and anniversary occasions. As a result, there is a need for unique gifts and commitment items.
THE IMPACT OF COVID AND LOCKDOWN ON THE JEWELRY MARKET AND INDUSTRY

The pandemic, outspread of COVID-19, and lockdowns have significantly impacted the modern jewelry market. The high-end chunky jewelry and high-value diamonds, especially popular in the Middle East and the Far East, are characterized by a significant downfall.
Also, just like many other industries, the jewelry industry underwent several catastrophic events, including postponed events, canceled shows and exhibitions, and severe financial losses for gold and diamond buyers and sellers.
The coronavirus and lockdown period have created the feeling of uncertainty. The uncertain economic situation and the future led to the imbalance in sales and exports. Thus, between December 2019 and March 2020, the gem and jewelry export has declined by 11.32%. Then, in April 2020 and February 2021, the export has reduced by over 34% compared to the same period the previous year. For this reason, the manufacturers, exporters, and sellers need to understand the current market situations and act accordingly. It is not the best idea to wait and rely on the government.
WHAT ARE THE POST-COVID CONSEQUENCES AND CHALLENGES FOR JEWELERS AND MANUFACTURERS?

One of the main reasons behind the severe impact on jewels and gems was the shutdown of physical retail stores worldwide. For example, in March 2020, the pandemic shut almost 75% of all jewelry retail stores in Mainland, China. In addition, the measures that the government took in China halted the diamond trade and other business-to-business activities in industry important regional trade hubs. Another cause is that the jewelry industry is a highly export-oriented and labor-bounded sector. Many laborers left and went to their native places, which caused a significant decline in export.
The COVID-19 measures taken at the beginning of 2019 resulted in the fall of diamond prices, including significant trading operations and route disruptions. For example, imports of rough diamonds in India plunged from $1.5 billion in February to $1 billion in April.
The COVID-19 pandemic and restrictions have significantly affected several mining countries, including Australia, Russia, Canada, Botswana, and the Democratic Republic of Congo. The coronavirus crisis has affected production and demand, which caused supply chain and market disruptions and affected the global financial markets.
There is a severe risk of the permanent closure of mines, so many diamond miners are seeking ways to extract more value from their mines regardless of the significant market downturn. Also, many gem workers continue abandoning their mine sites to find other means of livelihood, one of which is agriculture.
However, even though diamond miners and traders are concerned about the fall in prices, the pandemic is the best time for diamond consumers. The diamond prices are favorable right now and have never been more appealing. Many affluent investors are currently purchasing large and high-quality diamonds by taking advantage of the gradual ease of the lockdown in some countries.
Also, despite the global coronavirus crisis, many diamond mining companies, including Alrosa and De Beers, decided to move to defend their markets. They are trying to protect their needs and value by restricting rough-diamond supply.
After the coronavirus and pandemic paralyzed the diamond and jewelry industry, De Beers decided to reduce the price of their diamonds. They cut the costs of their rough diamonds that are above 1 carat. As a result, the sales of De Beers rose 11% year on year to $320 million during August 2021.
After several years of the pandemic, many countries decided to lift coronavirus restrictions. Many retailers who could adapt their businesses to online commerce and trading have increased sales.
Today, many diamond miners in different parts of the world are looking for innovative methods and work methods to protect the diamond industry.
SELL YOUR GOLD OR DIAMOND JEWELRY TO DIAMOND BANC

2022 is the perfect year for selling your gold or diamond jewelry. If you are looking for a reliable company that buys used diamonds, Diamond Banc is the ideal choice. Diamond Banc is the nation's premier jewelry and diamond buyer and lender with over 125 years of expertise in the diamond business. 
The mission of Diamond Banc is to provide clients with peace of mind and operate based on such principles as transparency, security, and transactional integrity. We are known for clear communication and a client-driven culture.
At Diamond Banc, we are ready to buy the following:
Fine jewelry by Graff, David Yurman, Tiffany & Co., and high-value fine jewelry of any type

Engagement rings, wedding bands, complete wedding sets, etc.

Loose diamonds from 0.5 carats and larger. They can be both certified and uncertified. We are ready to provide you with a free evaluation of your diamonds.

Gold and silver items and jewelry

Luxury watches by Rolex, Omega, Patek Philippe, and other brands.

We understand that searching for reliable and trustworthy jewelry and diamond buyers can be overwhelming. With Diamond Banc, you do not have to search anymore. We give our clients various selling options that fit any individual situation and circumstance.
Diamond Banc is the nation's top-rated jewelry buyer & lender. Visit one of our nationwide locations, or work with us from the comfort of your home.
CONTACT DIAMOND BANCnavigate_nextGET A LOANnavigate_nextSELL MY JEWELRYnavigate_next
Related Posts