The Rolex Day-Date revolutionized the watch industry as the first waterproof, self-winding, timepiece to feature both the date and the day of the week on its dial. Launched in 1956 the Day-Date remains one of Rolex's most iconic models. Get the most out of your Rolex Day-Date with Diamond Banc.
Although the Day-Date has been around for more than a half century, Rolex continues to innovate the timeless timepiece. Rolex has consistently striven to improve the watch's features, including the movement and dial options. The watch holds a total of 14 patents. Often referred to as the President, the Day-Date was originally produced in three different case millimeter sizes: 36mm, 40mm and 41mm. The 41mm has since been discontinued. The 40mm case size is is an especially sought after, as large watches have been increasingly fashionable.
Get top dollar for your timepiece. Use your Rolex Day-Date as collateral for a Jewelry Equity Loan in Kansas City.  Diamond Banc makes the process quick and convenient while offering unsurpassed values for your Rolex.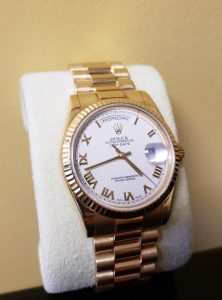 Jewelry Equity Loan Advantages
Diamond Banc's Jewelry Equity Loans are the best in the industry. We provide unprecedented:
Speed
Privacy
Simplicity
No credit check required
Customization of the loan depending on your needs
No repayment guarantee
Revolving credit line feature
How Much Value Does Your Rolex Hold?
Rolex's remain one of the most popular watch brands. Therefore, unlike other luxury watch brands, Rolex watches consistently hold their value. The value for a watch is largely dictated by a watches' demand. However, several factors influence the value of your pre-owned Rolex, including:
The Condition of the bracelet, case and movement
Market demand for the model
Which materials comprise the watch, including whether your watch is made of gold or stainless steel, and any gemstones featured in the timepiece
Prevalence of the pieces on the second-hand market
Any packaging, papers, and extra links
These factors can add several hundred dollars to the value of your watch!
At Diamond Banc, you can expect to borrow $21,000+ for your Rolex Day Date 40 depending on the condition.
How Much is Your Rolex Day Date Worth?
Due to their steady popularity, the Rolex Day-Date trades pre-owned for a distinctly high percentage of the list retail price. Diamond Banc in Kansas City recently loaned $12,500 for a Rolex Day-Date 40mm in 18K yellow gold. This timepiece retails for over $30,000.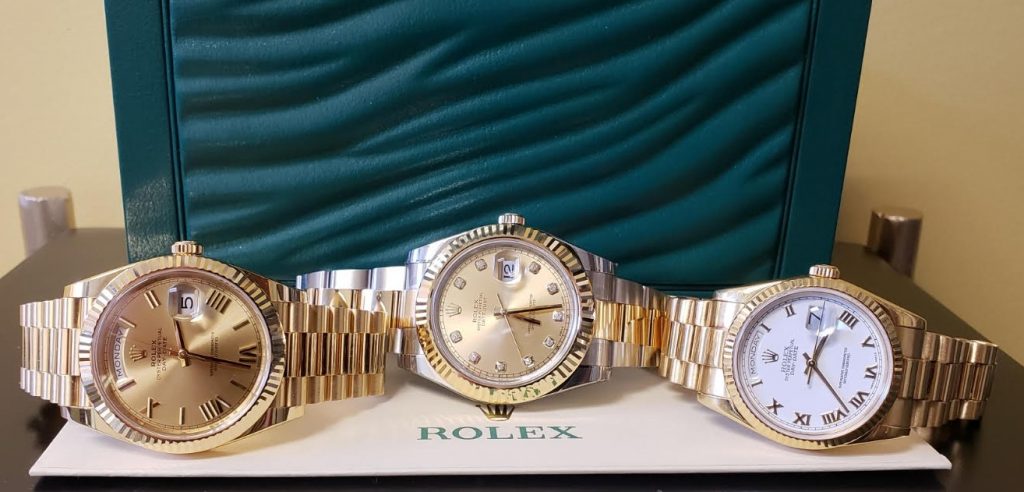 Why Diamond Banc?
Diamond Banc is the best place to obtain a Jewelry Equity Loan on your Rolex in Kansas City. Our fast, convenient and simple process is unparalleled. Diamond Banc's expert jewelers take every value-adding factor into consideration when evaluating your Rolex. Consequently, we will negotiate the highest value for your Rolex in order to provide you with the best offer. Moreover, Diamond Banc is fast. You can have the funds within the same day.
How Can I Receive a Jewelry Equity Loan in Kansas City?
Diamond Banc makes it effortless!  There are two ways to start the process.  Complete an easy to use form online today. Make sure to include all of your watch's details, along with photos of the watch and any packaging and papers. Within 24 -hours of submitting a form, one of Diamond Banc's experts will send you a quote. Prefer to meet face-to-face? Come see us in our Kansas City office.  Diamond Banc is conveniently located on the Country Club Plaza.  Call today to speak with our Kansas City luxury watch expert.
Related Posts