Living expenses are high in California, and when you come up a few hundred dollars short of your monthly payments, turn to your jewelry box to borrow money in California. Jewelry you don't wear often or no longer like the style of can be turned into the cash you need when you borrow money from Diamond Banc.
Diamond Banc is a national jewelry lending company. We use jewelry, gold and fine watches as collateral for loans. Diamond Banc lends up to $500,000 in 24 hours or less.
Four reasons to borrow money in California
1. Long loan term
Diamond Banc loans last up to five years with no need to renew your loan terms or pay off principal to extend the loan. At Diamond Banc, you can get a loan and pay it off the next day, or keep it for up to five years.
2. No upfront fees
Diamond Banc never charges fees for evaluations of your item(s), nor do we hold a percentage of your loan amount. The only price you'll pay is what it takes to get your item back.
3. Renew your loan whenever you want
Diamond Banc has a simple policy for repeat customers. If you borrow money at Diamond Banc, pay it off and then need to take the loan out again, you don't need to wait through the evaluation process. We'll send you the same amount of cash we did for your first loan.
4. Safe and secure
Since customers around the country trust Diamond Banc with heirloom jewelry and valuable watches, only the highest standards in safety will do. Diamond Banc uses prepaid, return-certified mailing for jewelry loans in locations without a Diamond Banc store, like California.
All shipment to and from Diamond Banc are insured by Jewelers Mutual and Brinks, so you can rest assured that they are fully covered.
Ready to loan against your items?
To borrow money in California in less than 24 hours, start by filling out Diamond Banc's online evaluation form for your jewelry, timepiece or bullion. Our expert team will send an initial offer after reviewing your submission. If you accept, Diamond Banc will send a pre-paid, fully insured mailing label for you to send your piece to our headquarters in Columbia, Missouri. Then you'll receive the cash via check or wire transfer, all within 24 hours or less.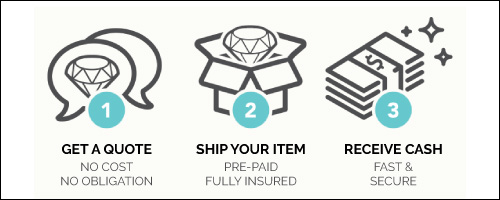 Related Posts