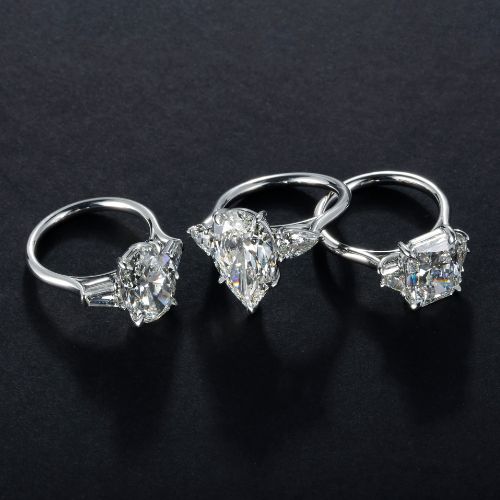 America's biggest small town has a few pawnshops and local jewelry stores under its sleeves.  
When selling diamonds or designer jewelry, it's important to ensure that the diamond buyer in Rochester, NY you choose to do business will provide you with outstanding service while offering a decent payout.
Regardless of the reasons to sell, whether it's an inherited diamond ring passed down to you or a lavish necklace locked in a vault —  this blog will cover all the bases you need to know to be confident in your choice!
Expertise and knowledge of diamonds & jewelry
We can't stress enough how important it is to find a diamond buyer Rochester NY-based with specialized knowledge, practical experience, and a keen eye to analyze and detect all value-adding factors your item has to offer. 
At Diamond Banc, we have trained and experienced diamond specialists who can elaborate on these factors and help you better comprehend the actual value of your diamonds. 
We begin by assessing the "four C's" (cut, color, clarity, and carat size) of any diamond and find out if we can assign a premium to your offer in a case where the branding element kicks in.  
For instance, products from luxury names like Tiffany & Co., VCA, Chopard, and Graff carry high demand in the marketplace, especially if the model in question is discontinued.
Integrity and transparency when making an offer
Integrity and transparency go a long way toward serving people in the community, and Diamond Banc stands by these qualities with every customer interaction.
An honest diamond buyer in Rochester will make sure to give you the complete breakdown of your diamond jewelry and ensure you are aware of every detail that may boost the price to your advantage.
For example, diamond certificates. Even though we assess and buy diamonds of all kinds — certified and uncertified or lab-grown — we always recommend customers get a grading certificate from the Gemmological Institute of America or GIA against for-profit laboratories.
We ensure that your diamonds are valued fairly and conservatively, notably with regard to color and clarity. For instance, a slight shift in diamond quality from G Color SI1 to K Color SI2 can significantly increase your profit.
Make sure they are credible and well-reputed
Don't choose a diamond buyer solely on the basis of experience alone; you may also want to check customer reviews and read about that particular diamond buyer's reputation for outstanding customer service.
Here are a few places you can start checking:
Their official website (do they have one?)

Google Review (check client testimonials)

Yelp

AngelList

Yellowpages
Pay attention to comments that may reveal the level of knowledge the staff has, the quality of customer service people experienced at that location, and whether or not the offers made were reasonable in the first place.
Also, you may also verify if the Better Business Bureau [BBB] has rated them A+ and if they are Trust Pilot compliant or not.
Established within the jewelry industry for 125+ years, we surely do things differently here at Diamond Banc, structuring every effort to provide you with a fair, transparent valuation process every time.
Privacy & high-end customer experience
The beauty about Diamond Banc's office inside of Mann's Jewelers is that you are quite literally walking into a luxury retail jewelry store. When you come in to sell your diamond jewelry, you will be treated with the same professionalism and optimism as if you were coming in to purchase a new piece of jewelry.  
Our knowledgeable staff is committed to protecting your right to privacy; that's why we work in a one-on-one setting where we get to sit comfortably and examine your diamond jewelry items in detail.
Don't get distracted by unnecessary noise or feel annoyed by fascinated and curious onlookers — the people working at our Rochester location are expert diamond buyers and are passionate about what they do! 
Service Accessibility & Flexibility
If diamonds take billions of years to form — selling yours shouldn't!
There are two ways you can sell your diamond or jewelry:
Online by starting the process from home

In-Person at our Rochester, NY office
Even better, you may begin online by getting an initial quote and choose to meet our affiliate representative at Mann's Jewelers, who is going to guide you through each step.
We offer the highest values in Rochester for your diamond jewelry. Moreover, our offers never expire, allowing you to compare rates for yourself to ensure you receive the highest offer for your items.
Rochester Diamond Buyernavigate_nextGet A Loannavigate_nextLocationsnavigate_next
Related Posts