Your jewelry collection is as unique as you are. However, sometimes, you may want to clean out your jewelry box. Are you looking for some fast cash? Here are five of the brands that best hold onto their value when you are looking to sell your old items.
5. David Yurman
Founded in the 1970s, David Yurman is the youngest jewelry brand on this list, however, the brand remains iconic within the jewelry market. In 1983, David Yurman introduced his signature cable bracelet, which quickly became an icon in the jewelry industry. Today, these items continue onto their value well on the resale market.
4. Tiffany & Co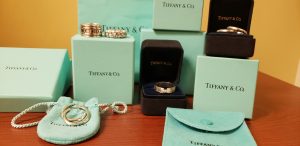 Audrey Hepburn famously proclaimed that "Nothing very bad could happen to you [at Tiffany's]" In the 1961 classic, Breakfast at Tiffany's. More than half a century later the adage still rings true.  Diamond Banc is able to offer a premium for the designer due to its strong brand recognition among consumers.
3. Harry Winston
Harry Winston remains one of the most significant names in diamonds. In 1943, Harry Winston wrote history when he became the first ever jeweler to loan diamonds to an actress for the Academy Awards. From then on, the name Harry Winston became synonymous with old Hollywood glamour. The jewelry house continues in this legacy today. At the 2018 Academy Awards, Helen Mirren, Salma Hayek, Allison Williams, and Elizabeth Moss were all spotted wearing dazzling pieces from the celebrated jeweler. Sell, or get a loan on your Harry Winston pieces with Diamond Banc.
2. Van Cleef & Arples
First founded in 1896, Van Cleef & Arpels is known for timeless beauty.  In 2009, a custom 1936 piece from the brand sold for $326,500 at Christie's in New York. Additionally, there is a strong demand for Van Cleef's in store lines as well. The brand's iconic Alhambra pieces are also hotly sought after. It is estimated that items from Van Cleef & Arples can have as much as a 74 percent resale value.
1. Cartier
Cartier has become synonymous with luxury. Dating back to 1845, the house is iconic for its red box and stunning designs. The jeweler is especially popular with royalty, having been donned by Princess Grace of Monaco and Catherine Duchess of Cambridge alike.
Cartier's very popular Love Bracelet is a high fashion and high-value piece.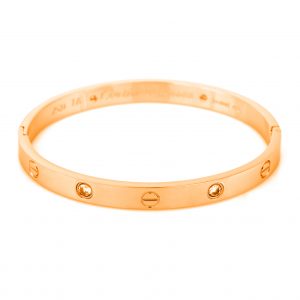 Ultimately, Diamond Banc provides matchless offers for your designer jewelry. We take every value-adding factor into consideration when examining your designer jewelry. Diamond Banc accepts brands including David Yurman, Tiffany & Co., Harry Winston, Graff and Chopard just to name a few!
If you are looking to sell any of these top-selling brands in South Florida, look no further than Diamond Band Tampa. We provide top offers and examine all of the value-adding aspects of your fine jewelry.  We would love to meet you and discuss all of your funding options. Start right now by visiting our website for your free, no risk, and no obligation quote.
Once the form is submitted one of our GIA Certified professionals will contact you with an initial offer. They will also schedule an appointment to bring your jewelry and our private office for further evaluation. The best part is that the initial submission can be done from the comfort of your own home!
Don't live in Tampa? No problem. We'd be happy to help you at one of our many offices located throughout the US.
Sell Your JewelryGet a LoanSee Our Locations
Related Posts