Are you on the lookout for trusted diamond buyers near you? Do you want a seamless, honest, and rewarding experience for selling your diamonds? If so, Diamond Banc is your go-to destination. We're your neighborhood jewelry experts, specializing in diamond acquisition, always striving to provide top-tier, market-competitive services, no matter where you are in the U.S. Experience the peace of mind that comes with working with your local diamond experts.
Our nationwide presence allows us to conveniently serve customers across the country, providing accessibility and trust at your doorstep. Diamond Banc is here to guide you through the entire diamond selling process. Trust us to offer competitive prices, secure transactions, and confidential services tailored to your needs. Experience the satisfaction of working with your local diamond experts at Diamond Banc.
Finding a Trustworthy Buyer:
The first question that might be crossing your mind is, "How can I find reliable diamond buyers near me?" And that's a fair concern. You are, after all, trusting someone with diamonds that hold both sentimental and financial value. This isn't just a business transaction; it's a matter of transparency and trust. At Diamond Banc, we're fully aware of the range of emotions and concerns you might be experiencing during this process. We've built our brand on a solid foundation of understanding, patience, and respect for these very sentiments. With years of dedication, we've honed our skills and crafted an exceptional reputation in the diamond industry.
Our expertise isn't an overnight phenomenon but a result of countless transactions, interactions, and experiences, which have helped us build trustful relationships with our customers. We're not just another name in the vast jewelry market. We've created a unique identity as a close-knit family of diamond experts. We don't just engage in business; we strive to build a long-term relationship with each client, guiding you through every step of the diamond selling process.
Diamond Selling: Expert Guidance
Diamond Banc's aim is to provide you with a seamless experience, guided by our team of experts who will assist you every step of the way. We are committed to ensuring you fully comprehend the value of your diamond based on current market value.
At Diamond Banc, we go beyond the standard evaluation criteria of the 4Cs—Cut, Clarity, Carat, and Color. We take into account additional factors such as the diamond's fluorescence, symmetry, and market demand. By considering these aspects, we can offer a comprehensive and accurate assessment of your diamond's worth. We understand the significance of your concerns and questions, and we encourage you to share them with us. Our goal is to create an environment where you feel comfortable and confident throughout the entire process. We firmly believe that an informed seller is a contented seller.
Catering to All Markets:
Catering to all markets is at the core of Diamond Banc's mission. Whether you are an individual seeking to sell a cherished heirloom or a jeweler in search of a reliable partner for diamond transactions, we are here to meet your unique needs.
With strategically located offices across the country, from Kansas City to Miami, and from New York to various cities in between, we strive to ensure that you are never too far away from a Diamond Banc branch. Additionally, we offer the convenience of online diamond sales, providing a seamless and accessible option for those unable to visit our physical locations.
No matter who you are or where you are located, Diamond Banc is committed to offering a tailored and convenient experience. Our goal is to accommodate diverse markets and provide a range of options to ensure that you can easily and confidently sell your diamond, whether in person or online. Trust Diamond Banc to deliver a seamless and satisfying transaction regardless of your location or industry involvement.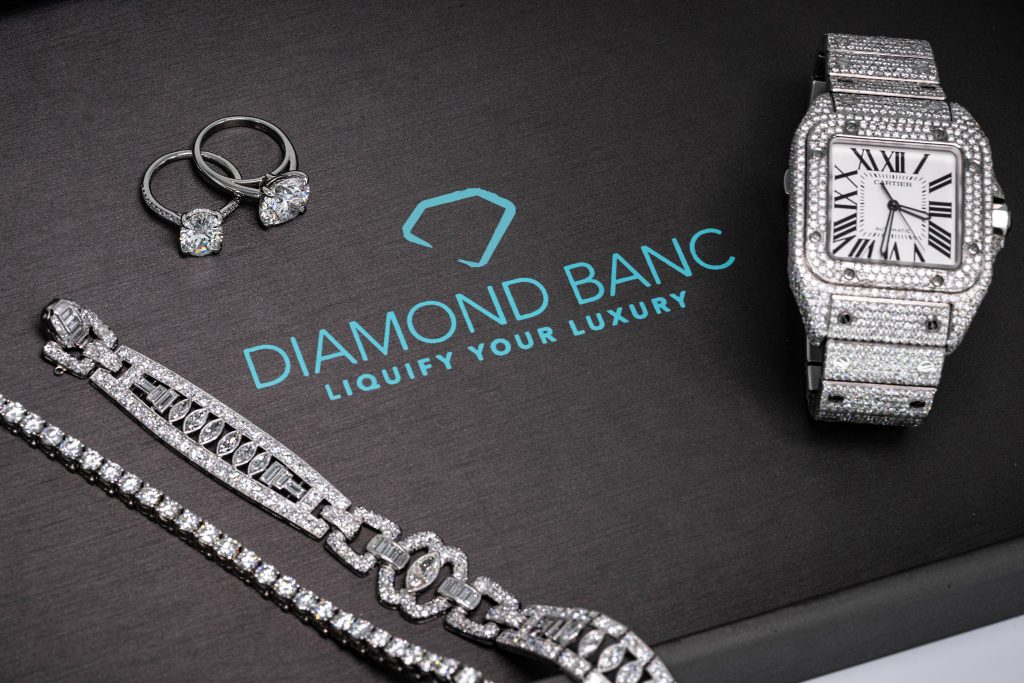 Get to Know Us: The Diamond Banc Experience
You may still be wondering, "Why should I choose Diamond Banc as my trusted diamond buyer?" We believe our reputation speaks for itself, but we also know that each diamond selling journey is as unique as each diamond itself. At Diamond Banc, we prioritize customer experience above all else. From the moment you walk into one of our strategically located offices, you'll feel the warmth of our approach, the comfort of our environment, and the confidence that comes with our expertise.
We don't just buy diamonds; we build relationships. Our team of experienced gemologists and diamond experts are always eager to share their knowledge and help you understand the true worth of your stones. We walk you through the evaluation process, explain the current market trends, and answer all your questions with utmost patience and professionalism.
And if you can't come to us, we'll come to you—virtually. With our online appraisal form, you can start the process right from the comfort of your own home. Our digital platform ensures convenience without compromising on the quality of service. So, wherever you are, whenever you're ready, Diamond Banc is here for you. Choosing us means choosing honesty, transparency, and a rewarding experience that respects the true value of your diamonds. We strive to make every interaction memorable and valuable, because your satisfaction is our ultimate goal.
The Diamond Banc Promise:
We know how daunting the process of selling diamonds can be, and we want to make it as easy as possible. The Diamond Banc promise is our commitment to you:
Competitive prices: We offer top-dollar for your diamonds based on the current market trends.
Speed and convenience: Our process is quick, easy, and hassle-free.
Safety and security: Your diamonds are always safe with us. We take utmost care during appraisal and transaction.
Privacy and discretion: Your business with us is confidential. We respect your privacy and ensure a discrete process.
So the next time you find yourself asking, "Where are the best diamond buyers near me?" remember that Diamond Banc is just a call or a click away. We are your neighborhood experts, offering you the best value for your precious stones.
Trusted Diamond Buyers: Transparent, Easy, and Fair Process
Diamond Banc stands out as the premier destination when it comes to selling your diamonds. Our commitment to transparency, expertise, and customer satisfaction sets us apart from the rest. We understand the emotional and financial value that diamonds hold, and we strive to provide a seamless, honest, and rewarding experience for every client.
With our team of experienced gemologists and diamond experts, we go beyond the standard evaluation criteria to provide a comprehensive assessment of your diamond's worth. We consider additional factors such as fluorescence, symmetry, and market demand, ensuring that you receive an accurate and fair appraisal.
At Diamond Banc, we prioritize customer experience and building long-term relationships. From the moment you step into our offices or fill out a form with us online, you will feel the trust, comfort, and expertise that define our approach. We are dedicated to providing you with top-dollar offers, speed, convenience, safety, and privacy throughout the selling process.So, when you ask yourself, "Where can I find trustworthy diamond buyers near me?" Remember that Diamond Banc is here, wherever you are. Choose Diamond Banc as the #1 diamond buyer near me.
Looking for a location near you?
Atlanta | Aventura | Boca Raton | Charlotte | Columbia | Kansas City | Miami | Nashville | Orlando | Rochester | Tampa
Related Posts