Fast. Simple. Secure.
The Nation's #1
Online Jewelry Buyer
Fill out the form & receive funding in less than 24 hours.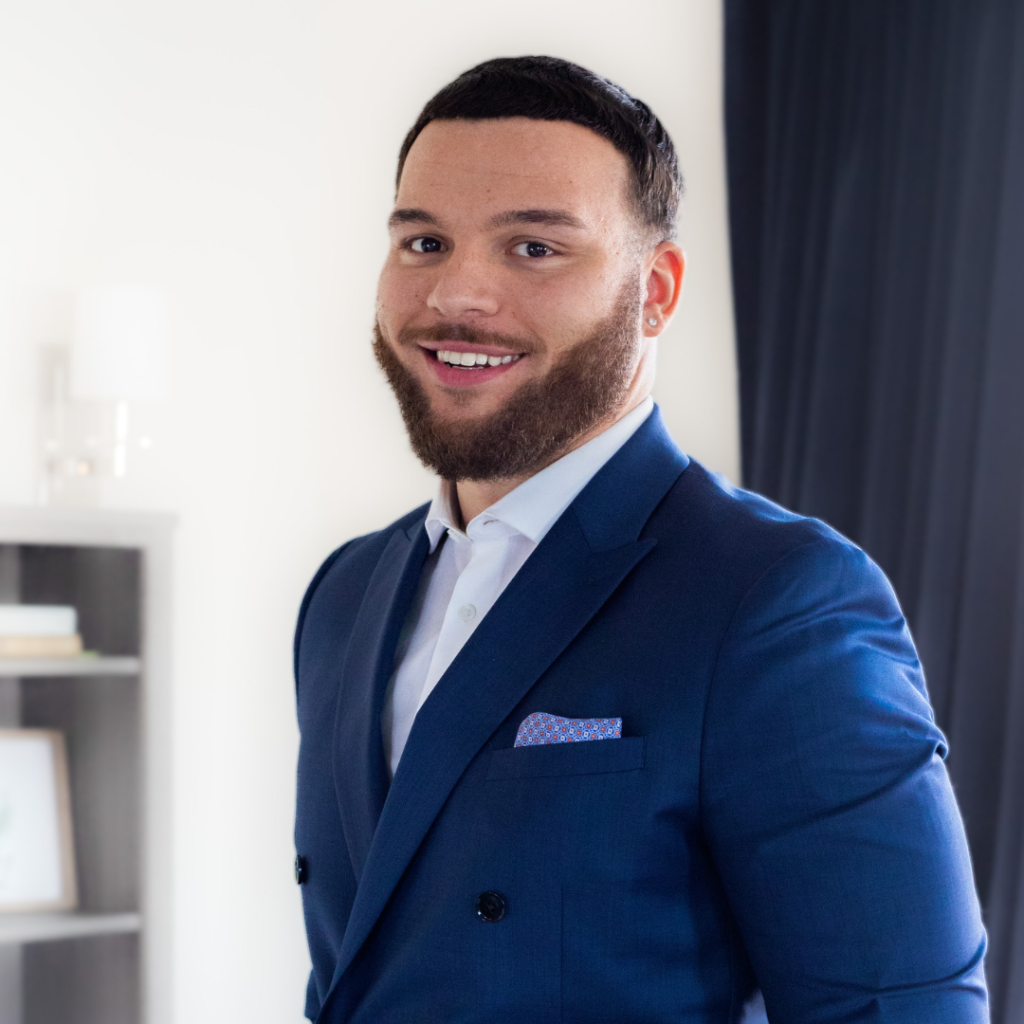 Jordan Isaacs
Columbia, MO
As the National Director of Funding at Diamond Banc's corporate office, Jordan Isaacs prioritizes providing top-notch client experiences during the assessment of their items for immediate sale or loan services. With excellent communication skills and a talent for prompt and informative follow-up, Jordan's expertise enables him to offer the highest values, the most competitive rates in the industry, personalized financing options, & exceptional service to each and every client. To start working with Jordan, give us a call or fill out our online submission form.
Our experience with Diamond Banc was very positive. The process was as secure as possible, the information was timely and accurate, pricing was fair based upon wholesale market factors, and it was executed smoothly. We would happily do business with them again.
What Clients Are Saying…
Wayne Burdette
★★★★★
Excellent and easy to deal with and gave me the best price for the Rolex. Kept me informed and would certainly do business with them again.
Joshua Farris
★★★★★
Easy experience, very knowledgeable came through in my time of need
Elisabeth Goth
★★★★★
This company is amazing in many ways-informative, extremely timely, probably the most courteous business ever- a wonderful company!!
russell carter
★★★★★
The staff is extremely professional and was patient in answering all my questions. They really make the process seamless. I will definitely be recommending others who may be considering this method of borrowing.
Isiah Ignacio
★★★★★
Great communication and transparency with the team. Thank you so much for your help! Will definitely come back and use this service. Trustworthy and quick operations!
horace boatner jr
★★★★★
Excellent very professional service. Absolutely the best. Have had several transactions with this company and all have been very smooth and easy. Highly recommended‼️
Tim Grossman
★★★★★
Wow, you can not ask for a smoother transition then Diamond Banc!Within four days, I presented my watch and received a very respectable offer and received my funds wired in less than two hours.They gave a true offer compared to companies giving an offer $2k to $3k less than market. The top four companies paying for a high online presence are taking advantage on people who are just desperate on unloading their watch. It's sad to see this scam.Thanks again!Tim
Karen Bautista
★★★★★
Jacob was excellent and efficient. They made the transaction work for me. The process is quick and transparent and he went out of his way to help us. Thank you!
Shannon Sullivan
★★★★★
They are the best. Easy to work with and very supportive. They have rarned a very loyal customer!
Travis Scott
★★★★★
Very easy transaction, would recommend to a friend or family member
Alexis Pabon-Galiano
★★★★★
Diamond Banc is by far the best, stay away from pawn shop and ask specifically for Jordan he is trustworthy and honest about prices. Got my deposit in less than 4 hours wired down to my account fast simple and hassle free. Will be doing business with Diamond Banc again. Five Star rating all the way ⭐️ ⭐️⭐️⭐️⭐️ ❤️💵💰
Justin Buddemeyer
★★★★★
Ashley Mosby
★★★★★
Great communication and customer service. Simple, quick process. I will return for any additional future needs.
Gina E
★★★★★
Very easy to work with. Jordan walked me through all the steps and explained everything in detail. Very professional and friendly.
Dawn Auld
★★★★★
Repeat customer and additional transaction was just as smooth and pleasant as the first!
Craig Matteocci
★★★★★
Great experience. Jordan handled everything and made sure to always keep me updated and informed. My Rolex was sent out on a Monday and I received my money Tuesday afternoon. I highly recommend their service.
Steve Randolph
★★★★★
Jenni Volker
★★★★★
They are so great to work with and they do everything pretty quick I'm impressed
Chasmin Jewls
★★★★★
Very Satisfied Customer. Jordan was super attentive, trustworthy and honest about my transaction and I'm just happy everything worked out in my favor. My item was shipped 4/18 and I received my wire transfer on 4/19 b4 6pm. If your feeling indecisive about moving forward with Diamond Banc I'm here to tell you your in great hands. They have the highest payouts with complete reassurance. I definitely will be doing business with them again.
Chandler Baxley
★★★★★
Great company and amazing customer service!! Highly recommend!
R R Fletcher
★★★★★
An incredibly authentic and professional service. A representative was there the answer questions at every stage and I would not hesitate to use or recommend them.
Candice Melissa K
★★★★★
Amazing Service!!! Jordan is seriously the best. I contacted them about selling a diamond ring. Jordan responded almost immediately. I was very nervous about shipping my ring to them. He explained everything from start to finish. He sent me a video of the facility and everything happened exactly as he said it would. They wired the funds in just a few hours and gave me exactly what was quoted to me before I shipped the ring to them. Jordan was available anytime I had a question or needed anything at all. If you're looking for a place to sell or get a loan for your jewelry this IS the place to come. Ask for Jordan you will be very happy you did!!! Thanks again Jordan for such amazing customer service and helping me out so much!!!!
Jeff Hervey
★★★★★
I was extremely excited about the opportunity to work with you and had a great experience thanks Jordan for everything
bstroope1000
★★★★★
Fair, honest, and professional throughout the entire process
Eugene Clark
★★★★★
Jordan and Justin were great in the quick process!
Juan Soto
★★★★★
It was a pleasure doing business with you and will recommend people to you . Thank you and god bless .
Dr. Jillian Bumpus
★★★★★
An easy experience that helped me out in a pinch. I felt like my jewelry was secure and safe. Jordan explained everything in detail and everything he said happened as explained. I would use them again in a heartbeat!
Michelle Inabnit
★★★★★
Absolutely wonderful experience! Friendly communicated the whole time great to work with!
LaTia Hall
★★★★★
OMG my experience has been nothing but Fantabulous. Diamond Banc staff are there at every step. Jordan is officially my brother from the same father. I would recommend them to everyone who needs a helping hand.
Ebon B
★★★★★
Jordan was extremely helpful and quick to accommodate our needs and exceeded our expectations. Great experience and we will definitely share Diamond Banc within our network.
Micky Reese
★★★★★
What a pleasure it is to deal with a top notch company . Jordan did everything he said they would do and kept in touch throughout the process. I highly recommend Jordan and Diamond Banc.
Susie Witte
★★★★★
The funds came quickly and the process was easy to complete!
Jonathan Noack
★★★★★
Was initially hesitant to "send off" my sentimental precious metals to an organization I found on the internet. However, Diamond Banc has been nothing but professional. Top-notch communication at every juncture; every step was clearly explained, every question I had was answered immediately, there was always someone available to talk and, when weather delayed the 'overnight' shipment, Diamond Banc kept me updated on the issues and progress.Diamond Banc excels and other companies could learn from their example.UPDATE: I found myself in a position to pay off my initial loan, but needed the funds in the near future. After paying off my loan Diamond Banc stored my collateral, free of charge, and scheduled a new loan signing, just before I would need the funds to A) ensure I received the wire transfer in time and B) to maximize the amount of time I was not paying interest on the loan.Everyone at Diamond Banc is professional, articulate, quick to respond to any questions I have and works to understand my needs and minimize my interest payments.A+++++ business! It's been a pleasure working with them
Angela Howard
★★★★★
The Diamond Banc company is legit!I contacted the company to sell my diamond ring and talked with Jordan.Jordan has excellent customer service skills! He was so easy to talk to about my concerns and he answered all my questions regarding the process of selling my diamond ring. Once I decided to sell my ring, he emailed me the overnight label for shipping and explained the shipping guidelines. He even provided insurance on my ring while it shipped. The next day Jordan contacted me and let me know that he received my ring. Also, he provided a great offer for my diamond ring! Amazingly, the wire deposit of funds hit my account on the same day he received my diamond ring.Boy, I am so impressed with Jordan and his services!Thank you, Jordan 😊
Austin Gilbert
★★★★★
I like to thank Mr. Jordan Isaacs, as my representative for Diamond Banc. Mr. Isaacs was very easy, thorough, diligent, and great to work with in terms of structuring the best loan that served my needs, and offering the best market value for my items/collateral.Honestly, I did my "due diligence" (shopped around), and Diamond Banc truly lived up to their promotions as being the most competitive lenders in their industry. I sent my items off via overnight express, and within the next business day my funds were wired into my bank account. Again, very easy, convenient, and very competitive. Thanks Diamond Banc.
Luis Marquez
★★★★★
This business deserves a five star rating! This is the most honest and credible jewelry buying companies on the internet. They received my items and paid me immediately too dollar. Will definitely do business again!
Austin Films
★★★★★
Working with Diamond Banc was simple and straightforward. Everyone was extremely helpful and professional and I would gladly recommend them to anyone considering a collateralizing there luxury items.
John Mondello
★★★★★
This was an amazing experience with a very professional company. They helped me navigate a long range situation with no hiccups. Their instructions were right on and easy to understand. The money was in my account less than 2 hours after I submitted the signed paperwork. From the time I first contacted them on a Sunday, until the money was in my account was less than 48 hours. I HIGHLY RECOMMEND this company.
Super Man
★★★★★
Great service the whole staff is amazing and easy to work with efficient and transparent
Dominic DiGeronimo
★★★★★
Terri
★★★★★
Very happy with the speed, the communication and the personal service!
Abeer Khan
★★★★★
Jordan was the most professional and polite person I have had to deal with in a long time. He explained everything thoroughly and answered all the questions. The process was shooed quick and easy.
Clint Mish
★★★★★
Working with Kyle was an excellent experience! very professional and laid back with no pressure at all. Quick, easy, smooth transaction. Will work with Kyle again!
Lee Tupper
★★★★★
Had a very pleasant and smooth experience with Jordan and Justin. Thanks for helping me.
dean codner
★★★★★
I appreciate the ease of transacting with Diamond Banc. Jordan explained things thoroughly and give you step by step guidance through the entire process. I highly appreciate and recommend.
Steve Schulz
★★★★★
Our experience with Diamond Banc was very positive. The process was as secure as possible, the information was timely and accurate, pricing was fair based upon wholesale market factors, and it was executed smoothly. We would happily do business with them again.
Mary Meucci-Pizzino
★★★★★
The whole process was very scary for me, every time I called he was very reassuring and even offered a FaceTime and a tour of the faculty. It turned out to be ok and it's a great feeling to trust people in todays world.
nate funderburke
★★★★★
This was a great experience and everything went will I will definitely refer them to my friends and family thanks again
M H
★★★★★
Transaction was smooth. Jordan is very easy to work with and updated me every step of the way.
Brandi Bryant
★★★★★
Justin was very professional and the transaction was quick and secured. Thanks again for the loan.
Chelsea C
★★★★★
I got to work with Jason over at Diamond Banc. Communication was great , he took the time to explain everything throughly. Overall, I had a nice experience!
Richard Whiteside
★★★★★
These guys were great and fast they made me feel very good that my rings woukd be safely insured and storedI recommend these guys 100 percent
Jeffrey Castellonas
★★★★★
The entire crew @ Diamond are stand up guys…I was very nervous about sending them my pride a joy Rolex for a loan.But the guys put my mind at ease, I would deal with them again in a New York second..Jeffery
Amy Harris
★★★★★
Diamondbanc went above and beyond, not only with easing my mind on the process, but with my crazy work schedule they worked with me on my time frame. If ever needed I will be using them again.
Alex A
★★★★★
Jordan Isaac over at Diamond Banc is a man of integrity and transparency. This was my first experience selling a high end rolex via mail. Jordan made the transaction easy and fast. This company get AAA in my book. I hghly recommend them.
Whitney Beckwith
★★★★★
Great customer service. Would highly recommend their services.
Rachel W
★★★★★
Quick and easy transaction. They offered me the most of anyone I reached out to!
Cullen Jenkins
★★★★★
I have personally had great experiences working with the team at Diamond Banc. They were recommended to me and I was skeptical at first, especially when it came to shipping, but I'm very happy that I chose them.
Karen Treadup
★★★★★
My experience with Diamond Banc was "flawless." The process was completed and I received my funds in 24 hours. I appreciate being able to use jewelry as collateral. There's a lot of sentimental value involved and borrowing means I'll get my ring back. Thank you to Kyle and Justin!
Wayne Vines
★★★★★
Fast! Easy! Service the way it should. The team was in constant and informative contact throughout. Jordan knows his stuff. I would definitely use them again for sure.
TheTrueAMG
★★★★★
Amazing to work with. Jordan reached out as soon as I applied and even helped me with everything over the weekend! Explained everything in depth and was in constant communication the whole time. From start to finish It took like 2 days. Highly recommend, everyone involved was quick to respond and super helpful + friendly!
Dwight Sellars
★★★★★
I guess the fitting word would be Flawless. As we all are, I was very skeptical of making any kind of deal of this amount on line.I connected with Jordan there at Diamond Banc and very quickly I had a good sense of trust. Everything they did, the quote, shipping details to wiring me the money was spot on. I highly recommend these guys your business for a loan or outright sale. FYI, I do not work for Diamond Banc nor do I receive anything for my indorsement. Just nice and refreshing to have a company do exactly what they say.Thanks JordanDwight Sellars
Peter Ross
★★★★★
Great guys ,easy fast transaction, fully recommend. Peter , Dallas Texas .
Kermit Rosenberg
★★★★★
Knowledgeable, efficient, and thoroughly professional.
MD Serve
★★★★★
I have been doing business with Diamond Banc for the last few years. I have always been treated with the utmost respect as a valued customer and client they have always met my needs to the highest degree and when I've needed to borrow money against my jewelry I've always been offered based on based on current gold and diamond rates. I've always been happy with the offer to the extent that I have them in my phone as my uncles cuz I can always go to my Uncle for a fair loan.
Raul Morales Sotomayor
★★★★★
It was a pleasure working with this grup I highly recommend this place the attention is magnificent and the way they treat you it's like family they help you a lot to give you the best price thanks guys
Chantell Jones
★★★★★
Very easy process!
Alejandro Gutierrez
★★★★★
easy process !! great loan for my bracelet ! step by step process and very secure and professional . reccomend anyone tht need a loan to talk to jordan !
jimmy cruz
★★★★★
Rhea Jones
★★★★★
Very professional company. The process was super easy and fast!
consuelo solis
★★★★★
So grateful for Diamond Banc found it just when I needed it funds are deposited fast and easy . Really process is so smooth and very reliable !!Thank you! Will be working with you again and recommending to everyone I know 🙂
K. T.
★★★★★
Great service! Fast, friendly, and attentive.
MM M
★★★★★
Fast and easy service and was funded the same day they received collateral. Jordan answered all my questions and stayed in contact thruout the process. Highly recommended!2023 2nd use update: as a business owner, Jordan has remained professional the multiple times I've used for short term funding needs. Cash wires are always received fast! Perfect for those that don't need a traditional loan.
Matthew Encinas
★★★★★
Outstanding experience and a very smooth process! Highly recommend working with them!
laura Roldan
★★★★★
This company is amazing! I got to work with Kyle and Justin. Both were very prompt with responses and explained everything in full detail. I would highly recommend them to anyone and I know I will definitely be using them in the future. Thank you guys so much!
Sophia Le
★★★★★
Very helpful. Fast and very professional. I highly recommend 10/10.
Daphne McKee
★★★★★
I needed some money and I needed it fast… I checked with my local pawnshops, loan places, etc. and found this place online. I was skeptical but my fears soon subsided. My process was simple, thoroughly explained, and everything happened exactly like they said it would. I had detailed instructions on how to send my jewelry how to package it and what to expect. All I had to do was sign a contract via East sign, receive my certificate of insurance on my jewelry and go to Federal Express with my package print out the label that was sent to me and within 24 hours had the cash . The customer service was exceptional and I will continue to use this company for any future needs.
Jessica Buddemeyer
★★★★★
Darren Buddemeyer
★★★★★
Jaimee Buddemeyer
★★★★★
Sherry Buddemeyer
★★★★★
It's beautiful
Hoffman1911 87
★★★★★
Noel Wickline Vermeer
★★★★★
Irene Kharzhevsky
★★★★★
Great serviceVery helpfull
Ashley Porter
★★★★★
Really easy and super fast, Justin was great!
Daniel Hamman
★★★★★
Very understanding on how much my watch means to me. And very fast with caring service thank you Jorden you are the best man
kourtneee thomas
★★★★★
Very easy process. Offer made from pictures I sent, once agreed immediately emailed a packing slip to ship off. Constant contact kept, keeping me informed of every step. Highly recommend.
Ndaesha Osakwe
★★★★★
The process was very quick and easy! I received funds the same day my item was evaluated. The customer service was amazing and the team was very responsive.
François Grenier
★★★★★
My sales experience with Kathleen at Diamond Banc was incredible in every way !!! I really appreciate her professionalism …my transact was a charm …I would do business with this company again without hesitation !!!!
Heidi Herman
★★★★★
Great customer service and speedy process!
Ed Brown
★★★★★
Fast and easy to work with and provide excellent appraisal value on luxury watch loans
Kirk Wan
★★★★★
With a great customer experience, I was able to get the loan amount I needed.
Bruce Hotaling
★★★★★
Kathleen was so knowledgeable and helpful. I would recommend the Diamond Banc to anyone. Thank you so much! A great place to do business with.
zachary mandler
★★★★★
andre whittier
★★★★★
Wonderful Experience I got a quote on my items and I flew down to Columbia Missouri and met with Kyle he's awesome…….process was fast and easy he even walked me to the bank to cash my check to assure everything went through with no problem I highly recommend them
Damian Dipaolo
★★★★★
Mike Schiff
★★★★★
Smooth transaction, efficient, trustworthy, highly recommend
Steven Vaccaro
★★★★★
I was impressed by how easy this was. Thanks for the smooth transaction. I will definitely be back in the future.
Navneet Agarwal
★★★★★
See all Google Reviews
FAQs
There are two ways to work with us:
Work with us online: Fill out our online submission form above & receive a quote within 24 hours from one of our expert jewelry buyers. Our team will provide you with a fully-insured shipping label to mail your item(s) to our headquarters & issue funding immediately upon accepting our offer.
Visit an office near you: Schedule an appointment at one of our offices nationwide to have your jewelry evaluated on the spot, right in front of you, in a private, luxury environment & get paid immediately.
What if I don't accept Diamond Banc's purchase offer?
If you elect not to accept our purchase offer, your items will be expedited back to you under a fully-insured shipping label.
What jewelry brands do you buy?
Diamond Banc purchases a variety of designer jewelry brands, including but not limited to, Cartier, Tiffany & Co., Graff, Van Cleef & Arpels, Harry Winston, & David Yurman.
Upon acceptance of our purchase offer, we will issue payment to you immediately via check or wire transfer.
How long does it take to sell my jewelry?
Our buying process is fast and secure. Your transaction can be funded in as little as 24 hours.
Is my jewelry safe while in transit?
Yes. Your jewelry items are insured while in transit and while in our possession. We provide you with a fully insured shipping label to send your item(s) to our headquarters.

Our shipping & logistics team tracks your package every step of the way. From the moment your item arrives at our headquarters, it remains on continuous video surveillance until the package is opened and your items are verified.
What is a Jewelry Equity Loan?
At Diamond Banc, you have the option to retain ownership of your jewelry, while still enjoying the liquidity as if you sold outright. Diamond Banc is the nation's #1 jewelry buyer & jewelry-secured lender.
With a Jewelry Equity Loan, you can borrow against the value of your jewelry while still retaining ownership of it. Visit our Jewelry Equity Loan page for more information.
From The Founder
Visit a diamond banc near you
Diamond Banc has locations in Tampa, Boca Raton, Miami, Aventura, Orlando, Nashville, Atlanta, Charlotte, Kansas City, Columbia, & Rochester.
Are you looking to sell your jewelry online and searching for a trusted and reputable jewelry buyer? Look no further than Diamond Banc. We are one of the original pioneering online Jewelry buyers and have been securely buying jewelry through the internet for over 15 years. We are proud to be among the most trusted and respected online jewelry buyers in the United States. We offer apex communication, the strongest offers, and the fastest funding process in the industry.
The secure transportation of your precious jewelry items is a point of focus and strength of ours. Diamond Banc arranges and pre-pays for all shipping. Based on the value of your items and your location items are shipped in via FedEx, UPS, or Brinks. Each package is fully insured during its brief transit and tracked by our logistics team every step of the way. If you elect not to accept our finalized offer after reviewing your piece in person, it will be returned to you with the same care, kindness, and security measures that were deployed to ensure its initial safe arrival.
At Diamond Banc, we specialize in buying a wide range of high-end jewelry from some of the most prestigious and renowned brands in the industry. Our online mail-in process is designed to make selling your jewelry easy and hassle-free. Here are just a few of the types of jewelry we buy:
Engagement rings
Diamond bracelets
Tennis bracelets
Diamond broaches
Diamond earrings
Diamond studs
Fashion hoops
Broaches
Wedding bands
Diamond hoops
Fine gold jewelry
Diamonds 1-20ct+
GIA-certified diamonds/uncertified diamonds/antique cut diamonds
Entire jewelry collections & estates
Luxury watches
Our clients gain peace of mind by choosing Diamond Banc, they can trust that they will receive the highest market value for their jewelry and that their items will arrive safely at our headquarters. Each package's arrival and contents verification process is captured on contentious video surveillance. This is part of the seamless, pressure-free selling experience.
We are dedicated to building long-term relationships with our clients, and we take care to ensure that every step of the process is smooth and transparent. In addition to being a leading buyer of traditional jewelry, we are actively seeking and paying notable premiums for branded jewelry pieces. We have a special interest in items from the following designers and manufacturers.
Cartier
Harry Winston
Tiffany and Company
Graff
David Yurman
Van Cleef and Arpels
Lagos
Chanel
Patek Philippe
Rolex
Bulgari
Our team of expert jewelers and gemologists have a vast amount of experience and an exacting eye for detail, ensuring that each piece we evaluate is examined thoroughly and the attention it deserves. When you choose Diamond Banc, you are choosing a trusted online jewelry buyer committed to offering the highest level of professionalism and expertise. Contact Diamond Banc today and begin the online selling process by filling out our item submission form. We look forward to hearing from you and helping you sell your precious jewelry at the highest market value possible.