Fast. Simple. Secure.
Nationwide Jewelry Buyer
Start Online, Visit An Office Near You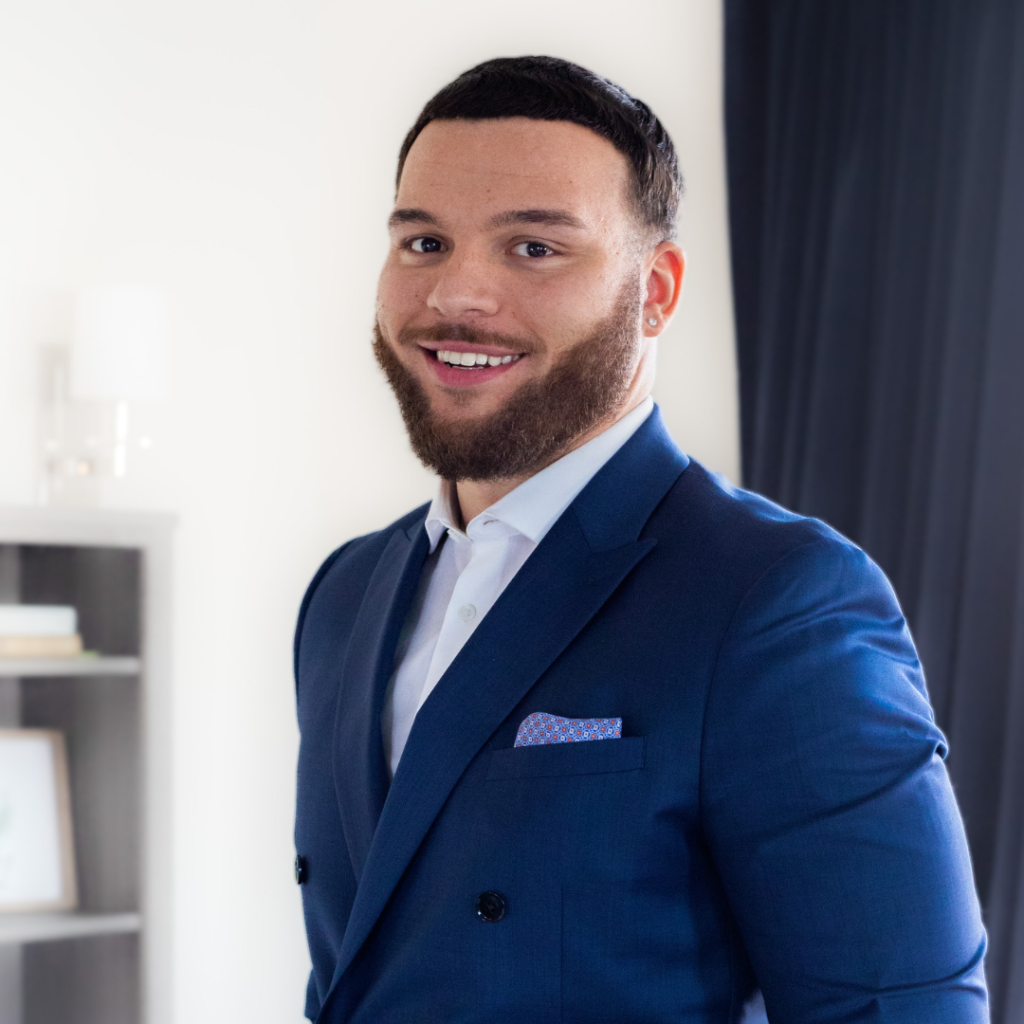 Jordan Isaacs
Columbia, MO
As the National Director of Funding at Diamond Banc's corporate office, Jordan Isaacs prioritizes providing top-notch client experiences during the assessment of their items for immediate sale or loan services. With excellent communication skills and a talent for prompt and informative follow-up, Jordan's expertise enables him to offer the highest values, the most competitive rates in the industry, personalized financing options, & exceptional service to each and every client. To start working with Jordan, give us a call or fill out our online submission form.
Get a Quote
In Person or Online
Schedule a private evaluation at your local Diamond Banc or use our online submission form.
Start a Quote
In-Person Evaluation
Complete In Person
Meet privately with a Diamond Banc director who'll evaluate your items right in front of you & make you an offer.
Get Funded
Fast & Secure
If you accept our offer, we will issue payment immediately via check or wire transfer.
FAQs
There are two ways you can sell your jewelry to Diamond Banc:
Fill out our online submission form above & receive a quote within 24 hours from one of our expert jewelry buyers. Our team will provide you with a fully-insured shipping label to mail your item(s) to our headquarters. From the moment your jewelry arrives at our headquarters, it remains on continuous video surveillance until the package is opened and your items are verified. If you accept our offer, payment will be issued immediately via wire transfer. If you elect not to accept our offer, your item(s) are expedited back to you with a fully-insured shipping label.
Visit a Diamond Banc office near you. If you are looking to receive an immediate offer & same-day funding, we encourage you to visit one of our offices nationwide. Schedule an appointment at a Diamond Banc location near you, have your jewelry evaluated on the spot, and get paid immediately. Typically, this process takes less than 40 minutes.
How do you determine how much my jewelry is worth?
Diamond Banc takes several factors into consideration when making an offer to purchase diamonds, jewelry, and watches. When evaluating any diamond, we consider the 4 C's (carat, cut, color, clarity) and its overall appearance and beauty.
We also take into account the current market demand for those characteristics. When putting together an offer for your jewelry, we take into account the maker of each piece, its date of production, condition, and quality of craftsmanship, style, and desirability.
Our vast network of over 20,000+ buyers & collectors ensures that we can make industry-leading offers for your items.
Is my jewelry secure while in transit?
Yes. Your jewelry is insured while in transit and while in our possession. We provide you with a fully insured shipping label to send your item(s) to our headquarters.
Our shipping & logistics team tracks your package every step of the way. From the moment your item arrives at our headquarters, it remains on continuous video surveillance until the package is opened and your items are verified.
What if I don't accept the final purchase offer?
If you elect not to accept our purchase offer, we will expedite your jewelry back to you under a fully-insured shipping label.
What types of jewelry do you accept?
Diamond Banc actively purchases diamonds 0.50ct+, engagement rings, diamond jewelry, estate jewelry, & signed designer jewelry from designers such as Cartier, Tiffany & Co., Harry Winston, Van Cleef & Arpels, Graff, and more.
Why should I sell my jewelry to Diamond Banc?
Diamond Banc offers the most expansive & pro-consumer jewelry liquidity options in the nation. Our sole focus is to provide our clients access to the liquidity their fine jewelry items possess. Thus, we are committed to paying industry-leading prices for your jewelry while offering you a simple, speedy, and professional transaction.
Check out our Google Reviews to see what clients' of Diamond Banc are saying about their experience.
Once you accept our purchase offer, we issue payment via check or wire transfer immediately.
Can I get a loan instead?
Yes. Diamond Banc is the nation's #1 jewelry-secured lender. With a Jewelry Equity Loan, you can borrow against the value of your jewelry while still retaining ownership of it. Learn more about our Jewelry Equity Loan service by watching this video or visiting our Jewelry Equity Loan page.
From The Founder
Visit a diamond banc near you
Diamond Banc has locations in Tampa, Boca Raton, Miami, Aventura, Orlando, Nashville, Atlanta, Charlotte, Kansas City, Columbia, & Rochester.
Searching For A "Jewelry Buyer Near Me?"
Are you pondering the question, "Where can I sell jewelry near me?" You're in the right place. At Diamond Banc, we offer a revolutionary, easy, and rewarding solution to selling your precious jewelry. With multiple physical locations across the nation, as well as a convenient digital jewelry buying service, we've made it easy for everyone, everywhere, to sell their jewelry.
Your Premier Choice for Selling Jewelry Near You
Choosing to sell your jewelry can be a significant decision. You need a jewelry buyer that's not only reliable and trustworthy but also respects the sentimental value attached to each piece. At Diamond Banc, we understand these needs and strive to exceed your expectations in every transaction. Here's why you should choose Diamond Banc when you're asking, "Where can I sell my jewelry near me?"
Prompt & Polite Service
At the heart of Diamond Banc's service is a commitment to our customers. We prioritize your needs, providing swift transactions without compromising on service quality. We understand that parting with a cherished piece of jewelry can stir emotions. Our team is trained to handle each transaction with sensitivity, respect, and utmost professionalism, ensuring a comfortable, compassionate, and seamless experience for you.
Maximum Purchase Prices
Owing to our unique position in the industry, Diamond Banc can offer some of the most competitive prices for your jewelry. Our parent company is among the largest independently owned jewelry retailers in the USA, boasting an annual revenue that exceeds $50 million. This formidable standing allows us to pay you generously for your diamonds and jewelry. With a direct line to end consumers, we offer maximum prices that other jewelry buyers simply cannot match.
Hassle-Free Process
Selling your jewelry should be a stress-free experience. At Diamond Banc, we ensure our process is simple, quick, and transparent. We're known for our excellent communication and swift follow-up, ensuring you're never left in the dark about your transaction. Once we agree on a price, we issue payment immediately, ensuring you can enjoy the fruits of your sale as quickly as possible.
Safety & Values
Trust is paramount when selling your jewelry. That's why Diamond Banc maintains an A+ rating with the Better Business Bureau (BBB), a testament to our commitment to upholding the highest standards of service. We operate with a client-centric approach, reflected in our robust company values that guide our everyday operations. We follow stringent tracking and video recording procedures, treating your valuables as if they were our own.
When you're searching to "sell jewelry near me," look no further than Diamond Banc. We offer a service that is prompt, respectful, and always prioritizes your best interests. With Diamond Banc, you're not just selling your jewelry; you're stepping into a world of outstanding service and exceptional value. Trust us with your valuables, and experience the Diamond Banc difference.
Trusted Jewelry Buyer Near You
Diamond Banc stands as the leading jewelry buyer nationwide. No matter where you are in the country, our expansive presence guarantees a Diamond Banc location close to you. Our nationwide reach ensures that you never have to wonder, "Where's the best jewelry buyer near me?"
We have boutique offices in many of the country's most distinguished cities. No matter where you're located, we're always here, providing an unrivaled jewelry-selling experience. At Diamond Banc, we make selling your jewelry an effortless process. Our expert jewelry buyers provide accurate, fair, and honest evaluations, so you can be assured you're getting the best value. If you're seeking a 'jewelry buyer near me', we guarantee a personalized, fast, and safe service that makes Diamond Banc your top choice.
Our process is straightforward. Bring in your jewelry, get it evaluated, and walk away with a fair offer. We buy everything from diamond engagement rings to high-end watches and rare estate jewelry. So, when you're considering where to 'sell my jewelry near me', Diamond Banc is the answer.
Discover a Diamond Banc location near you or fill out our online submission form and a member of our buying team will reach out to you in less than 24 hours.
The Best Online Jewelry Buyer
Not near one of our locations? No problem! Diamond Banc is revolutionizing the way you sell jewelry with our cutting-edge digital jewelry buying service. Our online platform allows you to sell your jewelry from anywhere in the country. With this service, we've truly extended our reach, ensuring you never have to wonder how to 'sell jewelry near me' again.
Here's how it works: upload images and provide details about your jewelry piece. Our team of expert jewelry buyers will evaluate your submission and provide an initial offer. If you accept, we provide a prepaid, fully insured shipping label for you to send your jewelry to us for a final evaluation. Once everything is confirmed, we process your payment swiftly. It's easy, secure, and efficient, enabling you to sell your jewelry wherever you are.
The Premier Buyer of Diamonds, Jewelry, & Watches
At Diamond Banc, we're passionate about buying an extensive range of jewelry pieces. From diamond engagement rings to designer pieces, we have an unmatched appreciation for fine jewelry and the craftsmanship behind each piece. If you're looking to "sell jewelry near me," we make the process simple, fair, and transparent, whether you're parting ways with an heirloom or selling a piece to make room for something new.
Diamond Engagement Rings & Diamond Rings
Our jewelry buyers are always eager to purchase engagement rings, particularly those with a center diamond of 0.5 carats and up. We have a deep appreciation for all diamond cuts, including round brilliant, cushion, oval, radiant, and emerald cut diamonds. We also pay a premium for antique settings, old European cut center diamonds, and rings with center diamonds 2 carats and larger.
Apart from engagement rings, we're interested in all types of diamond rings, including diamond fashion rings, cocktail rings, and diamond bands, each of which tells a unique story.
Earrings
Diamond Banc purchases all types of diamond earrings, whether they're studs, hoops, drop earrings, or dangles. Our buyers are also eager to acquire designer pieces from renowned brands such as David Yurman, Cartier, and Tiffany & Co.
Pendants & Necklaces
Our experts are looking for diamond and designer pendants and necklaces in a myriad of styles. We buy solitaire pendants, Diamond Riviera necklaces ranging from 5 to 100 carats, and diamond fashion pendants that showcase the wearer's personal style.
Diamond Tennis Bracelets
Tennis bracelets are timeless pieces that we're always interested in. If you're looking to sell a tennis bracelet, we buy those 2 carats total weight and larger. Additionally, we purchase diamond bangles in all colors of gold, including yellow, rose, and platinum.
Estate Jewelry
What sets Diamond Banc apart is our deep, global understanding of all types of jewelry and their true market value. This unique advantage allows us to maximize returns for our clients on entire jewelry collections, providing unmatched value for those looking to sell multiple pieces or complete estates.
Antique Cut Diamonds
We're actively seeking antique cut loose diamonds, diamond rings, and jewelry pieces. We buy Old European cut, Old Mine cut, Circular Brilliant cut, Antique Cushion cuts, and more. These pieces offer a glimpse into the past, making them highly desirable.
Signed & Designer Jewelry
We are especially eager to purchase diamonds and jewelry from designers such as Tiffany & Co., Harry Winston, Van Cleef & Arpels, Cartier, Graff, and more. These designers represent the pinnacle of luxury and elegance, and their pieces are in high demand.
We have a special interest in purchasing designer jewelry from the following brands:
Cartier
Harry Winston
Tiffany and Company
Graff
David Yurman
Van Cleef and Arpels
Lagos
Chanel
Patek Philippe
Rolex
Bulgari
And many more
Not Your Average "Jewelry Buyer"
Obtaining maximum value when selling jewelry requires the right buyer—one who can assess the maximum value, has access to a network of jewelers eager to buy, and is well-capitalized to purchase at the highest value. Diamond Banc meets all these criteria.
We buy any item for immediate payment, and can also act as your exclusive seller's agent, aligning our interests with yours to secure the maximum value for your pieces. When you're looking to sell diamonds 4 carats and larger, ultra-rare designer and estate jewelry, Diamond Banc works harder and smarter than any other company to help you achieve its true value.
Remember, when you think "sell jewelry near me," think Diamond Banc. We offer the fairest and most competitive prices, whether you're selling a cherished diamond engagement ring, a classic designer piece, or a rare gemstone. Experience the Diamond Banc difference today.
Why Choose Diamond Banc?
Diamond Banc is more than just a 'jewelry buyer near me'. We're the premier choice for those wanting to sell jewelry, offering the most competitive prices nationwide. Our industry expertise, coupled with our commitment to customer satisfaction, ensures a service that's second to none. Whether it's the convenience of our digital platform or the personal touch of our nationwide boutiques, we're dedicated to providing the best experience for those looking to sell their jewelry.
With Diamond Banc, you no longer have to wonder where to 'sell jewelry near me'. Our nationwide presence and digital jewelry buying service are the perfect combinations, ensuring that wherever you are, you're never far from a trusted Diamond Banc location.
So, if you're looking to sell your jewelry, remember Diamond Banc. We're not just the best 'jewelry buyer near me', we're the best jewelry buyer, period. Get in touch with us today, and experience the Diamond Banc difference.
Strong & Active Jewelry Buyer of The Following:
Engagement rings
Diamond bracelets
Tennis bracelets
Diamond Broaches
Diamond earrings
Diamond studs
Fashion hoops
Broaches
Wedding bands
Diamond hoops
Fine gold jewelry
Diamonds 1-20ct+
GIA Certified Diamonds/uncertified diamonds/ Antique cut diamonds.
Entire jewelry collections & estates.
Luxury Watches.
Jewelry Buyer That Pays Top-Dollar
Our clients know that when they choose Diamond Banc, they can trust that they will receive the highest market value for their jewelry, as well as outstanding customer service and a seamless, hassle-free selling experience. We are dedicated to building long-term relationships with our clients, and we take care to ensure that every step of the process is smooth and transparent. In addition to being strong buyers of traditional jewelry. We are actively seeking and paying premiums for branded jewelry pieces.
We have a special interest in items from the following designers & brands:
Expertise, Guidance, & Passion
Our team of expert jewelers and gemologists have a wealth of experience and a keen eye for detail, ensuring that each piece we evaluate is examined thoroughly and given the care and attention it deserves. We are passionate about what we do, and we are always eager to acquire the world's most beautiful and unique jewelry pieces.
When you choose Diamond Banc, you are choosing a jewelry buyer near you that is committed to offering the highest level of professionalism and expertise. Contact Diamond Banc today to schedule an appointment at one of our locations or to fill out our online form for a quote. We look forward to hearing from you and helping you sell your precious jewelry at the highest market value possible. Regardless if you ship your item in, or visit one of our locations, you will find that no firm will work as hard as Diamond Banc to earn your business and put a check in your hand, or a wire in your account.