Are you curious about how we assess the worth of diamonds, engagement rings, or designer jewelry? Are you searching for jewelry buyers in your area? Diamond Banc is one of the nation's top locations, where you can sell or pawn jewelry with decent rates.
Diamond Banc is a nationwide jewelry buyer and equity lender, offering a client-driven and modern approach to unleashing the fiscal power of your jewelry.
Our staff is composed of highly trained and qualified jewelry experts, including GIA Graduate Gemologists. We have a great experience accurately evaluating your diamonds, designer jewelry, or engagement ring to ensure every value-adding factor is accounted for when putting together an offer.
We offer asset-based loans, consignment, and selling services – all in a modern, transparent, and discrete setting so you can feel secure and comfortable when showcasing your expensive items.
Let's look at how Diamond Banc determines the value of your diamond and designer jewelry.
DETERMINING THE VALUE OF YOUR DESIGNER JEWELRY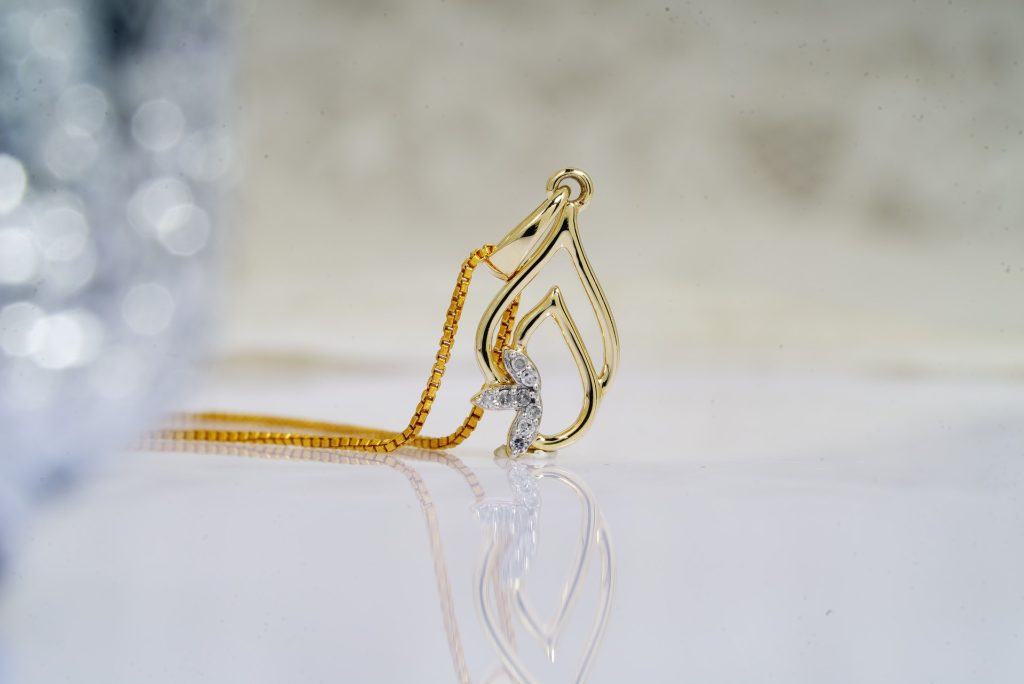 Diamond Banc has a very particular way of determining the liquid value of your designer jewelry.
We first start with underlining the designer piece in question and how "hot" this product is right now in the secondary market. Then we examine the level of desirability for its particular style and how well it could sell.
THE NUMBER ONE FACTOR IS THE EVIDENT DEMAND FROM POTENTIAL BUYERS.
From then on, we will inspect the condition of your jewelry. Does it look almost new, or does it need some repair/restoration work to beef up your potential profit in case of a sale?
Supportive elements like the original box, pouch, purchase receipt, and things of this nature help with the authenticity of your item — commanding a higher price and encouraging your buyer that their investment is well worth it, thanks to your well-preserved item.
Every jewelry is different and unique, and appraisals are case-by-case scenarios from one customer to the next. It all comes down to what you are holding on to.
We can pay as high as 70% of the initial MSRP or as low as 15% if the item is visibly worn and torn, thus, not making up for a higher price point due to its condition.
If you have a Yurman, Van Cleef & Arpels, Cartier, Tiffany & Co. or any other exquisite designer brand item you'd like to borrow against or just sell outright, come to Diamond Banc.
Our jewelry connoisseurs and expert assessors have decades of experience in the field and will never leave any stones unturned when evaluating your stunning item(s). Diamond Banc as a company is built upon transparency, convenience, and innovation.
We want your experience when liquifying your designer product to be a luxurious, discrete, and conveniently rapid alternative to pawnshops.
PRIMARY FACTORS THAT DRIVE UP OR DOWN THE PRICE

Before getting into the factors, we would like to highlight that it's imperative to choose to work with trustworthy, reliable, and expert jewelry buyers who truly have your best interest at heart.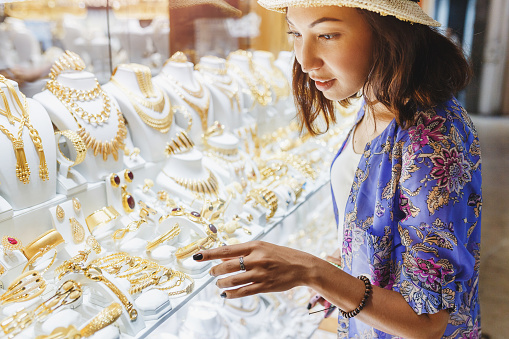 Transparency in the evaluation stage is something Diamond Banc takes seriously. We believe that many factors need to be considered when building a genuine offer against your fine designer jewelry.
Some of them are:
THE BRAND ELEMENT
Contingent on the brand name element, certain ones like in the high jewelry class, for instance, can dictate a premium price if in pristine condition. Tiffany & Co, for example, is armed with super-gifted designers like Elsa Peretti and Jean Schlumberger who continuously release unique, elegant, and timeless pieces.
ORIGINAL PACKAGING
Presentation is key, so make sure to find the item's original packaging, receipt of purchase, pouch, and papers will help to bring up the value.
MATERIAL
The materials that make up the jewelry piece are essential. Gold jewelry with 18 Karat purity will get a better return than 14K or 10K. Platinum is a profitable alternative. Diamond quality is determined by the qualification of all four C's.
We price diamonds by their rarity factor, not simply their aesthetic beauty. We are familiar with fancy colored diamonds and other precious gemstones and materials such as natural pearls, enamel, etc.
DEFINING STYLISTICAL TRENDS
We determine how bad potential buyers currently want the particular style of your designer piece. Specific jewelry trends carry a boomerang effect where they keep going and coming back in cycles. Moi & Toi rings are very trendy this year, for example, and Diamond Banc indeed has a finger on the pulse of the industry.
MATERIAL CONDITION
How well your designer jewelry endured the test of time plays a significant role in value. Any broken clasps, beads, or other original findings can understandably depreciate the value of your item. Are all of your small diamonds in a pavé-set design still in place?
LIQUID VALUE OF YOUR DIAMONDS

Now, let us explain how experts determine the liquid value of a diamond.
So the number one thing that we first start with is market desirability, to find out just overall how desirable your type of particular diamond is in today's market. The second is several key factors commonly established in the 4C's rule.
The number one factor that determines a diamond's rarity, thus value, is its carat weight. Ct is the unit of diamond weight, not necessarily the dimension info relating to its millimeter spread.
For example, suppose you have a one-carat and a two-carat loose diamond laying side-by-side. In that case, the two-carat diamond isn't twice as valuable as the one carat, but rather four times as valuable due to the rarity factor.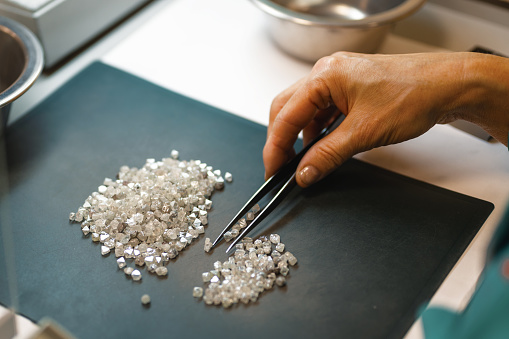 We then determine the diamond's color, cut, and clarity characteristics. We look at things like fancy or not, the gem-cutting proportions and shape of the stone, clarity and color characteristics. Once we've arrived at that, we can remain very transparent when the appraisal stage is over and it's time to reveal a number with a dollar sign.
Frequently in our industry, transparency isn't something that many pawn shops can't truly pride themselves on. Our core principle and company values are all about it here at Diamond Banc. We show industry-private comps on current diamond prices on the market to all of our customers.
The term comps, short for comparables, entails a market product cross-comparison to determine financial metrics and other factors to quantify worth and rarity.
We will look at retail appraisals or how much we can purchase the same diamond in real-time from another dealer right now.
Once we show you that number, we get a much clearer perspective on determining a general asking price in the same market and negotiating.
More importantly, today, we don't have a customer for that diamond, and we're able to buy it whenever we wish.
We believe the price must justify that action for Diamond Banc to write a check for your diamond. Depending on the desirability of your diamond in current market demands, we're going to pay you between 50-80% of that price comp. Other jewelry buyers won't give you such flexibility.
Specific diamond shapes like marquee shapes (which look like a football) are undesirable in today's market. These shapes will require a more significant discount as opposed to brilliant round cuts that are always in high demand.
Thus, we will pay a premium for those providing superior quality. As long as you're comparing like factors, we are ultra-strong in our pricing.
Diamond Banc operates with trust, clearness, and high diligence. We are confident that you will appreciate your visit to our office and see for yourself why we do business differently.
WANT TO GET AN IDEA OF HOW MUCH YOUR STONE CAN GO FOR? CHECK OUT OUR DIAMOND VALUE CALCULATOR.

Jewelry Buyers & Lenders With 125+ Years Of Legacy
Diamond Banc has been operating since 2007, although the company took birth from a family retail jewelry business that carries a legacy in Mid-Missouri since 1896.
Here, your designer items will be handled with the utmost care and respect it deserves. We won't simply scale your items and lowball you with a mocking offer like some street corner pawnbroker you never heard of before.
When we examine your jewelry in detail, we pay close attention to every special pattern, shape, engraving, or other relevant factors which could influence the price in your favor. Come to Diamond Banc for a more transparent, client-focused, and convenient jewelry appraising.
In a nutshell, the actual condition your items are in, the rarity and diamond grading of your diamond, the desirability from real buyers, and cross-comparison with comps all make up for an offer — One that packs a punch compared to elsewhere.
Consider Diamond Banc a smart option next time you search for jewelry buyers near me.
Visit one of our nationwide locations or you can fill out one of our simple forms below detailing your designer piece from the convenience of your own home.
Our industry specialists will expedite the evaluation process by contacting you within 24 hours with an initial quote!
Diamond Banc is the nation's top-rated jewelry buyer & lender. Visit one of our nationwide locations, or work with us from the comfort of your home.
CONTACT DIAMOND BANCnavigate_nextGET A LOANnavigate_nextSELL MY JEWELRYnavigate_next
Related Posts